Mental Illness Can Overstimulate Your Brain
Here's what's happening on the HealthyPlace site this week: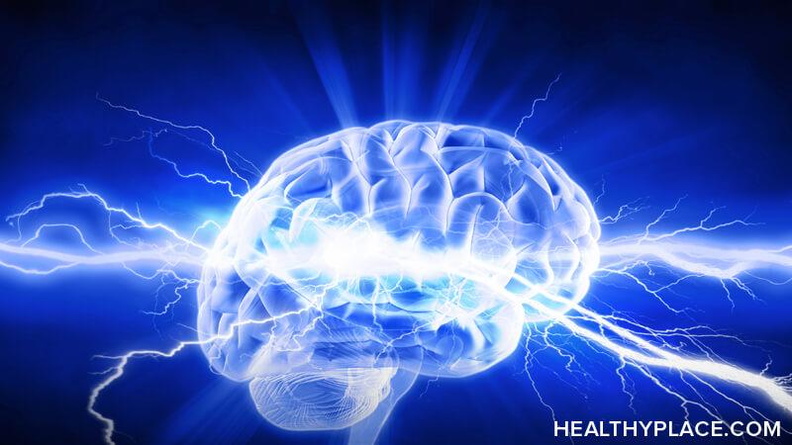 Mental Illness Can Overstimulate Your Brain
Have you ever wanted to throw your hands over your ears, sink to your knees, and shout, "Make it stop"? And by "it" you mean the raucous noise, the garish lights, the overbearing smells, and the irksome sensation of things touching you. This "it" is sensory overstimulation, and it can aggravate our brain and negatively impact our mental health. Many different mental illnesses are associated with a heightened sensitivity to stimuli from the outside world, among them post-traumatic stress disorder (PTSD), anxiety disorders, schizophrenia, schizoaffective disorder, bipolar disorder, attention deficit (and hyperactivity) disorder (ADD/ADHD), and more.
With overstimulation, the problem isn't the senses themselves. The issue is with the brain and how it processes input from the world. It's as if the brain becomes confused and loses its full ability to filter out input it doesn't need. The result is that sights, sounds, smells, tastes, and tactile sensations are intensified. This can make us feel overwhelmed, pressured, irritable, emotional, wired, and exhausted all at the same time. We can become overstimulated in large, crowded, noisy places or at home with a just a few friends or family members.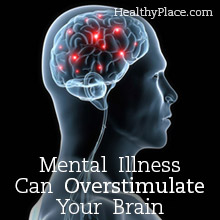 While we can't directly control how our brain processes all of the information flooding it, we can take care of our brain, practicing self-care and soothing it to reduce overstimulation and increase calm.
Related Articles Dealing with Overstimulation
Your Thoughts
Today's Question: How do you react to making changes in your life? We invite you to participate by commenting and sharing your feelings, experiences and knowledge on the HealthyPlace Facebook page
Most Popular HealthyPlace Articles Shared by Facebook Fans
Here are the top 3 mental health articles HealthyPlace Facebook fans are recommending you read:
If you're not already, I hope you'll join us/like us on Facebook too. There are a lot of wonderful, supportive people there.
------------------------------------------------------------------
From the HealthyPlace Mental Health Blogs
On all our blogs, your comments and observations are welcomed.
Feel free to share your thoughts and comments at the bottom of any blog post. And visit the mental health blogs homepage for the latest posts.
------------------------------------------------------------------
Stand Up for Mental Health
Thousands Have Joined the Stand Up for Mental Health Campaign
But we still need you. Let others know there's no shame in having depression, anxiety, bipolar disorder, trichotillomania, OCD, ADHD, schizophrenia or any other mental illness.
Join the Stand Up for Mental Health campaign. Put a button on your website or blog (buttons for family members, parents, mental health professionals and organizations too). We also have covers for Facebook, Twitter and Google+.
------------------------------------------------------------------
Latest Mental Health News
These stories and more are featured on our mental health news page:
FDA Approves REXULTI As Adjunctive Treatment For Adults With Major Depressive Disorder And As A Treatment For Adults With Schizophrenia
ADHD Medications Linked To Cardiac Problems In Children With Hereditary Heart Disease
Regular Exposure To Death And Trauma Causes Death Anxiety In Emergency Nurses
Researchers Identify New Spectrum Disorder Called ALPIM Syndrome
FDA Approves REXULTI As Adjunctive Treatment For Adults With Major Depressive Disorder And As A Treatment For Adults With Schizophrenia
Eating In The Absence Of Hunger: A Recipe For Expanding Waistlines
People With Schizophrenia Have More Rare Genetic Mutations
That's it for now. If you know of anyone who can benefit from this newsletter or the HealthyPlace.com site, I hope you'll pass this onto them. You can also share the newsletter on any social network (like facebook, stumbleupon, or digg) you belong to by clicking the links below. For updates throughout the week:
APA Reference
Peterson, T. (2015, July 13). Mental Illness Can Overstimulate Your Brain, HealthyPlace. Retrieved on 2023, December 4 from https://www.healthyplace.com/other-info/mental-health-newsletter/mental-illness-can-overstimulate-your-brain
Last Updated: September 1, 2023