Mental Illness: Why Me?
HealthyPlace Mental Health Newsletter
Here's what's happening on the HealthyPlace site this week:
Mental Illness: Why Me?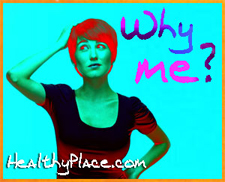 If you're living with a mental illness, there's a good chance you've asked yourself the question: "Why me? What did I do to deserve this?" Two of our mental health bloggers address that question in slightly different ways this week. Dan Hoeweler, author of the "Creative Schizophrenia" blog, talks about the emotions attached to living with Schizophrenia. Dan had a burning anger towards the world and himself as he thought about the terrible afflication that befell him. PTSD blogger, Michele Rosenthal, tries to find meaning in trauma and PTSD. Both suggest ways to come to terms with the "why" question.
In the end, however, you may never receive a satisfactory answer about "why?". Why? Because the truth may be that developing a mental illness has nothing to do with being a good or bad person, a deserving or underserving person. Consider this: it was just a random event and you happened to be there.
Your Thoughts
What about you? How have you dealt with that question? We invite you to participate by commenting and sharing your feelings, experiences and knowledge on the HealthyPlace Facebook page.
------------------------------------------------------------------
Most Popular HealthyPlace Articles Shared by Facebook Fans
Here are the top 3 mental health articles HealthyPlace Facebook fans are recommending you read:
If you're not already, I hope you'll join us/like us on Facebook too. There are a lot of wonderful, supportive people there.
------------------------------------------------------------------
From the HealthyPlace Mental Health Blogs
Your comments and observations are welcomed.
Feel free to share your thoughts and comments at the bottom of any blog post. And visit the mental health blogs homepage for the latest posts.
Overcoming Depression: Why Some Find It Very Difficult on HealthyPlace TV
Dr. Deborah Serani is an expert on the subject of depression. What makes her perspective unique is that she specializes in the treatment of depression and also lives with depression. She shares part of her journey and discusses why some people have great difficulty overcoming depression. Watch.
That's it for now. If you know of anyone who can benefit from this newsletter or the HealthyPlace.com site, I hope you'll pass this onto them. You can also share the newsletter on any social network (like facebook, stumbleupon, or digg) you belong to by clicking the links below. For updates throughout the week:
APA Reference
Staff, H. (2012, December 6). Mental Illness: Why Me?, HealthyPlace. Retrieved on 2023, December 9 from https://www.healthyplace.com/other-info/mental-health-newsletter/mental-illness-why-me
Last Updated: May 25, 2023