Treatment to Prevent Suicide
HealthyPlace Mental Health Newsletter
Here's what's happening on the HealthyPlace site this week:
Thinking About Suicide
In the Future, There May Be A Treatment to Prevent Suicide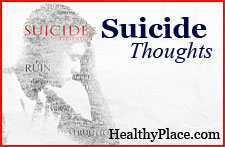 A breakthrough! There's now scientific proof that suicidal behavior is linked to a brain chemical called glutamate. This prompts researchers to suggest that in the future, there may be a way to prevent suicide.
depression. In the journal Neuropsychopharmacology, Lena Brundin, associate professor of translational science and molecular medicine at Michigan State University College of Human Medicine, says this is the first scientific evidence that glutamate is more active in the brains of people who attempt suicide. "The findings are important because they show a mechanism of disease in patients," says Dr. Brundin.
For about 40 years, researchers have been studying another brain chemical, serotonin, as the leading culprit behind depression. Dr. Brundin says now is the time to focus attention on glutamate.
Anti-glutamate drugs are still in development but could be used to prevent suicide in the future. Dr. Brundin notes that recent clinical studies show that ketamine, an anesthetic which inhibits glutamate signaling, is extremely effective in fighting depression. Ketamine is not widely used today because of side-effects from the drug.
Related Stories
Your Thoughts
What do you do to manage suicidal thoughts and behaviors to prevent suicide? We invite you to participate by commenting and sharing your feelings, experiences and knowledge on the HealthyPlace Facebook page.
Help Spread Awareness of Mental Illness
Get Our Mental Health Blog Widget
Over 100 sites and blogs are helping spread awareness of mental illness. How about putting our mental health blogs widget on your website, blog or social page? The latest HealthyPlace blog headlines appear as soon as the articles are posted on our site. Just click "Get Widget" at the bottom of the widget, grab the embed code and paste it into your page. You'll also see embed links for Wordpress, Blogger, Linkedin and other social sites there.
As a bonus, put the blogs widget on your site or blog, email us (info AT healthyplace.com) with a page link where it appears, and we'll give a shoutout to your site, blog, or social site on our Facebook and Twitter pages.
------------------------------------------------------------------
Share our Stories
At the top and bottom of all our stories, you'll find social share buttons for Facebook, Google+, Twitter, Pinterest and other social sites. If you find a particular story, video, psychological test or other HealthyPlace feature helpful, there's a good chance others in need will too. Please share.
We also get many inquiries about our linking policy. If you have a website or blog, you can link to any page on the HealthyPlace website without asking us beforehand.
---
continue story below
---
Most Popular HealthyPlace Articles Shared by Facebook Fans
Here are the top 3 mental health articles HealthyPlace Facebook fans are recommending you read:
If you're not already, I hope you'll join us/like us on Facebook too. There are a lot of wonderful, supportive people there.
------------------------------------------------------------------
Mental Health Experiences
Share your thoughts/experiences with any mental health subject, or respond to other people's audio posts, by calling our toll-free number (1-888-883-8045).
You can listen to what other people are saying by clicking on the gray title bars inside the widgets located on the "Sharing Your Mental Health Experiences" homepage, the HealthyPlace homepage, and the HealthyPlace Support Network homepage.
If you have any questions, write us at: info AT healthyplace.com
------------------------------------------------------------------
From the HealthyPlace Mental Health Blogs
We want to welcome 2 new bloggers. Heiddi Zalamar is taking over the "Life with Bob" blog on parenting a child with a mental illness. Tanisha Neely starts a new blog, "The Life: LGBT Mental Health and Relationships Blog." On all our blogs, your comments and observations are welcomed.
Feel free to share your thoughts and comments at the bottom of any blog post. And visit the mental health blogs homepage for the latest posts.
Feeling Alone in the World, What Would You Do? on HealthyPlace TV
Living with depression, major depression, the most severe kind of depression may best be described as a lonely, isolating, hopeless existence. Left untreated, it can lead a person to take desperate measures. Our guest, Lee Horbachewski, knows just how bad it can get when you're feeling along in the world. Watch.
Employing Classmates As Mentors Of Autistic Teens
Our Parent Coach, Dr. Steven Richfield, gets a lot of tough mental health questions from parents. Here's what came in the email box this week: How can autistic teens be helped by their high school classmates?
Latest Mental Health News
These stories and more are featured on our mental health news page:
Crowds Are Not People, My Friend
Guys and Dolls No More?
The Anxiety of Group Survival
Cleansing the Toxins of Divorce
The Impact of Gratitude
That's it for now. If you know of anyone who can benefit from this newsletter or the HealthyPlace.com site, I hope you'll pass this onto them. You can also share the newsletter on any social network (like facebook, stumbleupon, or digg) you belong to by clicking the links below. For updates throughout the week:
APA Reference
Staff, H. (2012, December 26). Treatment to Prevent Suicide, HealthyPlace. Retrieved on 2023, December 4 from https://www.healthyplace.com/other-info/mental-health-newsletter/treatment-to-prevent-suicide
Last Updated: September 4, 2014