What Is Interpersonal Psychotherapy Used to Treat?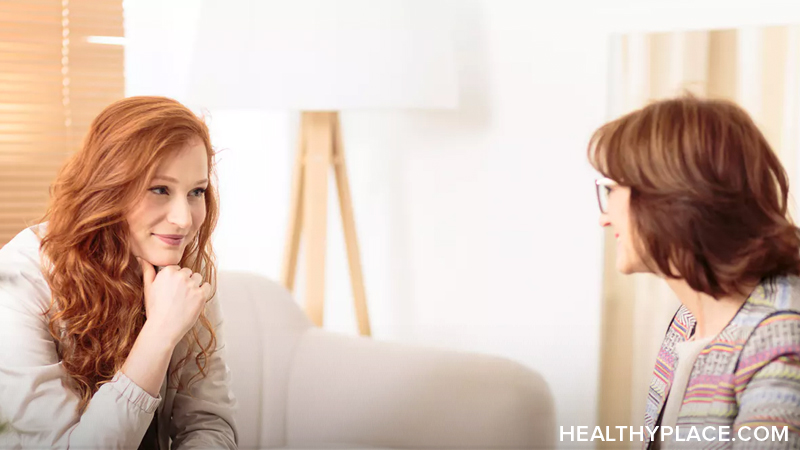 Interpersonal psychotherapy (IPT) is a type of attachment-based psychotherapy used to treat depression. It was first developed at Yale University in the 1970s by Gerald Klerman, Myrna Weissman, and Eugene Paykel and is now an considered an extremely effective form of treatment for those experiencing interpersonal problems.
IPT is a structured, supportive mode of therapy that focuses on the patient's relationships and interactions with others. It can also help people who are suffering grief and loss, as well as those with relationship problems. Let's look at the benefits, techniques and goals of interpersonal psychotherapy.
What Is Interpersonal Psychotherapy?
Interpersonal psychotherapy is a short course of therapy that usually lasts 12-16 weeks. It can be very effective in helping people identify how they are feeling and how this impacts their behavior toward and around others.
This form of therapy focuses on the fact that while relationship problems do not cause mental illness, a condition such as depression will inevitably affect our personal lives and social functioning, and vice versa. As such, interpersonal therapists will help their patients to address issues in their personal lives leading to depression symptom reduction and improved social functioning.
Who Does Interpersonal Psychotherapy Help?
Interpersonal psychotherapy is endorsed by the American Psychiatric Association and American Psychological Association. It can be used to treat various psychiatric disorders, such as moderate to major depression, and indeed anyone who experiences relationship problems. You do not need to have a recognized mental health condition or attachment-based disorder, such as reactive attachment disorder, to benefit from IPT.
Studies are also examining the benefits of interpersonal psychotherapy (alongside medication) for bipolar disorder to help control sleep patterns and reduce manic episodes. IPT is also showing promise as a treatment option for social phobia, borderline personality disorder and body dysmorphic disorder, among others.
Interpersonal Psychotherapy Techniques, Benefits and Goals
IPT is a manual-based treatment, meaning it follows a strict treatment process that is rigorously tested and has proven effectiveness. Interpersonal psychotherapy techniques can be applied in one-to-one or group sessions. They are designed to help you address problems in your interactions with others, such as social anxiety, withdrawal or repeated conflict.
Interpersonal therapists tend to be relaxed and supportive, with the ultimate goal of becoming your ally and helping you meet intended treatment outcomes. Unlike some cognitive therapy types, there is little pressure to "take action," and you won't need to complete homework to meet your therapy goals. Instead, your therapist will encourage you to succeed in interpersonal situations while reinforcing good social skills. You may also "rehearse" new skills to play out in real life.
Interpersonal Psychotherapy Techniques
Clarification: this helps you recognize and move beyond your own biases in order to understand, analyze and describe your interpersonal issues
Supportive/empathetic listening: your therapist will listen to you without judgment
Role-playing: learning new skills by "rehearsing" them with your therapist
Communication analysis: understanding your interactions with others, as well as causes and outcomes
Encouragement of affect: the process of letting yourself experience unpleasant or unwanted feelings surrounding your interpersonal issues. This is practiced in a safe therapeutic environment, helping you to accept difficult emotions as part of your experience.
Interpersonal Psychotherapy Benefits
IPT has many proven benefits for people with social or relationship challenges. It can help treat interpersonal deficits (such as social isolation), unresolved grief, difficult life transitions (such as divorce or retirement) and relationship disputes.
One of the main benefits of interpersonal psychotherapy is that it is firmly rooted in the present. Instead of analyzing past relationships (such as parent-child attachments), IPT focuses on present conflict, addressing only the maladaptive thoughts and behaviors that impact your life and relationships now.
IPT is also less directive than cognitive behavioral therapies and doesn't dwell on your past relationships or personality traits. It is therefore highly effective for those who want to target specific problems, such as trouble maintaining relationships, marriage conflict or problems with co-workers.
Interpersonal Psychotherapy Goals
The main goal of IPT is to improve the quality of your relationships and social functioning to help reduce symptoms and address problems in critical areas of your life. If you think interpersonal psychotherapy could help you or someone in your life, ask your doctor for a list of practitioners in your local area. You can also use the Find a Therapist directory on the ADAA website (Anxiety and Depression Association of America).
APA Reference
Smith, E. (2019, September 17). What Is Interpersonal Psychotherapy Used to Treat?, HealthyPlace. Retrieved on 2023, October 4 from https://www.healthyplace.com/other-info/mental-illness-overview/what-is-interpersonal-psychotherapy-used-to-treat
Last Updated: October 15, 2019