What's It Like Inside a Mental Hospital?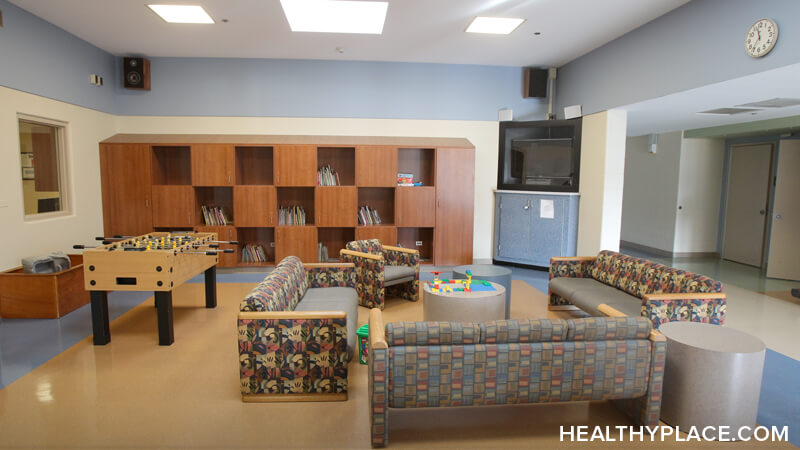 Experiences in mental hospitals vary from extremely positive to very negative and this often depends on the individual's situation and the specific mental health hospital (Types of Mental Health Facilities). Before you enter a mental health hospital, though, it's important you get the facts on what it's like inside mental hospitals. Movies and television don't tell the whole story and you should know what to really expect (5 Movies About Mental Illness You'll Want To Watch).
Why Might a Person Be In a Mental Hospital?
There are many reasons why people enter mental health hospitals. Typically, the people in mental hospitals have a variety of mental health conditions such as bipolar disorder, major depressive disorder, schizophrenia or even dementia (List of Mental Illnesses). These people are in the mental hospital because they cannot manage the illness on their own at this time and need around-the-clock care. There is nothing to be ashamed of about being in a mental hospital. It is a place people go to get well and going to one can be seen as a very positive step forward.
How Does a Person Get Admitted to a Mental Hospital?
There are two types of admissions to mental hospitals: voluntary and involuntary admissions. Voluntary admissions are when a person agrees to stay in a mental hospital. They ask to be there or they "sign themselves in." This type of admission is typically arranged by the patient, a doctor, or the legal guardian. This type of admission tends to happen when a person is feeling overwhelmed by mental illness and feels in need of extra support or feels he or she may hurt him or herself or someone else.
Involuntary admissions are when a person is admitted to a mental hospital without his or her consent because it has been determined by a doctor or the police that the person is a danger to him or herself or someone else. Involuntary admission is typically brief and if a longer stay is determined to be needed, a court order must be obtained.
What Happens In Mental Health Hospitals?
Procedures vary at different mental health hospitals but, typically, once people are admitted, they have a consultation with a doctor – likely a psychiatrist as well as a general practitioner (GP). These doctors will assess the patient's physical and mental state. At this point, the patient is told how everything works. For example, meals may be served in a communal area rather than in each patient's room.
Then the patient will work with either their regular doctor or a doctor from that mental health facility to make treatment decisions that will generally include psychiatric medication. If the admission is involuntary, emergency medication maybe given initially without the consent of the patient but outside of that, patients can be active in their mental health treatment decisions.
During the day, mental health patients typically undergo:
Group therapy – this is a facilitated discussion with other patients. This type of group is typically led by a medical professional, psychologist or social worker.
Group therapy may be aimed at discussing treatment issues (such as treatment goals, concerns and so on), may be focused on teaching skills or may be based around a specific therapy such as cognitive behavioral therapy (CBT) or art therapy.
Individual therapy – individual therapy is one-on-one therapy between the patient and a professional like a psychiatrist, psychologist or social worker. This type of therapy might be psychodynamic (often called "talk therapy") or be focused around a specific type of therapy such as dialectical behavior therapy (DBT) or cognitive behavioral therapy (CBT). There are many types of mental health treatments the doctors will consider (Types of Therapy).
Personal time – between activities, people typically have a lot of time to themselves. How people use this time is up to them but resting and reflecting may be good uses of time as may work or study, if possible.
Visitors – when a patient may have visitors is up to the mental health hospital, but for many, visiting hours are available throughout the day. Patients may also be able to leave the facility on weekends if accompanied by another person.
Fear of Mental Health Hospitals
It's natural to be scared of going into a mental health hospital if you've never been in one before, but remember, many find the experience to be a positive turning point in their treatments and you may find this, too. To reassure yourself, research the mental health hospitals in your area ahead of time to determine what one might be the best fit for you.
APA Reference
Tracy, N. (2019, October 15). What's It Like Inside a Mental Hospital?, HealthyPlace. Retrieved on 2023, December 7 from https://www.healthyplace.com/other-info/mental-illness-overview/what-s-it-like-inside-a-mental-hospital
Last Updated: October 23, 2019