About Larry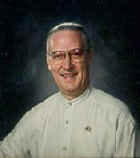 Larry James is President of CelebrateLove.com (formerly Career Assurance Network). He has been a full-time professional speaker and author since 1987.
At age 10, he made his first sales call. He's been networking and selling ever since. He was in broadcasting for twelve years and was a popular, award-winning radio personality in the 1960's and early 1970's.
He fully acknowledges his responsibility to practice what he teaches; inspiring others by example. He is a gifted teacher who shares his inspired insight with clarity, style and good taste.
His purpose is "Helping Others Help Themselves." He is totally committed to sharing ideas and information that will assist anyone interested in improving the quality of their life!
His "Relationship Enrichment LoveShop," adapted from his best selling books, "How to Really Love the One You're With: Affirmative Guidelines for a Healthy Love Relationship!" and "LoveNotes for Lovers: Words That Make Music for Two Hearts Dancing!" is presented nationally. His newest relationships book, "Red Hot LoveNotes for Lovers."
In February, 1996, Larry joined the staff of Dr. John Gray, Ph.D. author of "Men Are From Mars, Women Are From Venus." He was Dr. Gray's personal choice to host the popular "Mars & Venus Chat Room" on America Online for nearly three years. He is a personally trained facilitator of Dr. Gray's "Mars and Venus Seminars."
Larry also does Personal Relationship Coaching for high functioning singles and married couples; people who are committed to "doing" whatever it takes to make their relationships work.
Larry has appeared on ABC TV's "The View" with Barbara Walters and more than 400 radio talk shows. His articles have appeared in Living Solo Magazine, Elite Magazine (Tulsa), Real Estate Today, Singles In Sight Magazine (Phoenix), Single Living Magazine, Business to Business Magazine, Arizona Networking News and Single Magazine (Phoenix), Entertainment Guide of San Diego, The Light (Albuquerque), Friends & Lovers: The Relationships Magazine (Internet), Single Today (Memphis), and Single Lifestyles Magazine (LA & Southern California).
---
---
Larry is a founding member and past president of the Oklahoma Speakers Association. He has served on the board of directors and is currently a member of the Arizona Speakers Association; a member of the National Speakers Association, the International Federation for Professional Speakers and is listed in "Who's Who In Professional Speaking."
NOTE: The National Speakers Association (NSA) is an international association for experts who speak professionally. NSA members include experts in a variety of industries and disciplines, who reach audiences as trainers, educators, humorists, motivators, consultants and authors. For more than 26 years, NSA has provided resources and education designed to enhance the business acumen and platform performance of professional speakers.
Larry travels nationally leading seminars and giving speeches of inspiration that focus on developing close personal and business relationships.
APA Reference
Staff, H. (2008, December 28). About Larry, HealthyPlace. Retrieved on 2023, December 8 from https://www.healthyplace.com/relationships/celebrate-love/about-larry
Last Updated: June 16, 2015