Disclosing My Mental Illness Was A Process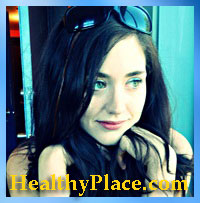 My name: Natalie Jeanne Champagne
Age: 27
Diagnosis: Bipolar 2, Anxiety, ADHD, recovering from Addictions
Symptoms since: age 12
What Was It Like Disclosing That I Have a Mental Illness?
Dislcosing my mental illness was really hard but it was a process that took many years. I was diagnosed with juvenile bipolar disorder at the age of twelve. While kids my age were playing sports and learning important social skills, I was confined in a children's psychiatric hospital. It was a scary place and once I gained stability, at the age of fifteen, the last thing I wanted to do was to tell people I was living with bipolar disorder. Twenty-seven years old now, I have spent years both accepting my diagnosis and sharing it with people.
Why Did I Decide to Disclose My Mental Illness?
Disclosing my mental illness was a slow process. When I became involved in a romantic relationship, I realized I had an obligation to share my diagnosis. I was eighteen years old and terrified. I was in love and I hoped--above all else--that he would love me despite what I felt was a negative part of my life--of me. To my surprise, he simply gave me a hug and asked me questions about my illness. That was my first experience "coming out" with my illness, but it was not my last.
As I continued my journey recovering from mental illness, I opened up to more people--friends and co-workers. I became more comfortable with my diagnosis. Sharing it made it less scary. People were more receptive than I had given them credit for. They cared.
Disclosing my illness to a few people was initially difficult, but "coming out" to the public, well, that was much more difficult.
Sharing My Bipolar Diagnosis Publicly
When I was twenty-four, after struggling with addiction, I decided to write a memoir on my experience with mental illness, addiction and recovery. When I wrote it, I never really thought I would publish it--I just love to write. But as pages became chapters and chapters evolved into a book, I decided to publish my memoir, The Third Sunrise: A Memoir of Madness. It felt like, overnight, that people knew I had bipolar disorder and was a recovering addict. People e-mailed me about their condition or asked me how to help those they loved.
It's a strange juxtaposition: Writing about my illness, sharing it with people, but also struggling with a feeling that my life is not private. It took a long time, a couple of years, to both accept my choice to disclose my illness publicly and, further, to accept that I had.
Prior to sharing my diagnosis publicly, I felt more alone. I had no idea so many people struggled like I had and still do. I feel more confident in my diagnosis now--in my life--but I have also learned that I am more than a person with bipolar disorder--I'm still me.
I encourage people to share their experience living with mental illness, but only if they are entirely comfortable with it themselves. Spend time accepting your illness and getting to know yourself outside of it. You'll know, intrinsically, when you are ready to share and when you do, you will find yourself in large, receptive, company.
Natalie Jeanne Champagne's blog: Recovering From Mental Illness
next: Why I'm Public About Having A Mental Illness
~ all standing up to mental health stigma stories
~ join campaign-campaign buttons
~ all stand up for mental health articles
APA Reference
Staff, H. (2015, January 19). Disclosing My Mental Illness Was A Process, HealthyPlace. Retrieved on 2023, September 28 from https://www.healthyplace.com/stigma/stories/disclosing-my-mental-illness-was-a-process
Last Updated: June 1, 2015