Escaping Hades Homepage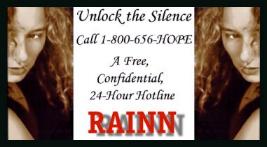 Escaping Hades is a rape and sexual assault survivors site. This site contains stories of survivors of rape, sexual abuse and incest; including my own rape survival story. There are also resources to find the help you need.
Welcome to Escaping Hades. My name is Lis and I was raped over  twelve years ago. I tell my story on this site, many other survivors have told their stories here, and I hope that you will tell your story, too. I hope that you will find many useful resources here and learn to call this site a home for your healing.
If you take one thing with you when you leave this site, please let it be the knowledge that any rape or sexual assault was not your fault. It does not matter what you wore, or how you acted. It does not matter if you were friends with, dating or married to your attacker. It does not matter if you were intoxicated. You were the victim. Now, you are the survivor.
If you are a survivor of rape, sexual assault, sexual abuse or incest, please stay safe while visiting Escaping Hades, as many of the pages can be triggering. If you are here because someone you love is a survivor, I thank you for trying to understand and help your loved one. The road to healing from any type of sexual trauma is terribly difficult, but we will get there together.
Here's my story: What happened to me and my journey from rape victim to survivor.
In Greek Mythology, Persephone is the goddess of spring. According to her story, she was abducted, raped and taken to the underworld by Hades, the lord of the underworld. When her mother, Demeter, found out what had happened to Persephone, she convinced Zeus to force Hades to release her. Before Persephone could leave, Hades made her eat a pomegranate, which meant that she would have to return to the underworld for one-third of the year. According to the legend, the time Persephone spends in the underworld is the time in which there is winter on the earth. Because Persephone made it out of the underworld, she can be called the first survivor. As survivors we can take comfort from the knowledge that although winter is hard, there is always spring around the corner.
Escaping Hades Content
---
---
APA Reference
Staff, H. (2008, November 17). Escaping Hades Homepage, HealthyPlace. Retrieved on 2023, December 8 from https://www.healthyplace.com/abuse/articles/rape-and-sexual-assault-sexual-abuse-survivors
Last Updated: May 5, 2019