The Phonics Game
The fast, fun and effective way to strengthen reading, spelling and comprehension skills!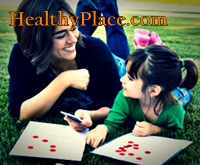 The Phonics Game™ provides the intensified phonics approach to reading that is best for all children and adults. The game format makes learning fun while stimulating full brain activation during the learning activities. The logical sequence of neurolinguistic instructional components leads to rapid learning. Most kids and parents report having so much fun playing The Phonics Game, they don't even realize they're learning! It's the painless and fun way to give your children a competitive edge in school!
Each of the 6 (double deck) fun and progressive card games included in The Phonics Game Kit move people along at their own pace - regardless of age or reading level. In no time, all players (adults too) learn the essential building blocks of reading and comprehending the English language!
The Phonics Game is an incredible learning tool. Your children will be reading and spelling better than you ever imagined. Fun, yes! But The Phonics Games is also a complete, systematic, and explicit phonics teaching program for people of all ages. The card games cover all the rules of phonics and when to use them. In no time, your children will be sounding out words easily and fluently. Anybody interested in reaping the rewards of superior reading skills will benefit from The Phonics Game!
Includes:
3 Video Tapes,
Play Book,
7 Audio Tapes,
6 Double Deck Card Games,
Sound Code Chart, Reading Selections
Phonics: The Key to Strong Reading Skills
Over 180 research studies to date have proven that phonics is the BEST WAY to teach reading to all students. These studies also show that intensified phonics is the ONLY WAY to teach reading to students with learning disabilities.
Unfortunately, 80% of our nations schools do not use an intensified phonics approach for reading instruction. They either use the whole word (see & say) approach or a cursory use of phonics along with the whole word method.
While most people can learn to read using the whole word approach, it is not the best way to learn. It teaches through memorization of word pictures and guessing. Unlike Chinese or Japanese which are picture languages, the English language is a phonetic language. With the exception of the United States which dropped phonics in the 1930's, all other countries that have a phonetic language, teach reading through phonics.
There are only 44 sounds while there are about 1 million words in English. These facts readily explain why having to memorize 44 sounds as opposed to memorizing hundreds of thousands of words is the most efficient way to learn to read.
Reading and writing is simply "talking on paper." Children learn to talk by imitating sounds and then combining the sounds to form words. The brain is programmed to learn language in this fashion. Therefore, the most efficient way to learn to read is through phonics because it teaches children to read the same way they learned to talk.
Children and adults with reading problems often have one or more of the following symptoms:
Below grade level reading achievement
Slow reading
Poor comprehension
Experience anxiety over reading in front of others
Experience fatigue after reading only for a short while
Poor spelling skills
Struggle with school assignments that require reading
Constantly need to re-read to understand the meaning
Lack of enjoyment from reading
You can order your Phonics Game™ when you click here.
---
---
---
Kids call it FUN!
"My teacher says she can't believe how much my reading has improved since we got The Phonics Game. But to me...it's just a really fun game! Other kids on the block like to come over to play it, too. "- Josh, 7
"I felt bad that I couldn't read like the other kids. My mom ordered The Phonics Game and we watched the videos and then played the Game. Now I can read at my grade level. My mom is proud, and I feel a lot better about myself, too." - Debra, 12
Families love The Phonics Game!
It's fast-paced fun!
It combines skill and chance, allowing everyone to win!
It produces measurable results quickly!
It prepares children for success!
It's one educational program you don't have to force children to use!
Parents call it a MIRACLE!
"The Phonics Game is fantastic! The same girl who struggled to read, or should I say memorize, now reads at her grade level. My daughter feels so much better about herself. This game really works!" - Alice Thompson
"What an unbelievable great idea. An educational product cleverly disguised as fun. My child never gets tired of play The Phonics Game, and the learning will last a lifetime!" - Nancy Kashergen
"Our son, Oliver, will need outstanding skills in life. the Phonics Game helps us encourage and motivate him to learn right at home...and he loves it." - Ivan Chung.
Experts call it INGENIOUS!
"I've never seen any reading program work so rapidly. I have kids who want to skip recess to play The Phonics Game because it's so much fun. ... My students now have the necessary phonics rules to decode any word, from any book! And I've got the video tapes to prove it!" - Pam Barret, Elementary Teacher
"The Phonics Game has been a tremendous success at our school. Our teachers allocate time each day for playing The Phonics Game with their students...and the children love it. I've been extremely pleased with the results and highly recommend it to our parents for home use." - Chuck Jones, School Principal
"I have been using the Phonics Game with children and teens who have severe reading problems, including dyslexics, for over 10 years. Having worked in a school learning center prior to becoming a psychologist, I was very skeptical when heard the claims of the program. I gave some patients a free trial and was amazed at the results. I have been recommending the Phonics Game ever since. Learning to read can change a child's whole life. That is why I am happy to recommend this program to a wider audience over the internet. Please read on to learn how the Phonics Game works and then try it out. You too will be amazed at the results." - Robert Myers, PhD (Director, ADD Focus)
You can order your Phonics Game™ when you click here.
---
---
next: The Use of Focus with Children and Young Teens with Attention Deficit Disorder
~ back to ADD Focus homepage
~ adhd library articles
~ all add/adhd articles
APA Reference
Staff, H. (2008, December 23). The Phonics Game, HealthyPlace. Retrieved on 2023, December 10 from https://www.healthyplace.com/adhd/articles/the-phonics-game
Last Updated: February 13, 2016