Impact of Anxiety Disorders on Seniors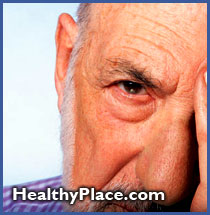 While anxiety disorders occur throughout the life-span, there are important differences in anxiety disorders occurring in older patients. Interestingly, most anxiety disorders are somewhat less common and often less severe in persons over 65 years of age; for example social phobia, agoraphobia, panic disorder, post-traumatic stress disorder and the more severe forms of obsessive compulsive disorder.
Nonetheless, about 20% of all elderly persons report some symptoms of anxiety. In addition, anxiety symptoms arising from physical problems or medication side effects are more frequent among the elderly. For example breathing problems, irregular heart beats and tremors can simulate symptoms of anxiety. Anxiety can occur along with other psychiatric problems too; over half of elderly persons with severe depression also meet the criteria for generalized anxiety disorder.
I am often struck by the fact that many elderly people must deal with significant changes, with threats to their independent functioning and with major losses at a time in their lives when they are often least equipped to deal with them. It is not surprising that this often leads to anxiety.
Fortunately, there are many good treatments for anxiety disorders. These may include the use of relaxation techniques, psychotherapy and antianxiety medications. Frequently with effective treatment, the person can then handle the challenges of their life.
About the author: Glenn Brynes, PhD, MD is Board-Certified in Adult and Geriatric Psychiatry and in private practice in Baltimore, MD.
next: The Impact of Anxiety Disorders on the Family
~ anxiety-panic library articles
~ all anxiety disorders articles
APA Reference
Staff, H. (2002, January 1). Impact of Anxiety Disorders on Seniors, HealthyPlace. Retrieved on 2023, December 11 from https://www.healthyplace.com/anxiety-panic/articles/impact-of-anxiety-disorders-on-seniors
Last Updated: July 3, 2016