What is a Geriatric Psychiatrist?
Covers what is a geriatric psychiatrist, who sees one, how to find a geriatric psychiatrist, and the geriatric psychiatrist's role.
Psychiatric Help for Seniors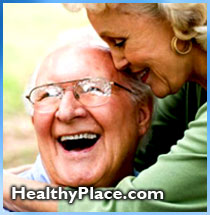 The geriatric psychiatrist is a good ally when it's not clear whether the patient's problem is dementia, depression, or the complications of multiple physical illnesses in addition to dementia or depression.
--Julie Brandies, M.D.
A geriatric psychiatrist is a medical doctor with special training in the diagnosis and treatment of mental disorders that may occur in older adults. These disorders include, but are not limited to, dementia, depression, anxiety, and late-life schizophrenia.
Older adults have special physical, emotional, and social needs. Understanding this, the geriatric psychiatrist takes a comprehensive approach to diagnosis and treatment, including listening and responding to the concerns of the older adult, helping families, and when necessary, working with other health care professionals to develop effective approaches to treatment. Co-existing medical illnesses, medications, family issues, social concerns, and environmental issues are integrated into a comprehensive program of care.
Who Sees a Geriatric Psychiatrist?
My geriatric psychiatrist helped me understand that I was depressed, not senile or crazy. --Lena Fox, Patient
Older adults with a variety of concerns see a geriatric psychiatrist. These concerns include difficulty coping with change, stress, death, depression, memory problems, family history of dementia, anxiety, or agitation associated with dementia or poor sleep. Sometimes emotional problems occur for the first time in older adults who suffer with chronic pain, Parkinson's disease, heart disease, diabetes, stroke, or other medical disorders. The geriatric psychiatrist offers valuable help to older adults who are coping with changes in health and function.
Because the geriatric psychiatrist also understands the family's role in caring for the patient, the doctor educates the family about the nature of the illness and how they can best cope, and may include referral to other appropriate services.
Where Do I Find a Geriatric Psychiatrist?
Geriatric psychiatrist see patients in a many settings, including office, hospital, clinic, long-term care facility (nursing home), or an independent or assisted living facility. Your family doctor can refer you to a geriatric psychiatrist in your area, or contact AAGP for a referral (301) 654-7850, ext. 100.
The Geriatric Psychiatrist -- Part of Your Health Care Team
The doctor helped us understand that Dad didn't really mean to get angry, and that it was his Alzheimer's disease that makes it hard for him to deal with frustration. Then the doctor told us how we could help Dad so that he didn't get upset as often. --Roger Demb, Family Caregiver
For adults coping with aging and mental health issues, the geriatric psychiatrist is a valuable member of the health care team. Advising primary care doctors in complex situation involving both medical and mental illness, educating nurses and other health care professionals in long-term care or independent living facilities, directing home health service providers, educating the community, and advocating for public health care policy are just a few of the ways in which geriatric psychiatrists support their patients.
Source: American Association for Geriatric Psychiatry, 2002.
next: Reducing the Stress in Your Life
~ anxiety-panic library articles
~ all anxiety disorders articles
APA Reference
Staff, H. (2002, January 1). What is a Geriatric Psychiatrist?, HealthyPlace. Retrieved on 2023, December 11 from https://www.healthyplace.com/anxiety-panic/articles/what-is-a-geriatric-psychiatrist
Last Updated: July 4, 2016