Physical Side Effects of Anxiety in the Body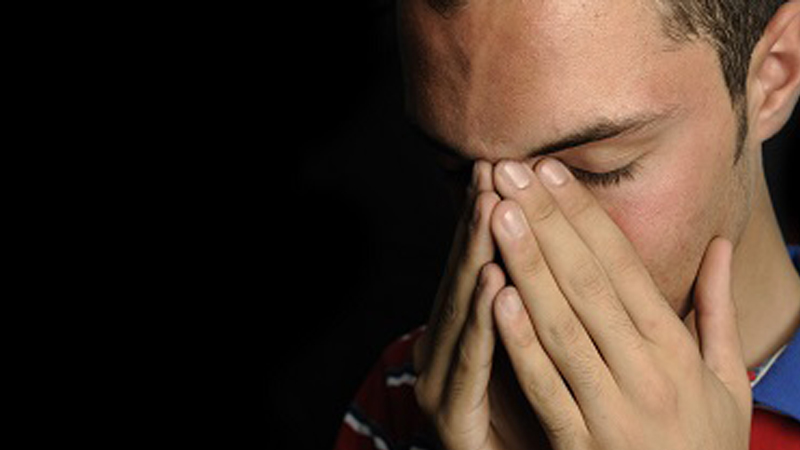 Anxiety exists in the body, and there are physical side effects of anxiety. We can experience anxiety symptoms throughout our whole being; indeed, anxiety impacts our thoughts, emotions, behaviors, and sense of physical wellbeing. Symptoms of severe anxiety can be frightening and lead to even more anxiety. Anxiety invades the body, an unwelcome guest that overstays its unwelcome. The physical side effects of anxiety can cause difficulty and even agony.
Stress Leads to the Physical Side Effects of Anxiety
Life is full of stressors. It can feel as though we're bombarded by an endless deluge of demands, pressures, and worries. These force their way in and cause our thoughts to race day and night, relentlessly and ruthlessly.
Events outside of us are interconnected with our thoughts about those events, and both are connected to our emotions. Events, thoughts, and feelings create anxiety in the body, and the center of anxiety in the body is the brain. A look at the brain helps us understand the physical side effects of anxiety.
The brain is a wonderful, intricate, amazing organ: divided into different areas, housing multiple complex structures, creating neurotransmitters, producing or triggering the production of hormones like the stress hormone cortisol, crisscrossed by axons and dendrites, and so much more. It's the brain that reacts to our outer and inner worlds, and it's the brain that produces thoughts and emotions and anxiety. Anxiety is truly in your head because it's in your brain.
When the brain is mobilized, without a break, to face stress and anxiety, our entire body feels the impact. Anxiety is truly in the body, which results in physical side effects of anxiety that are harsh (Release Emotions Stored in the Body for Eating Disorder Recovery).
Physical Side Effects of Anxiety Mimic Other Health Conditions
Anxiety in the body makes us feel ill in a variety of ways. In addition to symptoms like migraines, nausea, aches and pains, sweating, and more, physical side effects of anxiety can directly mimic many serious health conditions. A partial list of conditions that anxiety makes us experience:
Acid reflux
Irritable bowel syndrome
Asthma
Food intolerances/allergies
Heart conditions
The physical side effects of anxiety can be so insidious that they confuse and baffle health consumers and professionals alike. I was once diagnosed with asthma and was treated for years without success. Finally, I explored anxiety as a cause. As I addressed my anxiety, my "asthma" disappeared.
Anxiety was in my body, and the physical side effect was asthma-like. My brain's response to unrelenting anxiety was to react in a way that caused the same inflammation in my lungs that asthma would cause. Anxiety in my body felt like asthma .
The same type of brain activity in response to chronic anxiety leads to other symptoms as well. Anxiety and physical illness like to confuse people and cause general misery.
What to Do About Physical Side Effects of Anxiety
It's very important to avoid assuming that physical health problems are absolutely physical side effects of anxiety. If you are experiencing physical symptoms, the first step is to visit your doctor or healthcare provider to rule out physical illness. Sometimes, anxiety can make an existing physical illness worse, so getting that checked is crucial.
It's also important to treat anxiety. There are many different approaches to reducing anxiety. Medication is helpful in some cases; after all, anxiety is brain-based. There are also great benefits to working with a therapist to learn how to deal with problematic thoughts, to develop tools to regulate emotions in general and anxious feelings in particular, and to explore the underlying causes of anxiety. Learning about anxiety and managing it, finding support, and confronting it head-on are also helpful.
Anxiety isn't just a thought or a feeling. It's in the body, too. The physical side effects of anxiety can be extreme. They can also be improved.
You can also connect with Tanya J. Peterson on her website,Google+, Facebook, Twitter, Linkedin and Pinterest.
APA Reference
NCC, T. (2015, August 13). Physical Side Effects of Anxiety in the Body, HealthyPlace. Retrieved on 2019, September 20 from https://www.healthyplace.com/blogs/anxiety-schmanxiety/2015/08/anxiety-in-the-body-physical-side-effects-of-anxiety
Author: Tanya J. Peterson, MS, NCC
Hi Jennifer,
It's good that you have seen doctors about your symptoms. While everything you mentioned can absolutely be a side effect of anxiety, it's always a good idea to get physical symptoms checked. Working with a therapist can be very helpful in helping you sort out what is happening with your anxiety and how to best treat it. This link takes you to an article about types of counseling and how to find a counselor: https://www.healthyplace.com/other-info/mental-illness-overview/types-of-mental-health-counselors-finding-a-good-one/.
Hello r,
What is often called "chemo brain" is such an awful side effect of chemotherapy. Good for her for fighting to get her health and life back. It takes strength to do that! It's possible, though -- especially with the support system she has in place. I think her doctor is onto something, too, when he/she says that exercise is key. It's the tie again between anxiety/brain-based things and the body. They impact each other, which means they can help heal each other. I wish your friend great recovery.
Hello Magda,
Chemotherapy can drastically affect the body and brain (which is part of the body) in so many ways. Discussing your increased anxiety with your doctor could be helpful. He/she might very well have seen this in other patients and could help you with this. Also, there are therapists who are very skilled in helping people with debilitating anxiety. There is help available; you don't have to remain trapped or go at this alone!
Leave a reply