#BellLetsTalk – Help Raise Funds for Mental Health Jan. 27th
Tomorrow is Bell Let's Talk Day and you can help raise funds for mental health initiatives with a simple tweet or Facebook share. Since 2010, Bell (a Canadian phone company) has committed $100 million to mental health programs and you can help raise even more.
Bell Believes Talking About Mental Health Works
Bell believes that talking about mental health is the first step towards "meaningful change and building greater awareness, acceptance, and action." I would tend to agree. An open and honest conversation about mental health and mental illness does help us all. It's what I try to do, and whether you have a mental illness or not, it's what you can do to help people with mental illness, too.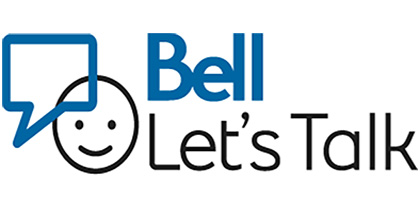 Considerations for #BellLetsTalk Day
Bell recommends considering these five things when talking about mental illness on Bell Let's Talk Day and every day:
Spread mindfulness of language. Explain to others that calling people "psycho" or "nuts" is not okay.
Educate yourself and others. Learn about the facts and myths of mental illness and spread this education through conversation with others.
Be kind. As we all know, small, kind acts can make all the difference in the world. Stand up when someone is bullied or being labeled in unfair or stigmatizing ways.
Listen and ask questions. If you don't know what to say – just listen. Listening to someone with a mental health challenge is a gift in and of itself.
Start a conversation, not a debate, about mental health. Talk about how mental illness touches us all and support mental health campaigns in your community.
How Does Bell and Bell Let's Talk Day Raise Money?
If you happen to be a Bell Canada customer, it's particularly easy for you. Bell will donate five cents for every mobile and long distance call as well as any text message sent on January 27th. This gives you the perfect excuse to start a mental health conversation. (You may also want to catch The Right, Honourable Justin Trudeau talking about mental health for Bell Let's Talk Day, too.)
For everyone else, it's still pretty, darn easy. All you have to do is send tweets using the hashtag #BellLetsTalkDay or share the Bell Let's Talk Day Facebook image. Check out some of the tweets here. It doesn't matter where you are in the world, you can help raise awareness and money for mental health initiatives.
I encourage everyone to take an extra moment tomorrow and contribute your voice to the conversation. The more of us raising the voice, the more powerful we can be.
You can find Natasha Tracy on Facebook or Google+ or @Natasha_Tracy on Twitter or at Bipolar Burble, her blog.
APA Reference
Tracy, N. (2016, January 26). #BellLetsTalk – Help Raise Funds for Mental Health Jan. 27th, HealthyPlace. Retrieved on 2023, December 1 from https://www.healthyplace.com/blogs/breakingbipolar/2016/01/bellletstalk-help-raise-funds-for-mental-health-jan-27th
Author: Natasha Tracy