What Does Euphoria Feel Like in Bipolar Hypomania?
I don't think euphoria in bipolar hypomania feels like extreme happiness. I use the word "euphoria," which does mean "extreme happiness" but the word only partially fits my experience (Bipolar Mania and the Impact of Manic Symptoms). "Euphoria" is what doctors call one of the "gateway criteria" for bipolar hypomania or mania (one of the main characteristics) so many people with bipolar disorder experience. And sometimes I do experience something like euphoria in bipolar hypomania but bipolar hypomania euphoria just doesn't feel like its real definition to me.
What Is Euphoria?
According to the American Heritage® Stedman's Medical Dictionary, euphoria is defined as: "A feeling of great happiness or well-being, commonly exaggerated and not necessarily well founded." (In the non-medical definition, the "not necessarily well-founded" part isn't there.)
As it's "not necessarily well-founded" that really exemplifies the feelings that bipolar mania or hypomania bring. The feelings are over-the-top and out of proportion with the experience.
My Experience of Euphoria in Bipolar Hypomania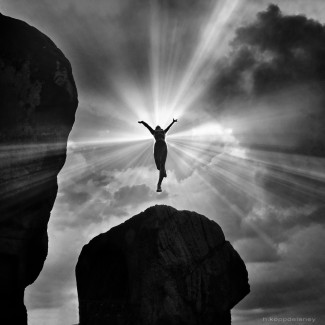 I do experience this odd giddiness in bipolar hypomania. I laugh at the oddest things. For example, I might smile and have the best time washing dishes. And while washing them, I might pick up my sponge (which has a happy face on it) and start laughing hysterically. For me, this hysterical laughing at nothing and immovable smile for no reason are distinct indicators that hypomania is here. Excess energy also seems to feed into these things and also be a symptom that hypomania is present.
But the thing is, for me, these feelings seem very superficial. It seems like the laughter and smiles and giddiness and energy are all really fake. They seem like a layer on top of what is me and not what is truly me. I can feel it as the illness rather than part of who I am.
The Unfortunate Reality of Bipolar Hypomania Euphoria
This is really a bummer because when bipolar hypomania arrives, I would love to feel euphoria, energy and smiles for real. I would love to experience them in a genuine way and not a superficial one. And this is even more unfortunate when you consider the fact that while depression can feel superficial as well, it often doesn't. My bipolar depression is so much stronger than my bipolar hypomania that when I feel the depression it often does feel like the real me, even when I, intellectually, know it is not.
Maybe these symptoms feel fake because I'm so aware of the brain-mind separation. It's so clear to me that my brain is sick and my mind isn't. It's really clear to me that these symptoms are just misfires of the bipolar brain and not products of my mind, my "me." Understanding this is usually a blessing but in this case feels like a curse. Knowledge and understanding may be power, but it's also disappointing at times. Hypomania should be the release from bipolar depression, which is so deserved and welcomed. But instead, for me, it isn't. Only an equilibrium that is the real me is a release. And that is a whole lot rarer.
Check out Natasha Tracy's book: Lost Marbles: Insights into My Life with Depression & Bipolar and connect with her on Facebook, Google+ or Twitter or at Bipolar Burble, her blog.
Image by Flickr user Hartwig HKD.
APA Reference
Tracy, N. (2017, January 20). What Does Euphoria Feel Like in Bipolar Hypomania?, HealthyPlace. Retrieved on 2019, September 16 from https://www.healthyplace.com/blogs/breakingbipolar/2017/01/what-does-euphoria-feel-like-in-bipolar-hypomania
Author: Natasha Tracy