Dealing with Depression Triggers in Blog Posts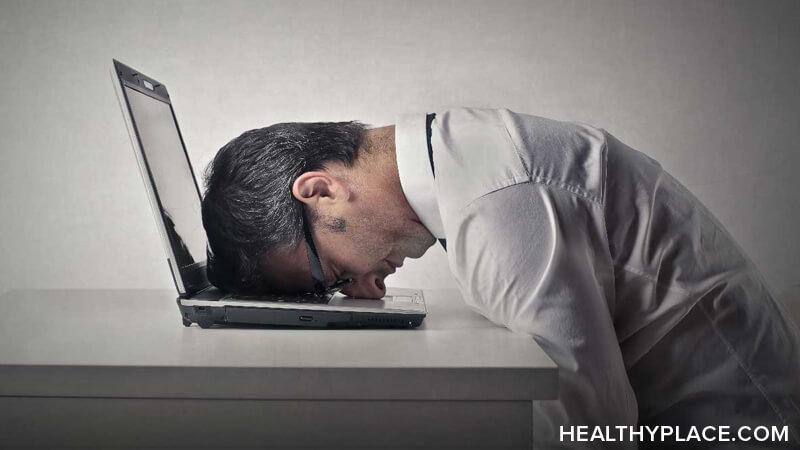 I write about some things that can trigger those with depression so it's important for readers to know how to deal with depression triggers in blog posts. Understanding how to deal with depression-triggering blog posts can protect you from negative emotional effects and worsening symptoms.
Tigger Warnings on Blog Posts
Some blogs posts have trigger warnings. These warnings can, obviously, be your cue to not read specific posts. For example, if a post details a suicide attempt and you have attempted suicide, a trigger warning regarding suicide likely should tell you to avoid that post.
That said, I, personally, don't believe in trigger warnings and almost never use them. This is because I believe people are adults and should be able to make their own decisions about what topics are right for them. If I make sure the title clearly states the topic, I feel no need to warn people again that the topic is being discussed. I believe we need to take personal responsibility for what we allow into our worlds. I, as the writer, cannot know how any member of an audience may react to my work. Your reaction just isn't my responsibility.
For example, I'm not watching the Netflix series 13 Reasons Why as it contains suicide details and I feel that might be triggering for me. But I made that decision not some trigger warning.
Know What Will Trigger Your Depression (Or Other Symptoms)
As I said, I feel that series will be triggering for my bipolar depression. In the case of blog posts, I know that they are unlikely to trigger my bipolar depression as reading isn't the same as watching for me.
You may be different, though. You may find blog posts on certain subject depression-triggering. That's okay. You just need to know yourself. If you just got out of the psychiatric hospital because of a mental health emergency, for example, it's not the time to be reading a detailed account of someone else's suffering. You might want to stay away from blog posts that discuss things like self-harm, suicide, sexual abuse or other issues depending on what your personal experiences are.
Depression Triggers in Blog Posts – How to Deal with Them
If you are the kind of person who can get triggered through reading, consider these tips on depression triggers in blog posts:
Know yourself. Don't be ashamed to admit to yourself or others that some subjects are off-limits for you. It's totally okay to admit that you can get triggered. Even people without mental illness can feel quite strong emotions after reading about certain topics so you're not alone. The difference between you and that person is likely that the effects will be more severe and long-lasting for you so you need to protect yourself from them.
Believe the title. When I write a blog post about something sensitive I always make sure the title clearly states what it's about. Believe that title. Know that just because a trigger warning isn't present, that doesn't mean that you can't be triggered. You're an individual and you know what will trigger you better than the writer ever could.
Consider the trigger warning. If a trigger warning does exist, consider whether the piece is appropriate for you.
Carefully consider the subject. Depression symptoms are likely to be triggered by blog posts on different subjects for different people. Consider your personal triggers and not the triggers of others.
Avoid triggers, probably. Once you've considered your own depression-trigger likelihood, decide whether you think it's worth the risk in reading the blog post. You might be feeling strong that day and decide you want to read it anyway, or you might be feeling a bit more sensitive that day and avoid triggers more than usual. Either is okay.
If your depression is triggered by a blog post: Even after doing your best to avoid triggers, you might get triggered anyway for a variety of reasons. Don't beat yourself up about this. This is okay. What you need to do then is take care of yourself and learn from the experience. You may need to talk to a friend or even make a therapy appointment. And remember, you can call a mental health hotline if you are severely triggered, whether you are suicidal or not. Sometimes triggers require this. Take care of yourself in the best way you can. And then learn about that new trigger and think about avoiding it in the future.
In short, do the best you can to take responsibility for your own triggers – no one else can. Admit to your triggers and protect yourself when you need to. Remember, admitting that you have sore spots is not weakness, it is strength. Knowing yourself and exhibiting insight into your own brain is powerful. And, in the end, if you are triggered, get help. Again, don't be embarrassed that you were triggered by a blog post. If that happens, that just means you are like many, many others.
APA Reference
Tracy, N. (2017, July 14). Dealing with Depression Triggers in Blog Posts, HealthyPlace. Retrieved on 2019, October 17 from https://www.healthyplace.com/blogs/breakingbipolar/2017/07/dealing-with-depression-triggers-in-blog-posts
Author: Natasha Tracy
I've often noticed that when people express their spiritual beliefs, it is frequently a trigger for others. What is usually said with good intention can sometimes be perceived as offensive to others. It's because we're not all on the same wave length. Apparently we don't speak the same language. We are all guided by our own personal spiritual beliefs and nobody appreciates having another's beliefs uncomfortably thrust upon them. But that being said, just because we may not understand or share that particular brand of spirituality doesn't mean we have to jump down the other persons throat and rip out their tongue either

Because whether or not we agree with other peoples spiritual beliefs, the fact is they do and we need to respect that. Having a strong spiritual belief system can help to get you through the storms of life and build resiliency and it can also be a protective factor against suicide.
Hi It Takes,

I highlighted the Blue Whale challenge on my blog to alert people to its existence. I didn't write it in a triggering way at all -- although I could have. For example, I removed how the current person killed himself, which you will find in every news source.

I appreciate your concerns, but I don't concur.

- Natasha Tracy
Hi R,

Telling people to take personal responsibility for their own behavior is not irresponsible. I believe in personal responsibility for me and for others and to suggest that this is a lack of caring is incorrect. All I do is help people -- all day every day.

I do, typically, also offer resources for those in distress both on my website and in articles where I think it would be appropriate. And here at HealthyPlace, we point readers to a list of helplines all the time.

As for underage youth, I can't be responsible for their actions either. I'm sorry to state the obvious, but that's where parents come in. Do parents do the right thing in this regard? No, of course not all parents do. But I can't take responsibility for their actions either.

I am only the writer, not the monitor of the world.

- Natasha Tracy
Leave a reply