About Amie Merz, Author of Coping with Depression Blog
Hi, my name is Amie Merz and I'm glad to be teaming up with Jack Smith on this blog and sharing my thoughts, knowledge and experience on coping with depression. I am a counselor in private practice (my credentials: MA, LPC, NCC, CASAC, ICAADC, SAP) in a rural area south of St. Louis, MO. in the United States. I have worked in the mental health field since 1991, with all age groups, income levels, issues and dynamics. I have learned that mental illness does not discriminate; so many people have been affected by it. My hope is that the negative stigma of getting help can continue to fade away so we can help more people feel better.
Depression Treatment Requires Changes in Thinking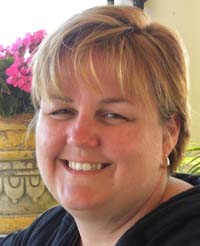 My therapy style is cognitive behavioral. By that, I mean if we can change how we see or perceive or interpret things, we can change how we feel and act. This is, of course, not as easy as it sounds. It requires a lot of practice to unlearn bad thinking habits. I also believe when people finally do ask for help, they want to feel better soon. I try to stay focused on what our mental health goal is and how well we are achieving that goal. My job is to help you learn the tools to help yourself so you don't have to be in therapy forever.
In my personal life, I have been married since 1995 and we have two amazing sons. We live in the country and get to enjoy deer and turkey and frogs and turtles on a daily basis. My younger son has Down Syndrome. We were not prepared for this challenge but it has been such a great experience and we cannot imagine life any other way. We have learned to appreciate our blessings, and not stress over the little things.
Amie Merz's Coping with Depression Blog – Welcome Video
You can also find Amie on Twitter and Google+. Her website is The Caring Corner. Her personal blog is "Therapy in a Nutshell."
APA Reference
Merz, A. (2012, April 19). About Amie Merz, Author of Coping with Depression Blog, HealthyPlace. Retrieved on 2023, October 3 from https://www.healthyplace.com/blogs/copingwithdepression/2012/04/about-amie-merz
Author: Amie Merz, LPC, NCC
Amie:
This all looks so great. I am excited to read more and share your message to help people!
Leave a reply