Living Life, Even When Depressed
When I sat down to write my blog this week, what came to mind is that I've been having trouble mood-wise lately – depressed mood, low energy, anxiety – and how this seems to go against what we commonly associate with the beginning of a new year. But I have to live life, even when I'm depressed.

New Year: New Pressure to Feel Good
There's a lot of pressure to feel good this time of year. After the presumed magic of the holidays, comes the shining purpose of a new year: potential, growth, possibility! I love the idea, except, what if because of depression, you're feeling none of these things, or, at least, are impaired and held-back from participating?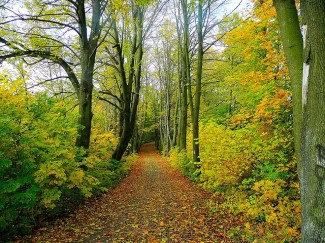 We depressed people battle symptoms like fatigue, lack of energy, hopelessness, and anxiety. And often we keep our symptoms hidden, for fear of facing stigma. Maybe one of the hardest things we battle about depression is that it affects our minds, and as a result, it's often hard to believe that things will get better in the future.
And yet, whether we like it or not, life goes on when we're depressed. How do we carve out a life for ourselves, a life of purpose even in the midst of depression?
What Helps Us Live Life, Even When Depressed?
Acknowledge that depression is real -- Often when I'm depressed, self-criticism arises that tells me that I should be able to somehow, magically, overcome my symptoms and not be depressed anymore. But the mistake in logic here is in ignoring depression as something real that affects us. Depression is a disease, not a character defect. Often, I have to remind myself of this when I am symptomatic. Depression is not my fault and I have to deal with it to the best of my ability.
Step into the now and take things one step at a time -- This is a challenging one when I'm depressed. When I'm depressed, my mind seems intent on being either very future or past-oriented – scaring me with either regrets about the past or fears about the future. In contrast, and especially when depressed, what's needed is stepping as much as possible into the now. This means focusing our energy and attention on what's happening right now and trying not to get caught up in the past or the future, which we can't control anyway. Mindfulness exercises can be very helpful in this regard.
Schedule your days and break large tasks into smaller ones -- I am between jobs at the moment and I have to admit that I miss the sense of purpose and built-in schedule a job provides. Although it's a challenge, especially in the face of depression, now I have to do that for myself. I try to accomplish that, in part, by keeping checklists and breaking tasks down into smaller steps when they seem too intimidating otherwise.
"You must do the thing you think you cannot do." -- As a bit of inspiration, I'd like to share one of my favorite quotes from Eleanor Roosevelt: "You gain strength, courage and confidence by every experience in which you really stop to look fear in the face. You are able to say to yourself, 'I have lived through this horror. I can take the next thing that comes along.' You must do the thing you think you cannot do."
As someone prone to depression, I know first-hand the horror it can inflict and the difficulty in doing "the thing you think you cannot do." I do not say it lightly but to encourage all of us as we continue on our journeys and try the things we think we cannot do, whatever they may be.
APA Reference
Tazzi, J. (2015, January 7). Living Life, Even When Depressed, HealthyPlace. Retrieved on 2023, September 29 from https://www.healthyplace.com/blogs/copingwithdepression/2015/01/living-life-even-when-depressed
Author: Jennifer Tazzi
Greate article. Ivan certainly relate to being between jobs. I can't concentrate on one task for to long. But I have figured out a routine that works for me
You are spot on.....we must continue to do that thing which we think we cannot do. Thanks for the encouragement!
Thanks, Lisa - glad it resonated!
Leave a reply