Tips for Traveling with Depression to Avoid Anxiety
Traveling with depression can be helpful and even healing, but it can also be stressful. Travel stress, or spending a lot of time in close proximity with other people and being out of normal routines, can sometimes provoke a worsening of depression symptoms. Here are some tips on travelling with depression.
Traveling With Depression? How to Depression-Proof Your Vacation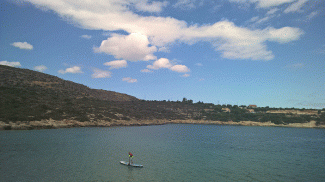 I'm away in Greece right now, partly on vacation (we Brits call it a holiday) but also doing some research for some writing I'm doing. I figured this was probably the best time to write this, because I've learnt a few things recently about how to stop stress taking over your life when you're traveling. It can easily feel like there are lots of extra things to worry about when you're on the move.
Here are some of the tips I've learned about traveling with depression:
Pick your traveling times wisely. When you have depression, you might struggle travelling early in the morning or late at night, so try to choose a time to travel, if possible, that suits your natural rhythms, particularly if you have to change time zones. It can make a lot of difference to how tired and/or stressed you feel on arrival.
Sometimes it's worth paying a little more for extra services that reduce stress. I had to take an early flight this year, simply because the airport near me is small and the choice of flight times is limited. I purchased a Fast Track ticket for me and my friend so we could get through security quickly as neither of us like queuing (crowds and noise) and we also didn't have to get to the airport quite as early as we would have done without it.
Set realistic expectations with your travel companion(s). If you're not chatty in the morning, let people know that it isn't rudeness, you just need some time to come around.
Find your important documents in advance. Don't wait until the last minute to find your passport, print off your boarding pass or your reservations. Make sure they are easily accessible if you're in the airport as you'll be constantly having to get them out of your bag.
Know the regulations in advance. Don't get caught out by things like baggage weight and size limits or non-permitted items in baggage. Nothing is worse for air travel stress than having to pay extra last minute charges or having to leave something you really wanted to take with you behind.
Wear comfortable clothes to travel in when you're traveling with depression. Comfort over fashion is the order of the day here since seats on airplanes, buses and trains are rarely that comfortable (well, for us mere mortals who can't afford business class). I have a friend who loves to put super-stylish clothes on for traveling, but after an hour she's complaining about tight waistbands and uncomfortable shoes. I travel in cotton leggings or sweatpants and sneakers and I'm not sorry for my lack of in-flight style.
More Tips for Traveling with Depression
The following video will have some more handy hints and tips for when you get to your destination to help you minimize stress, make your time away a help rather than a hindrance for depression and reduce the chances of post-vacation blues.
Find Liz on Twitter, Google+ and Facebook.
Image Attribution: Author's own
APA Reference
Smith, L. (2015, October 8). Tips for Traveling with Depression to Avoid Anxiety, HealthyPlace. Retrieved on 2023, December 7 from https://www.healthyplace.com/blogs/copingwithdepression/2015/10/traveling-with-depression
Author: Liz Smith
Not sure what you were trying to say exactly, but I agree meeting people of different backgrounds and culture is good. But for me, travel is depressing if you are not prepared for the area. I can meet new people at Yellowstone, just 2 hours of where I live.
Generally speaking traveling indicates up to date necessary on professional, social and personal development. By traveling we enlarge and make perfect our social skills, which are of crucial importance for our emotional efforts to overcome common life difficulties. As far as is concerned to depression, the issue becomes more intrigued, because traveling indicates a psycho-social stress and provocative emotional experience, as well. Depressed people are enclosed and inhibited persons, so long walk for them exhibit great emotional effort, particularly in acute phase of depression. Therefore it should takes serious preparing steps for traveling, as new and valiant move. Your six recommendations are useful and important if the person with depression in advance is consulted with its psychiatrist. Without this consultation the traveling may be of conter-irritant effect. Depression as hard and serious emotional falling is conditioned by various individual, psycho-social and sociocultural attributes when respective depressed person live and gone. It ought to be careful on geographical and seasonal changes of the land where it travel. Against these and many others impediments of traveling, depressed people have to travel, in order to reinforce their global life abilities, as much important to overcome extremely suffering of depression.
Sounds like you have control over what you do and need. I have hated business travels lately because it is always about business, money, and who's who. And at night it is always the boring business dinner with a who's who.
I live in Idaho, so I may take a nice day trip to Jackson and just shop and look around. Sometimes the mountain air is what is needed.
Good luck on your work and also on keeping depression at bay.
Hi,
Traveling it's a great idea because it distracts from thinking about the depression and great to experience new feelings, experiences and thoughts. it's always healthy to think about new things instead of the old negative ruminating thoughts.
best,
ricardo
I think you're right about that. I have done a bit of travelling for work recently and being alone in anonymous hotel rooms may not always be great for depression. However, it is also a really good opportunity to meet different people, explore other cultures and broaden horizons, which can really put your head in a different space. I try to ensure that I don't make my travel times too tight when I'm working and I have a little time for myself so I'm not just in airports and hotels. But I do have the freedom since I'm a freelancer to do this.
Travel can help with depression if prepared right. Sometimes it could increase loneliness. A person needs to know why they are going where they are going.
Leave a reply