A Positive Attitude and Gratitude Can Lead to Blissful Living
I have learned, over time, that a positive attitude can lead to blissful living. Elation comes rushing out from deep inside my soul when I have feelings of happiness, which is much more often in my daily living than not. How is it that it comes so easily? It's naturally an extension of an attitude and having an instinctively positive attitude can bring much more joy and bliss into your daily living.
Does Your Own Judgment Get In Your Way?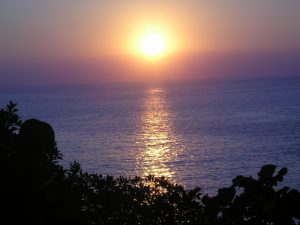 Sometimes I realize I have a negative response to the actions and words of the people around me. When this happens, I am not authentic in the sense that I say one thing to others and something else to myself. I catch myself putting on my happy face when in fact I am spending precious time beating myself up for not making someone else happy or comfortable. When I slip and realize my goal is to change other people, I realize my judgment is getting in the way and my thoughts about myself are negative. It is only with awareness of my need to correct my attitude that I am able to claim my own power of positive thought.
Four Steps to a Positive Attitude, Gratitude and Blissful Living
To create your own, authentic, positive attitude you must first gain a deeper understanding of what an attitude is. Many make the mistake of thinking their attitude is their feeling about something but it is really a set of thoughts and beliefs. To turn a negative attitude into a positive attitude and find bliss, you must first turn negative thoughts into positive thoughts. One of the best ways to begin this change in thought pattern is to build a toolkit for adding gratitude into your life. I believe that gratitude is the cornerstone of positive thinking. You can start with these four steps:
Set a goal of just, simply, gratitude. Reclaim your own power and create your own happiness.
Invite gratitude into your daily living. Take five minutes each morning to state out loud and write down one thing you are going to be grateful for today. Focus just on today.
Release your expectations. Once you decide that not knowing is okay, the expectations you place on yourself fall away and your heart opens to hold more gratitude.
Settle in the moment. Be where you are.
One of the best ways I find to continue opening up space in my heart and soul for gratitude to reside, is to journal each day. Writing a short statement of how I invite gratitude into my life makes it real and tangible. Peace to you in your positive attitude, gratitude and ultimately living the blissful life you deserve.
Find Joni on Twitter, Facebook, Google+, and her personal blog.
APA Reference
Reisinger, J. (2015, April 13). A Positive Attitude and Gratitude Can Lead to Blissful Living, HealthyPlace. Retrieved on 2023, December 10 from https://www.healthyplace.com/blogs/livingablissfullife/2015/04/a-positive-attitude-and-gratitude-can-lead-to-blissful-living
Author: Joni Reisinger MS, NCC
"Reclaim your own power and create your own happiness". Great share, thanks Joni.
Thank you Bill. Claiming our own power does make us strong in happiness.
Wonderful, Joni...loved the read!
Thank you Jess. Gratitude truly is a core positive emotion such as love.
Leave a reply