Anatomy of an Anorexia Relapse
It started with the heat.
I couldn't eat because I was too hot. That's a good reason. right?
Of course, I could have done a number of things to combat that. Made smoothies. Have salads with added protein of chicken or fish. Splurge on ice cream once in a while.
And I did do that, grudgingly, at first. I got a orange banana smoothie at Barnes & Noble, and felt oh-so-virtuous. See, I am trying! I'm not slipping...I'm eating intuitively.
Then I had a chicken caesar salad at McDonald's. Drizzled a minute amount of salad dressing on it. I don't want soggy lettuce, do I? Ate some of the chicken, a few bites of the lettuce. Ugh, iceberg lettuce! Don't they realize that has absolutely no nutrients?!?
Yesterday, I ate virtually nothing.
And that is the anatomy of a relapse? Or a lapse?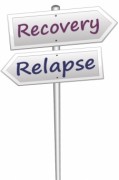 Recovery is not a linear path. There are dips and turns, taking you places that you might not want to go to. It is tedious and scary and difficult.
Each time I have embarked on recovery — this isn't my first rodeo, as they say — I've struggled and relapsed, and then gotten back on track. I've learned many things, and recovery is at its best a journey of discovery.
I started seeing a dietitian soon after my last hospitalization. This time, I wanted recovery to stick. Of course, I said that 234332234339 times before. But by God, this time I really mean it!!!
I started blowing off my appointments in March. I thought I had this all wrapped up. I was eating three meals and two snacks, I had reached a healthy weight, and I could see the end in sight.
I slowly, insidiously, unconsciously started restricting. Two snacks became one. Three meals became two and a half. Instead of yogurt and two cups of granola for breakfast, I would have one. Instead of a sandwich at lunch, I would have crackers. Of course, this was so I didn't waste bread, right? Right?
Then one snack became zero snacks. I mean, only kindergarteners had milk and cookies — or whatever — in the afternoon.
Then I started getting up too late in the morning, so breakfast and lunch became one meal.
Then I started forgetting about eating dinner until 9 or 10 p.m., and that's just too late for dinner, right? Right? So I would have a granola bar and call it good.
Sometimes I snapped. It happens when you are restricting, whether by choice or not. One night, I found myself eating a half pint of ice cream. Another night, I ended up eating peanut butter and crackers at midnight because my stomach ached so much from hunger.
Of course, then I would beat myself up for such a perceived lack of control.
Yesterday, I got it into my head that I didn't need to eat. I ate a little at breakfast, and then nothing — no water, no coffee, zilch — until I finally broke down and drank an Ensure because my stomach again hurt so much.
It was a miserable day. I tried to read, but the words didn't make any sense. I tried to do things around the house, but I was too tired. I could barely move, and I simply couldn't think.
Didn't any of this ring any bells???
Oh yes. Yes, it did. But each time I reached out to call someone, I stopped. I didn't want to admit I failed yet again. I was angry at myself. Angry at being so weak. Angry that I couldn't just starve myself and shut up.
Angry.
How does someone who is fully invested in recovery fall over and over again into this trap? It is different for each person, of course. For me, this is my classic response to internal stress. I allowed money worries and job worries to snowball in my head, and it chipped away at my resolve.
Finally, eating less means that the eating disorder voice can take full control. It simply doesn't shut up when I am restricting, and this makes the whole thing snowball.
Almost until it is too late.
But it isn't too late. Awareness is key. At least now, I know this is a problem. And part of me knows that I am not a failure, but instead I am human and lapse and relapse are part of the recovery process.
Don't worry. I am still fully committed to recovery, and it is good that I now recognize my weak spots and triggers, for that will make my recovery that much stronger.
Find Angela E. Gambrel on Facebook and Google+, and @angelaegambrel on Twitter.
APA Reference
Gambrel, A. (2012, June 28). Anatomy of an Anorexia Relapse, HealthyPlace. Retrieved on 2019, September 20 from https://www.healthyplace.com/blogs/survivinged/2012/06/anatomy-of-a-relapse
Author: Angela E. Gambrel
YOU ARE WORTH SAVING. I'm sorry your life is in chaos right now. The need to feel safe is a basic need. So what would help you feel safe? If a therapist is one that list get one. Your future self will thank you for taking care of yourself now.
Sarah you need to understand that anorexia IS a mental illness and is a big deal.....
Leave a reply