About Angela Gambrel, Author of the "Surviving Mental Health Stigma" Blog
My name is Angela Elain Gambrel and I would like to welcome you to HealthyPlace and the Surviving Mental Health Stigma blog. I am: a writer, reader, and curious about this world and this journey we call life. I love books and cats and quiet times with a hot cup of herbal tea while listening to medieval chants. I am interested in people and religions and history, and read everything I can get my hands on about these subjects and more. I am passionate about helping others and the orphans of Haiti. I recently completed my master's degree in English Composition and Communication, and am now writing for a national website focused on children and cerebral palsy.
A Lifetime Struggle with Depression and Anxiety
Two things have dominated my life since I was a child — I knew I wanted to be a writer since I was seven-years-old, and I have struggled with depression and anxiety since childhood.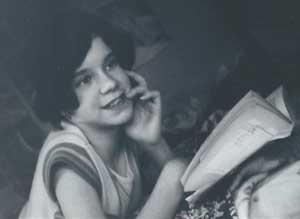 I've been described as a moody child, and old, grainy pictures show me looking alternately thoughtful and depressed.
When I was 17-years-old, I attempted suicide. That was the beginning of therapists and medication and hospital stays.
After my suicide attempt, I started seeing a psychiatrist. I remember being intimidated by his walls filled with diplomas. I really don't remember much about what we talked about, except that I had broken up with my boyfriend and felt depressed after researching and writing two papers about the Holocaust. I felt that the world was a dark and evil place.
Then I went away to college. My depression and anxiety came with me, along with new fears that came with being the first person in my family to attend college. After drinking my way through two years to drown out my fears and feelings of inadequacy, with virtually no memories of classes and studying and test-taking, I was unceremoniously kicked out and sent home.
After floating around for several years, working at minimum wage jobs and basically feeling like a failure, I returned to school. Depression and anxiety followed right behind.
I remember the first time I was prescribed a psychotropic medication. The psychiatrist
said, "What's the big deal? It's like taking insulin for diabetes or medication for high blood pressure."
Right.
I Developed an Eating Disorder in Adulthood
Mental health-wise, things got even worst. I was 43-years-old and supposedly happily married when I started starving myself. And starving myself. And...
I had anorexia nervosa, fueled by my lifelong depression and anxiety.
Great.
Anorexia would prove to be a hard nut to crack, as I relapsed and recovered for the next five years. I was depressed and anxious when starving, and more depressed and anxious when I ate. I began to self-injure and was often suicidal.
I couldn't see my way out. However, with the help of a caring eating disorders psychiatrist, I finally can say that I am at the far end of my eating disorder recovery.
While struggling with anorexia, I was approached by HealthyPlace to write about eating disorders. I was the author and face behind Surviving ED, before turning it over to the wonderful Jessica Jean Hudgens in December 2012.
Hopes for the Surviving Mental Health Stigma Blog
Now I will be co-authoring HealthyPlace's Surviving Mental Health Stigma blog, along with Chris Curry. My hopes for this blog are many. I want to show that people with mental illnesses, such as myself, can lead full and rewarding lives. I want to connect with others who have mental illnesses, and find out how they deal with mental health stigma in the workplace and life. I want to write about the stigma toward those with mental illnesses, still prevalent in many areas of life, and hopefully help change that.
I want to be your voice, the voice that is sometimes unheard, the voice that has been stifled by ancient fears and stubborn stereotypes.
I want to make a difference, to be that change I wish to see in the world.
You can also find Angela Gambrel on Google+, Twitter and Facebook.
APA Reference
Gambrel, A. (2013, June 4). About Angela Gambrel, Author of the "Surviving Mental Health Stigma" Blog, HealthyPlace. Retrieved on 2023, December 4 from https://www.healthyplace.com/blogs/survivingmentalhealthstigma/2013/06/about-angela-gambrel-2
Author: Angela E. Gambrel