Use Physical Fitness to Fight Mental Health Stigma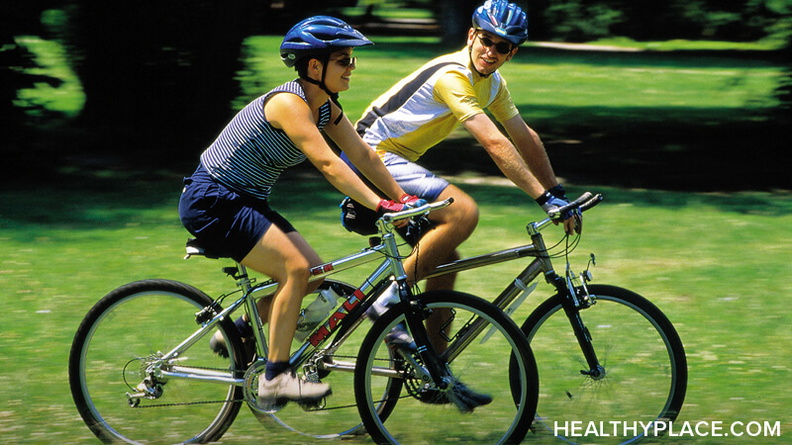 There are many ways that fitness can help you fight mental health stigma. One of the ways people form stigmatizing beliefs about those with mental health issues is that they think they are lazy for not working or engaging in society. Mental health stigma makes people believe these myths, but myths can be busted by more individuals who have a mental illness getting healthy exercise and improving their fitness levels.

One of the largest problems with having a mental health issue is that mental illness medications and the mental illness itself can make a person tired and drowsy. Add this to a low level of fitness, and now, mental health stigma has a place to lay down roots.
How Does Physical Fitness Fight Stigma?
When you make an effort to engage in fitness activity, be it swimming cycling, running, or kicking around a soccer ball, you do many things that help fight mental illness stigma. First of all, you have the chance to make friends that also enjoy a healthy lifestyle. Next, you are making your heart and mind healthier. Your sleep will improve, you could lose weight, and possibly feel good enough about yourself to take better care of your appearance. All these things help fight mental health stigma myths surrounding laziness.
Mental health stigma can also be reduced with better personal fitness because exercise helps you to handle stress. But after you get fit, you may soon find you are up to working a part-time job or even a volunteer job. One of the biggest myths about mental health is that people with mental health issues don't contribute to society. You can show them they are wrong.
How to Use Fitness to Fight Mental Health Stigma
Reach for Improved (Not Perfect) Fitness
When you are starting out with the goal of improving your physical fitness, you can do simple things like walking to the grocery store with a backpack instead of taking a cab or the bus (or driving). If there is a YMCA or public fitness facility near you, you can take an hour or two you would have spent watching TV or reading and spend it getting out and making yourself healthier (there is always the possibility of getting a discount pass as a low-income person).
Stay Motivated
It may be a long road, but it's a worthwhile one. The long journey of going from doing a very slight amount of activity to getting yourself in shape to move forward could take a long time, but it's worth it. Having a body in a state of fitness and fighting mental health stigma could change your whole outlook on life.
By doing just a little more each day, added with eating healthier, (say by riding your bike to get fresh fruits and vegetables more often) you will make yourself and the world a better place.
APA Reference
Gregersen, L. (2017, April 28). Use Physical Fitness to Fight Mental Health Stigma, HealthyPlace. Retrieved on 2023, December 10 from https://www.healthyplace.com/blogs/survivingmentalhealthstigma/2017/04/make-fitness-a-tool-to-fight-mental-health-stigma
Author: Leif Gregersen
this is very essential to stay fit for mental health and to make you mind stress free, thanks for this blog.
Leave a reply