5 Simple Things to Do for Mental Health Awareness Month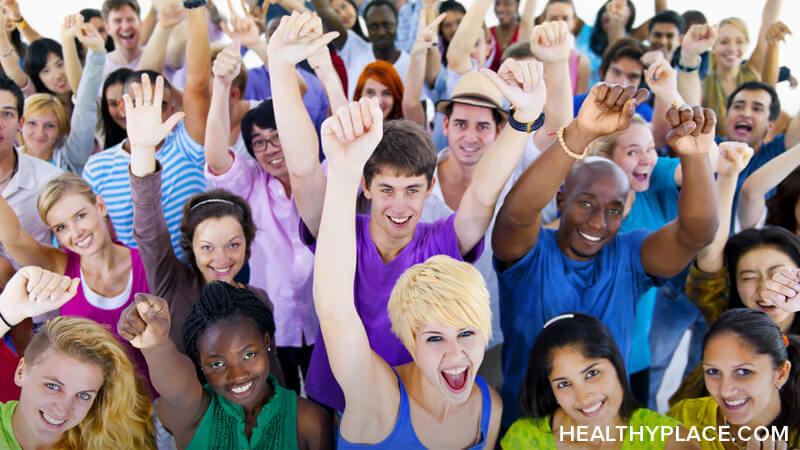 Allow me to join the chorus and say it's Mental Health Awareness Month. Each year, the mental health community comes together during May to amplify the discussions around mental health to reduce the stigma of mental illness and show people they're not alone in their struggles.
5 Simple Ways to Participate During Mental Health Awareness Month
How can we participate in promoting mental health awareness? As you can imagine, there are a ton of ways you can get involved, both online and in your own community. The good news is that it doesn't have to be overly complicated. I've pulled together five simple things you can do for Mental Health Awareness Month.
1. Recognize that Mental Health Encompasses Mental Illness and Mental Wellness
One constant I notice is that many use the terms mental health and mental illness interchangeably as if they mean the same thing. I used to be one of those people. But, mental health does, indeed, encompass both mental illness and mental wellness, just as physical health can refer to being physically well or physically unwell.
It's helpful to recognize this because it opens up the space for conversations about mental health struggles and illnesses, as well as things you can do to promote mental wellness.
2. Share Posts and Information from Your Favorite Mental Health Organizations, Social Media Accounts, Blogs, and More
This is potentially one of the easiest steps. If you see a post from your favorite mental health organization, social media account, blog, or what have you, share it. That helps get eyes on that content while also helping others learn more about mental health in general.
3. Share Your Mental Health Story
Have you ever felt alone when struggling with mental health? Did another person's story resonate with you and help you feel less alone? That's the key to this step. When you share your mental health story, you're helping others feel less alone. Even if they don't explicitly tell you that, I know from how others' stories have helped me that that's the case.
4. Donate to a Mental Health Non-Profit or Charity
Many mental health organizations are non-profits or charities, meaning they rely on the generous donations of others to continue to provide the support and resources they do. Even a small donation can make a big difference for a non-profit or charity, and, as a volunteer for a mental health-related non-profit myself, I can guarantee you that every contribution is appreciated.
5. Take Time to Practice Mental Health Self-Care
Mental Health Awareness Month isn't just a good time to bring awareness to everyone else. It's also a good opportunity to ensure your mental wellbeing is taken care of. Remember, mental health also covers mental wellness, so pause and take the time to make sure your mental health is taken care of with self-care.
There Are Many More Options to Bring Awareness to Mental Health
As I mentioned before, there are tons of other things you can do during Mental Health Awareness Month. These are some of the simple steps and ones that I enjoy myself. What's your favorite thing to do to start conversations about mental health?
APA Reference
Barton, L. (2022, May 2). 5 Simple Things to Do for Mental Health Awareness Month, HealthyPlace. Retrieved on 2023, December 11 from https://www.healthyplace.com/blogs/survivingmentalhealthstigma/2022/5/5-simple-things-to-do-for-mental-health-awareness-month
Author: Laura A. Barton