How Online Therapy for Anxiety Can Help You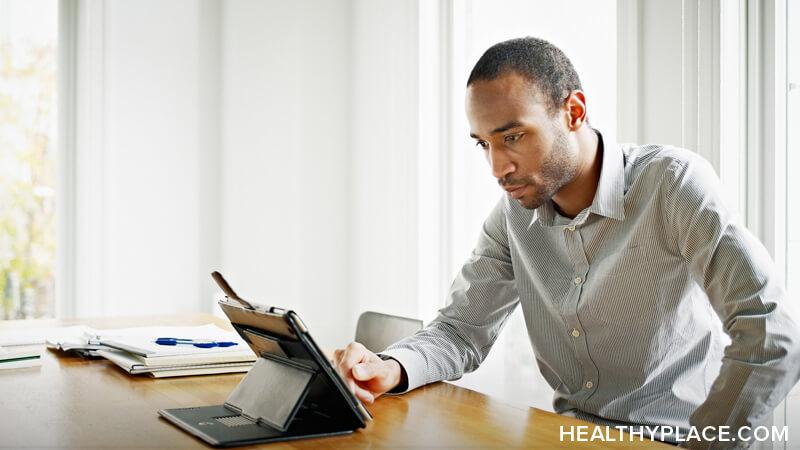 Online therapy for anxiety can help relieve the stress of searching for a therapist. When you're in an anxious state, finding a good therapist can feel daunting. If you find someone, it may take weeks for an appointment. Many are turning towards the convenience of online therapy. And for people with anxiety, there are particular aspects of online therapy that can be helpful.

You may wonder if online therapy for anxiety is as effective as in-person therapy. I've had the same concerns. But online therapy is not that different from face-to-face therapy. It's been shown to be just as effective, particularly when used to treat anxiety. Let's take a look at a few myths about online therapy as a whole.
Myths About Online Therapy for Anxiety
It's harder to develop a relationship. Developing a therapeutic relationship is important for successful therapy outcomes. Yet, empathy is the cornerstone to developing a relationship and empathy does not require physical proximity. Similarly, genuine interest, positive regard, listening skills, and trust can all be conveyed virtually.
Online therapy isn't as effective. Clinical researchers have studied online therapy versus in-person therapy and have found them to be equally effective in many cases. This is particularly true with the use of online cognitive behavioral therapy (CBT), the gold standard for anxiety treatment.
Communication is more difficult. Provided that you and your therapist have a good Internet connection, virtual communication can be just as effective. Video chat allows you to read one another's body language and facial expressions. And some anxiety sufferers may prefer the options of written communication via chat or email.
Why You May Prefer Online Therapy for Anxiety
You have an anxiety disorder. If you suffer from a disorder such as social anxiety or agoraphobia, you might feel reluctant to seek services in your community. While some severe disorders may require more intensive treatment, online therapy for anxiety can be a stepping stone to getting help.
You want cost-effective services. Online therapy may be more affordable, taking away the added stress of high costs. Some online therapists charge a fraction of the fees as in-person therapy making ongoing care more available.
You want convenience. Online therapy can be done from anywhere, which means greater accessibility. This can be helpful if you have a physical disability or live in a rural location. Online therapy can offer the flexibility to receive counseling when you need it most.
You want anonymity. Unfortunately, some stigma surrounding mental health continues to persist, which may prevent anxiety sufferers from seeking help in the first place. Online therapy for anxiety and other mental illnesses may offer a greater sense of privacy and safety. As online therapy becomes more widely used, therapy and mental health conditions are more likely to be destigmatized.
You may have a paper trail. It can be challenging to remember what you discuss in a therapy session. This is especially true for people with anxiety because our minds are everywhere. For online therapy services that include emails and chat, it can be useful to refer to the therapist's notes and other correspondence when processing therapy sessions.
While online therapy may not be sufficient for more severe disorders, online therapy such as CBT for anxiety can be just as effective as face-to-face therapy. Online therapy for anxiety also offers a convenient, accessible approach to treatment that can link more people with the help they need.
Have you tried online therapy? I'd like to hear your perspective.
Sources
Gratzer, D. & Khalid-Khan (2016) Internet-delivered cognitive behavioural therapy in the treatment of psychiatric illness. CMAJ 188 (4) 263-272. Retrieved on January 1, 2018 from http://www.cmaj.ca/content/188/4/263
Hedman E., et al. (2011) Internet-Based Cognitive Behavior Therapy vs. Cognitive Behavioral Group Therapy for Social Anxiety Disorder: A Randomized Controlled Non-inferiority Trial.

PLoS ONE 6

(3). Retrieved on January 1, 2018 from

https://www.ncbi.nlm.nih.gov/pmc/articles/PMC3070741/pdf/pone.0018001.pdf
APA Reference
Renzi, M. (2018, January 10). How Online Therapy for Anxiety Can Help You, HealthyPlace. Retrieved on 2023, December 11 from https://www.healthyplace.com/blogs/treatinganxiety/2018/01/how-online-therapy-might-help-treat-anxiety
Author: Melissa Renzi
Your positive attitude to online therapy for anxiety disorder deserve more clinical elaboration to fill out the up to date criteria of psychiatric treatment and management of this mental disorder. I didn't have any evil intention to this modern therapeutic approach, but direct contact vith respective clinical psychiatrist indicate comprehensive way to psychiatric treatment of any mental disorder. Anxiety disorder didn't make any exclusion. However, this manner of interpersonal communication exhibit some benefits that are comparable and complementary with face-to face therapy. By me as clinical psychiatrist, online therapy might be efficient one, but each anxious patient should, learn elementary principles of interpersonal relationship, in order to overcome different types of social phobias, that are dominant forms of anxiety disorders. In addition, the best way to make perfect interpersonal relation is face to face contact with appropriate clinical psychiatrist.
Leave a reply