Why Does Verbal Abuse Happen? What Makes a Person Abusive?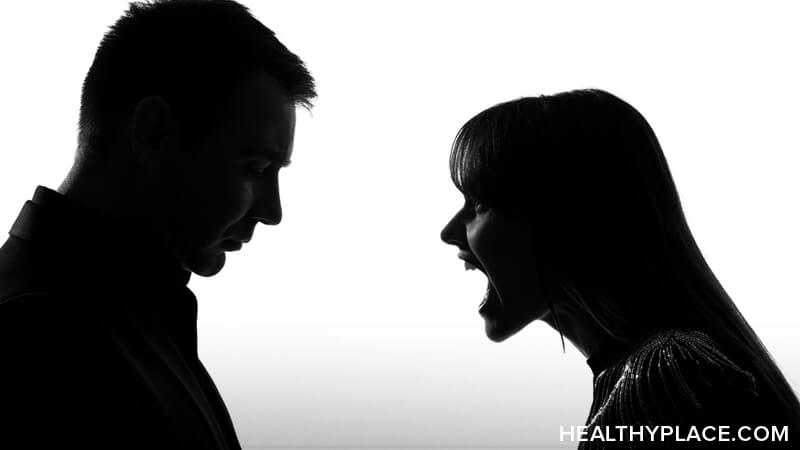 When I first realized I'd been in a verbally abusive relationship, I asked myself, "Why me?" and "Why does verbal abuse happen?" but there were no straightforward answers to these questions. The articles I read online echoed the reassurances of those close to me -- that the abuse wasn't about me, it was about my ex. "If it hadn't been you it would've been somebody else," I kept hearing, doubting if this was really the case. Years later, I still find myself wondering whether the abuse was entirely his fault or if I could have done more to prevent it. I still wonder why verbal abuse happened.
After the relationship ended, I did some soul-searching, trying to find a reason why I was treated this way. I blamed myself before I ever blamed him, as most victims do. I assumed, for a long time, that it must have been me -- that I was just impossible to be with.
But then I met somebody else. The relationship came easily. Living together was effortless. Sure, we fought like all couples do, but we were able to resolve our differences by communicating rationally without verbal abuse. I learned the difference between normal relationship conflict and verbal abuse. And the best part? I was free to be myself without anyone telling me I wasn't good enough. This was how a relationship was meant to be, and it highlighted everything that had been wrong before.
But it made me wonder, how can some relationships be abusive and not others? In order to answer this question and strengthen our understanding, we must consider two things: why some people are verbally abusive and why others allow abuse to happen.
Why Do Verbal Abusers Do It?
Before we delve any further into this subject, I should say that I don't believe there is any excuse for domestic abuse -- physical or emotional. The abuser is responsible for his or her actions, regardless of the circumstances, and the victim is never to blame. That said, there is always a reason why one person abuses another, and unless we can attempt to understand why it happens, we are powerless to end the cycle (What Are Victims Responsible for in an Abusive Relationship?).
There are reasons to believe that early childhood experience plays a part in verbal abuse. For instance, a person who grows up witnessing the abuse of one parent at the hands of another may internalize this behavior and then replicate it in his adult relationships. He then assumes the role of the abuser for fear of becoming the victim himself. Having seen it played out, he knows exactly how to establish control.
There are other reasons why some people are more prone to verbally abusive behavior than others -- such as drug or alcohol problems, childhood abuse, attachment disorder, narcissistic personality disorder, and even low self-esteem -- however, it is not our place to come up with a diagnosis, nor is it helpful. As victims, all we can do is attempt to further our understanding of what's happened to us, and know that we really aren't to blame.
Why Verbal Abuse Happens -- Can Verbal Abusers Change?
Sadly, you can't stop an abuser by simply pointing out why he's abusive, and you're in dangerous territory if you enable his behavior -- whatever the reason. It's important to remember that while there is always an explanation, there is never an excuse. He might not be able to control what's happened in his life, but he can control how he treats you.
It is hard to say whether an abusive partner will ever change for good, but you shouldn't hang around to find out. The abuse is ingrained and may have been so from an early age, so much so that it's normal to him. Sadly, he may not be able to accept that the problem lies with him and not you. As a result, he may never see his behavior for what it is.
In my next article, I'll be looking at victims of verbal abuse, and why some people go from one abusive relationship to another. As always, let me know your thoughts below.
I realize that both women and men could be abusers or victims; my pronoun choices are merely reflective of my own experience.
APA Reference
Smith, E. (2017, July 25). Why Does Verbal Abuse Happen? What Makes a Person Abusive?, HealthyPlace. Retrieved on 2019, October 17 from https://www.healthyplace.com/blogs/verbalabuseinrelationships/2017/07/why-does-verbal-abuse-happen-part-one
Author: Emma-Marie Smith