About Laurie Dupar, Author of Living with Adult ADHD Blog
Thirteen years ago, I was a Psychiatric Mental Health Nurse Practitioner by day and the mother of a son newly diagnosed with ADHD by night. Despite my experience and education in the psychiatric field, I felt helpless as to how to help him manage and overcome his challenges. Little did I realize just how much ADHD would impact his life, my personal life and professional life. In the years to come, I would discover ADHD Coaching and see what a difference it made to help him overcome his struggles. I would learn that my husband and older son also struggled with the disorder and that I myself, although never officially diagnosed, had many ADD/ADHD tendencies, characteristics and traits.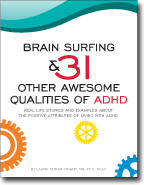 Using my medical background combined with the tools of coaching, I knew I wanted to help other parents, students and adults overcome their ADHD challenges, feel more confident in their abilities, and experience success. Today, I am happy to say that I have been married to a wonderful ADHD man for 25 years, both my sons are pursuing their individual goals and I have earned my advanced credentials in coaching and have specialized as an ADHD Coach for over nine years. I work with clients diagnosed with ADD/ADHD who want to understand how their brain works, navigate the treatment maze, create and use effective strategies based on their brain style to minimize their challenges and finally get things done. Visit my website at: www.coachingforadhd.com
I have worked in mental health for over 25 years and prior to coaching I earned undergraduate degrees in Nursing and Psychology and my Master's degree as a Psychiatric Mental Health Nurse Practitioner. In 2002, I graduated from the Coaches Training Institute, an International Coach Federation accredited training program that produces many of the world's finest coaches.
As a leader in the field of ADHD coaching, I am currently affiliated with the ADHD Coaches Organization (ACO) and served as Vice President for that organization from 2005-2007. I remain very active in the professional coaching and ADHD communities, mentor emerging ADHD coaches and speak nationally and internationally on these subjects. I am author of the e-book, Brain Surfing and 31 other Awesome Qualities of ADHD and the editor of the soon to be published, 365 Ways to Succeed with ADHD: A Full Year of Valuable Tips and Strategies From the World's Best Coaches and Experts.
I was raised and educated in the Pacific Northwest and currently live in sunny Northern California with my husband, our youngest daughter and our menagerie of pets! You can follow me on Twitter, Google+ and join me on Facebook too.
Living with Adult ADHD Blog Welcome Video
APA Reference
Dupar, L. (2011, August 29). About Laurie Dupar, Author of Living with Adult ADHD Blog, HealthyPlace. Retrieved on 2023, September 29 from https://www.healthyplace.com/blogs/livingwithadultadhd/2011/08/about-laurie-dupar
Author: Laurie Dupar, PMHNP, RN, PCC
Thanks for the blog comment. What about Adult ADHD would you like to hear about next?
Very helpful post man, thanks for the info.
Glad you liked. What are you? Procrastinator or time optimist?
Hi Laurie, welcome to HealthyPlace! I'm so happy you're here with us.
Thanks, Patricia! I am looking forward to sharing all about living with Adult ADHD with the visitrs at HealthyPlace!
Leave a reply