Don't Let Anxiety Undermine Your Ability to Live Life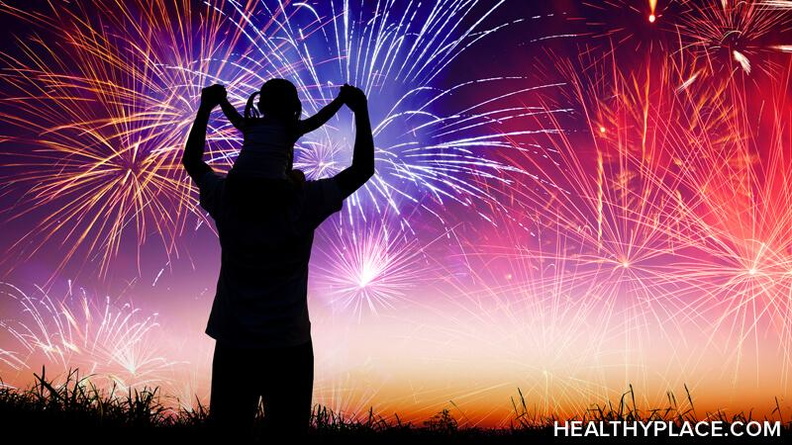 One year anxiety almost undermined my life and panic almost had me missing the fireworks. I was so anxious that I took my son, who was then a baby, and left the rest of the family on the blanket we set up to watch the fireworks. I could not get out of there fast enough eager to reach the "safety" of my house. (Where I would continue to panic anyway.) I got to my car and was stuck in firework traffic, I could not leave.
Sitting there, trying to breathe, I saw the first firework go off. It was beautiful. Fireworks were one of my favorite things when I was young. But I didn't care, I just wanted to get home.
Since I was stuck anyway, I took Leo out of his car seat and brought him on my lap to watch the display out of the front windshield. He flapped his arms and laughed. A big "aha" came to me. My anxiety almost made me miss this beauty and joy. In fact, anxiety made me miss lots of great things in life that I was too scared to go to. I was not going to stand for this any longer!
Stop Missing Life's Beauty When Anxiety Undermines You
Panic can have us missing life's beauty. Too often we say to ourselves, "I don't want to anyway." But it is not a true "not want to." When we picture ourselves going somewhere, we see ourselves uncomfortable there. That doesn't sound pleasant and we think we don't want to go. Anxiety has undermined us again. Taken away our joy. Anxiety did this to me for years.
I stopped allowing it. I thought of things as adventures, saw the good in them instead of the bad. I made myself do things even though I did not want to. The activities became familiar and I built confidence–like going to a restaurant–and the anxiety lessened. I got my life back.
I've enjoyed the fireworks every year after that and I cannot wait to go tonight.
I blog here: Heal Now and Forever Be In Peace,
share here: Twitter@JodiAman, Google+
inspire here: Facebook: Heal Now and Forever Be in Peace.
APA Reference
Lobozzo, J. (2012, July 4). Don't Let Anxiety Undermine Your Ability to Live Life, HealthyPlace. Retrieved on 2023, December 11 from https://www.healthyplace.com/blogs/anxiety-schmanxiety/2012/07/dont-miss-the-fireworks
Author: Jodi Lobozzo Aman, LCSW-R
Hello my friend! I want to say that this post is awesome, nice written and include almost all significant infos.
I would like to look more posts like this .
I'm trying to do things that make my anxiety and panic high. Like I went to the store the other day and went again today. I think it's too soon for fireworks but maybe next year.
Michele
Fireworks and thunder are big triggers for panic. It's not only my case, but for many people in my country. I love the view, but can't hear the sounds. I was taken few years ago to watch fireworks in Canada, and I made myself ridiculous sitting on the floor in a corner, hands on my ears and hiding my head between my knees. It wasn't something I could control :(
Wonderful post! I am working on doing that , too. Sometimes it's hard to decipher what I don't want to do and what I'm afraid to do.
Leave a reply