Existential Anxiety, Stress, and Meaning-Making in Your Life
Existential anxiety is an all-encompassing form of anxiety and stress that is present in a nagging way when we try to make meaning in life simply because, as humans, we exist. That's a fun concept, isn't it? We experience anxiety, stress, strife, worry, and even panic simply because we are alive. Being alive is certainly a wonderful thing, but existential anxiety can put a damper on it (this might be an understatement). Why does mere existence cause us dissonance and different kinds of stress, and can it go away? Can we make meaning in our lives despite this existential anxiety and stress?
Existential Anxiety and Stress Can Be Unclear
A great example of someone with existential anxiety is Charlie Brown. Ol' Chuck appears pretty calm; his angst is in his thoughts and feelings. Sometimes existential anxiety also involves agitation, fretting, and anxiety attacks.
There's a great scene in one of the Peanuts cartoons in which Charlie Brown is at Lucy's Psychiatric Help stand. Lucy is pelting Charlie Brown with a list of phobias that might be causing his anxiety and depression.
Lucy: Maybe you have pantophobia. Do you think you have pantophobia?

Charlie Brown: What's pantophobia?

Lucy: The fear of everything.

Charlie Brown: That's it!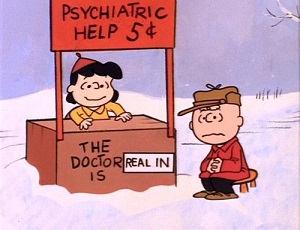 Indeed, existential anxiety and stress can be vague when you're trying to make meaning in your life. For Charlie Brown, it felt not like specific fears such as the fear of cats or the ocean, but like the fear of everything. (Lucy should really have called it panophobia, but we can forgive her because after all, she's only in elementary school.)
When We Wonder About Our Very Existence, We Experience Existential Anxiety and Stress
This anxiety that causes us to feel unsettled and uncomfortable, anxious about everything but unable to articulate exactly what it is, is frustrating in its ambiguity. This anxiety and stress that make us feel tired yet wired, make our thoughts race about what feels like nothing, make us afraid of things we can't pinpoint and thus can't address or avoid actually can be a very positive part of our existence.
The unspecific nature of existential anxiety is caused by the fact that the anxiety is indeed about our existence, about life's big questions and about making meaning in your life. When we are anxious and stressed about everything and about nothing, it is often because it is the human way of wrestling with what's important:
Who am I?
What is my purpose?
Where do I fit?
Why is the grass greener over there, and how do I get mine that way?
Grappling with these life questions causes existential anxiety, yes, but this gives us the opportunity to create meaning in our own life.
Existential Anxiety Can Lead to Meaning-Making in Our Life
Worrying about the answers to the big life questions can be both the source of existential anxiety and the liberation from it as we create meaning for our lives and ourselves. We do have the power and ability for meaning-making. Really, if we have the ability to be anxious, it makes sense that we also have what it takes to cure that anxiety and live a life of purpose.
Fretting and stressing about who we are, our place in life, and what we're passionate about doing can cause us to become stuck in the past ("I should have done x," "I shouldn't have said y," etc.). It can also cause us to attempt (unsuccessfully) to live in the future and frolic in the land of "what-ifs." Projecting our thoughts into the past or the future means that our thoughts are not in the same place as we are – the present.
Meaning Making and Getting Rid of Existential Anxiety and Stress
There are many ways to live in the present and create meaning in our lives. Here are a few user-friendly tips that have worked for people:
Ponder Those Times You Feel Less Anxious
For example:
• Keep a gratitude journal. This is a very common technique for overcoming difficulties and creating wellbeing. For existential anxiety, the goal is of course to jot down the things for which you're grateful, but beyond that to look for patterns among those items. Does your gratitude often involve family? Friends? Opportunities for learning? Time in a given activity? When you see the patterns, you start to notice exactly what it is that makes you feel joy.
• Find flow. Similar to the patterns of gratitude, what are those things where you find flow? A state of flow occurs when you are doing something so engaging that you lose yourself. You forget about your anxiety, and you feel both calm and vibrant.
Decide where you can make more of the above things, where you can make more meaning, and take steps to do them.
Do more of what makes you less anxious. What little things can you do every day to make meaning and decrease anxiety?
Existential anxiety is part of the human experience; however, that doesn't mean that we have to live in perpetual stress, worry, and fear. When we pause over life's big questions, we can use our own answers for meaning-making. When we live a life meaningful to us, existential anxiety becomes more calm and peaceful and changes, simply, to "exist."
You can also connect with Tanya J. Peterson on her website, Google+, Facebook,Twitter, Linkedin and Pinterest.
APA Reference
Peterson, T. (2015, April 2). Existential Anxiety, Stress, and Meaning-Making in Your Life, HealthyPlace. Retrieved on 2023, December 11 from https://www.healthyplace.com/blogs/anxiety-schmanxiety/2015/04/existential-anxiety-stress-and-meaning-making-in-your-life
Author: Tanya J. Peterson, MS, NCC, DAIS
Don't want to seem pernickety, but Lucy was right with pantophobia! Panophobia would mean fear of the great god Pan, which is wholly another matter. As in pantomime, pantograph, pantoscope...
This probably isnt common for you to recieve from a 16 year old but i feel that not many my age know what i am trying to understand. This article shed some light on most those things but i am still concerned about if these symptoms could also be because of other disorders because many are hereditary in my family and ive heard in a psychology class that some disorders share these same symptoms such as depersonilization which can be a sign of schizophrenia. I am very uncertain and quite fearful of my future , yes i know its the anxiety talking, but how do i differentiate i need to ease my mind.
I am 20 years old, I believe I had this anxiety since I was 7 years old. Thinking about meaning of life and time which I know is meaningless and this anxiety is troubling my life, fear and uncertain grows bigger since I grow older. Fear makes me feels like my mind doesn't belong to me, I sincerely seek for guidance to guide me through this anxiety. Thank you.
Hi Tanya, I stumbled across your site whilst searching Existential Angst, an anxiety of which I suffer amongst others, including health anxiety. I first experienced an EA crisis when aged 15, in 1966. Yes, Over 50 years ago. I had no treatment at the time, and told no one of my anxiety, but it eventually subsided and disappeared by the time I reached 20. I then enjoyed a 30 year hiatus, married at 24 and fathered two beautiful daughters. My life was very happy; I had a successful career and felt that Life was pretty near perfect. Then I hit 50, had a stressful period at work and began to develop health concerns, albeit psychosomatic. I had an enormous melt down, out of the blue, and became very anxious and fearful. Extremely deep thoughts of my existence, of others existence took over my mind and I thought I was going mad. My GP diagnosed Anxiety and depression and prescribed Seroxat (I'm in the UK). I took medication on and off for about 8 years, including when my twin was diagnosed with cancer which terrified me, (thankfully he recovered but not without facial disfigurement. My obsession with my anxiety gives me constant distress. I have many anxiety symptoms even now, aged nearly 67! In my more lucid moments I realise that Existential Angst is the main driver as it encompasses the entirety of fears and worries. The hours I have spent contemplating The Universe and Everything has made me no more insightful, which is frustrating and just serves to fuel my anxiety. Perhaps the mystery of 'Meaning Of Life' is just not able to be understood by mere mortals. I'm determined to overcome my Anxieties, and realise that it is only I who can do it. Just typing this has calmed my mind, it's rather therapeutic.
Hi Tanya,
You're opening paragraph really made me laugh and perked me up "Thats a fun concept, isnt it?" (no pun intended)!!! I'm finally accepting after a lot of soul searching, yoga and an enormous amount of reading over the last few years that I'm suffering from life long anxiety issue that is getting worse really. I have yet to speak to a therapist about it but I know its stemming from being abused as a child and the trauma (and the rest) associated with this past event, nearly 30 years ago now but feels like last year. Great article glad I stumbled across it✌
Take care,
Alan
Turning forty (last year) has increased my existential anxiety. I don't feel as though I have found my passion. Few or non of the jobs I have done so far have stimulated me intellectually and at the same time my low self-esteem has prevented me from pursuing avenues which would take more bravery. I feel adrift and anxious regarding my career. Thankfully my home life is settled and pleasant. Working life appears a game to me - some people know how to play it and I don't. When suggestions are given to me as to how to get outf this rut I pursue them half-heartedly (probably because my base-line belief is that I'll never have enough courage to make the necessarychanges in my llife).
Hi Mrs. Peterson, I am 15 years old and I have existential depression along with adhdh and social anxiety. Adhd along with a 136 iq is what I believe causes me to contemplate about my existence. I am entertained by close to nothing, and one of the only things I find stimulating (video games) is only allowed on rare occasions by my parents. My question is, how can I stop thinking what I am doing is meaningless, and how can I find a purpose?
personal questions for tanya peterson
I'm happy more people feel this way I always look for answers about life and the after life i hope and wish that this isn't it that death it self isn't the end. I felt better by hearing Near death experiences but pretty much could say that curiosity sucks because I also question our population and how would we all transfer to the the after life. I am self aware and the existantial anxiety makes me feel like I'm only going to see life through my own shoes and no one else's and I question everything about why some die young and some old
But how do you get over the fact that time, money, economy, government and society is all man made and means nothing? I feel like I've found a door to the outside and lost the key and now I can't get back into the mainstream view of the world. How can I go back?
Such apt description for existential anxiety. Any suggestion on concrete methods to overcome this anxiety and live in the present; basically be handle the intruding existential thoughts and come back to the present
Can you highlight a handful of things to do to help this? My symptoms are similar to what you've written about in the above article and I also have some relatable to in the comments here. Just wondering why I'm here and why im doing the things I am. It's freaking me out big time and really hope I can fix it.
Hello its really relaxing to see that people feel this too. I have experienced this for 2 weeks now and it feels terrible. I look at the things around me and ask myself why do they exist? Why are they formed like this? How come the world is in this shape? It scares the hell out of me. It has locked me in my bed and I really hope that this can get better. Thank you for this wonderful writing.
I feel my anxiety falls into this category. I have had it for about 20 years and have always felt I was alone. It is refreshing to find other people who suffer from simply being afraid of being alive. I was always afraid to tell people because I thought they would perceive me as suicidal by saying I was completely terrified of life itself. Almost like I live my life sub consciously, going through the motions, and I stop to think and realize this is real...and I get an extreme sense of terror where I have had to punch things or yell at the top of my lungs to hope the fear subsides. It is a dibilitating feeling. I have lost jobs over it. I am glad I am finally looking into getting help more than my PCP, but it has come of the hands of some of the worst panic attacks from this to date. It's been almost constant for three weeks. I have been taking Valerian Root and my Xanax to help stay calm, but I really think I need to take the step to go talk to someone. I need help with better thoughts and ways to cope when my panic happens.
ive been searching all over because ive been feeling like this. i was even in bed with my husband and before i opened my eyes i was like in my head, "life is so weird, ill probably open my eyes and think my husband looks strange." Then when i opened my eyes and looked at him, BAM, i got scared. is this kinda the same thing? like anything and everything can trigger the scary fear feeling, sometimes things trigger it one day and then other times they wont. i also researched hyperawareness ocd and they say the automation of life and bodily processes can create disturbing feelings. i believe i have a mixture of existential anxiety, panic attacks, ocd, hyperawareness, dissociaton (derealization) it sucks. please try and give me some insight. im on a waiting list to see a psychologist. i feel normal, more normal than alot of people but have just been seemingly "locked" inside my head.
Is it odd I suffer from this and I just turned 15?I always get in trouble from my mom because "I'm so negative." But I'm just afraid or I don't like alot of things. Life is stressful at the moment but I've been writing and that kind of helps me.
listening to music makes it a little better-or if you find something you can hold in your hand and focus on that (if you have one thing it becomes a very important little thing)
How do I help my 7 year old boy who has existential anxiety? Any books? Ideas? He is gifted and these racing thoughts are scaring him about our existence
Thank you for this article. I woke up this morning and just had this 'why does anything exist' anxiety in my head! A great way to start the day :-) It's nothing I haven't thought before. Anxiety has a way of replacing one distressing thought with another. I have been jumping from one to the other quite a bit lately, not always existential. I want to reach a place where I just accept everything.....
Very helpful and succinctly written article. Thanks Tanya.
I think I started deep-thinking (day dreaming) too much from age 10 onwards! Anyway, you learn to live with it, although it has hampered me along the way no doubt.
"Understanding all phenomena as like illusions"
Hey, thanks Tanya for writing this post about anxiety, I have anxiety which falls in MANY different categories so I'm not sure what to make of mine or what to call it. For example I have; separation, existential, social & generalized anxiety, worry and panic attacks, I suffer from almost every phobia known to be either relevant or irrelevant (I only use that word to describe fears most people may see as ridiculous) all rolled up into one "disorder" lucky me! this is causing me to have to apply to disability and is in general ruining my life. I just wanted to take the time to thank you as I didn't know existential anxiety "was a thing" I know for a fact I have felt the way you have described things and it opens my mind to at least understanding the concept of it and what I am feeling so great webpage.
Thank you so much Tanya, its a really big help for me. I've been suffering anxiety for long time. All i know is just anxiety. But when i read all this, Baaaaam! This is such helpful tip in surpassing the anxiety attack. sleep and bathing or even massages can cure anxiety for a second but not working at all.
thank you very much.it is because from now on.i know my.part.what do i have to do regardding with my problems meet.
I thought maybe I simply had a problem with depression?, my brain?, mental issues?.....etc...etc...etc....to the point of getting therapy, BUT I read your website! It was an epiphany for me! This website described me to a T! Just tell me were I can get more info and read more on Existential Angst and working through it! Let me also say
" I believe the good Lord directed me to your website!"
Leave a reply