About Julia Banim, Author of 'Anxiety-Schmanxiety'
Hi, my name is Julia Banim and I'm the new co-author of Anxiety-Schmanxiety. I'm a journalist based in Manchester, England. Reading and writing have long been a quiet refuge for me from the social situations that, admittedly, have never come too easily (What Is Social Anxiety Disorder [Social Phobia]?). Journalism, therefore, always felt like a natural career path for me.
I believe that writers should always strive to cover issues that are of personal significance to them. For me, this is anxiety, with all its messiness, humiliations and excessive worrying. I know how it feels to be wound tight as a spring for days, weeks, or months on end. I know how it feels to not realise how loud and fast you are breathing, how tightly you are clenching your fists, until the person next to you on the train looks at you with concern (Can People Without a Mental Illness Understand Us?).
Julia Banim and Writing about Anxiety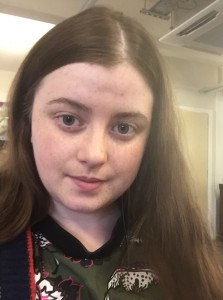 A couple of years ago, I would have been completely mortified at the prospect of writing a blog about my anxiety. Like so many others, I very wrongly felt that my anxiety symptoms somehow reflected negatively on my character. I hid behind a series of carefully constructed personalities, hoping and praying that I would at least appear to fit in.
I masked my frequent nervous tics and twitches behind coughs that fooled no one. I would smile stiffly for photographs at parties where the large volume of people rendered me trembling and completely wordless. What I have learnt from this is that putting on a front is rarely, if ever, beneficial for your health and wellbeing. The best first step is of course honesty and understanding which is how I intend to write my blog (To Combat Stigma, Take Off Your Mask).
People with anxiety can and do go on to achieve incredible things, as demonstrated by the wonderful bloggers on this site. I am truly excited to begin my blogging journey with HealthyPlace and sincerely hope that you will find my writing to be informative and interesting. I look forward to sharing and chatting with you.
More about Julia Banim
Find Julia on Facebook, Twitter, Google+, LinkedIn and at her blog.
APA Reference
Banim, J. (2015, October 13). About Julia Banim, Author of 'Anxiety-Schmanxiety', HealthyPlace. Retrieved on 2023, December 9 from https://www.healthyplace.com/blogs/anxiety-schmanxiety/2015/10/about-julia-banim
Author: Julia Banim
Thanks for your articles and posts Julia. I am a children's picture book creator (currently working towards publication) and have suffered from anxiety for the past four years. With help it's become very manageable recently, at some points almost gone, but it returns from time to time, sometimes intensely. During these times I find it hard to have a free mind and spirit that enables me to create my work, as I try to "work things out" and relieve the anxiety. This does work to some degree but the rumination takes up time, time I'd much rather spend doing what I love, which is frustrating.
I sometimes think it would be easier, as an anxiety sufferer, to do a job that doesn't require much mental effort - to take the focus away from my brain if you like. But then of course I wouldn't be doing what I love. It's certainly very hard at times, but I have hope and faith.
So hello to a like-minded soul and my very best wishes.
Julia,
Thanks so much for starting this blog. I have experienced social and generalized anxiety & depression for many years. I've been in counseling, am seeing a Psychiatrist who has prescribed medication that helps with my depression, but the anxiety is still a huge issue for me. I look forward to reading more posts in your blog and hopefully gain some insight in how to get rid of my anxiety that controls my life.
Chris
Hi Julia,
I have always had a lot of anxiety about different things. I worry about my family, my job, germs, money, and I have a hard time enjoying life at times. Sometimes I wonder how most people can go through life not being anxious about the things that make me anxious. Sometimes I wonder why I worry so much.
Hello Julia :) Welcome to the team of bloggers!
I have depression and anxiety, and between the two devils I'd rather be rid of the anxiety. I read the posts that Greg and Tanya write all the time. I look forward to reading your posts, too.
Welcome aboard, Julia. It's great to have you here with me on HealthyPlace/Anxiety-Schmanxiety!
Hi Julia! I love this site and am looking forward to your posts.
Welcome. Looking forward to reading your posts.
Leave a reply