Can Anxiety Disorders Come from a Traumatic Brain Injury?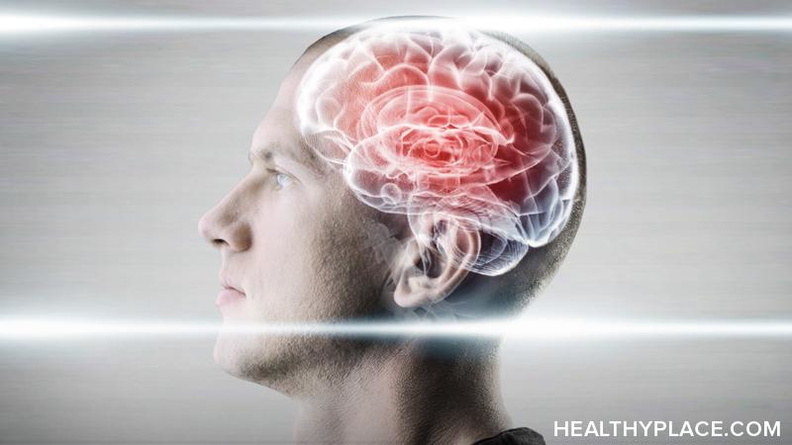 Can anxiety disorders come from a traumatic brain injury (TBI)? Anxiety disorders can be challenging, and it's natural to want to know what causes them. Anxiety disorders, like all mental illnesses, are disorders of the brain. The brain is an organ of the body, and it can experience disease and/or injury just like any other organ. Traumatic brain injury can cause serious damage inside the brain. Depending on what part of the brain is damaged, TBI can lead to mental illness. Anxiety disorders can, indeed, come from a traumatic brain injury (Relationship Between Head Injury and Anxiety Proven to Exist).

Because March is Brain Injury Awareness Month, this is an opportunity to consider the impact brain injuries can have on mental health and mental illness. According to ScienceNordic,
If you suffer a head trauma, your risk of developing certain mental disorders increases significantly – in some cases by more than 400 percent.1
Anxiety disorders are among the "certain mental disorders" that can come from a brain injury.
The Anxiety Disorders and Traumatic Brain Injury Connection
Life can feel frustrating and difficult after a TBI. Just as a broken leg doesn't work right in moving you from place to place, an injured brain doesn't work right in its many and complex tasks. Among other things, an injured brain can be an anxious brain. The Veterans Affairs San Diego Healthcare System reports that approximately 58% of brain injury patients develop anxiety (The Link Between Traumatic Brain Injury and Combat PTSD).
Depending on where and how the brain is injured, the connection between TBI and anxiety disorders can be deep and multifaceted. Anxiety itself is brain-based, so damage to certain areas of the brain can cause anxiety disorders.
Also, the very symptoms of brain injury can be so disruptive, so bothersome to someone's life, that they cause anxiety. The symptoms of a traumatic brain injury include:
Concentration difficulties
Memory problems
Organizational and/or planning issues
Decision-making difficulties
Being easily overstimulated by crowds, noises, etc.
Increased susceptibility to pressure and stress
Fear and worry that others will judge you as stupid, incompetent, unreliable
Worry about making mistakes
Anxiety about the brain injury symptoms themselves
Hope for Anxiety Disorders that Come From Traumatic Brain Injury
The human body possesses an amazing ability to heal. To be sure, many times brain injury involves permanent damage. However, a degree of healing does occur, and people have remarkable capacity to transcend their difficulties, to adjust, and to fix what can be fixed (Brain Change And PTSD: Proof Recovery Is Possible). Anxiety is very treatable (unfortunately, it's not always quick and easy, but it is, indeed, treatable).
Some things that people can do when faced with anxiety disorders that come from traumatic brain injury include:
Rest, rest, rest – that's how the brain--and with it, anxiety--heals.
Attend to your environment (reduce noise, keep light levels low).
Establish a routine to reduce the need for decision making/concentrating and to lower stress.
See medical doctors and follow their instructions, medications, etc.
See a therapist to help deal with the anxiety.
My own experiences with anxiety came from a brain injury. I was anxiety-prone before the TBI, but the actual anxiety disorders developed post-TBI -- ditto bipolar 1 disorder. Here, too, I had mild symptoms before the injury, but the brain injury exacerbated them. I know first-hand that TBI can contribute to mental illness. That also means that I know that people can transcend their troubles, rising above even mental illness and brain injury. I am sincere when I write that there is hope for anxiety disorders that come from brain injury.
Sources
Head injury can cause mental illness. (2014, January 3). Retrieved March 21, 2018.
References
APA Reference
Peterson, T. (2016, March 10). Can Anxiety Disorders Come from a Traumatic Brain Injury?, HealthyPlace. Retrieved on 2023, November 29 from https://www.healthyplace.com/blogs/anxiety-schmanxiety/2016/03/tbi-can-anxiety-disorders-come-from-a-brain-injury
Author: Tanya J. Peterson, MS, NCC, DAIS
Hello Ms.Peterson, I never thought I would experience a trauma & relate to several ppl that have shared their experiences here. I'm hoping you're able to read my experience and I would truly appreciate your insight.
I'm the type of person who has been traveling for the past 8 yrs alone and used to being up and about. However everything changed after my accident.
On Feb 27 I was traveling by myself to the state of Washington. I had a 1 hr 30 min layover in Utah. The night before I got very little sleep not by choice and my last meal was at 7pm. My first flight was at 5am I felt fine but hadn't had breakfast yet. My second flight was at 9.45 at Utah so I had arrived at 7.30am. I decided to get breakfast & usually I'll get fruit with yogurt something fresh not hot. There was nothing around & I had already walked miles to get to my gate and I was starting to feel lightheaded, besides feeling sleep deprived. I was forced to get a pizza pretzel and unfortunately right after eating half of it, irritated my stomach so bad I wanted to throw up. I panicked cause my flight was leaving soon. I asked if I can change my flight to a later one since I was feeling very sick and couldn't get on the plane. They had me back and forth and everything happened so fast I was feeling worse and worse. By the time I reached the person who would finalize plane changes, I just remember feeling extremely dizzy, saw black & felt like I wanted to sleep deeply. When I realized maybe 2 minutes later, I was on the floor and felt a very sharp pain on my head but couldn't make sense of anything. I couldn't open my eyes for a long time and since it was the airport, a lot of ppl ran towards me, I could hear there footsteps from a distance but it felt like they were far away & could barely hear them. Some would say check if her head is bleeding, her head bounced on the hard floor, get her a pillow, raise her feet up & call the paramedics. Someone was holding my hand and asking me questions so I wouldn't loose conscience again. I could barely speak and I was extremely terrified, I was alone didn't know anyone. I could feel tension, anxiety, pain, panic, extreme fear all over my body, trembling and sweating. Apparently I had fallen flat backwards, I don't even remember the fall or the hit, I just barely remember being on the floor. I was very fortunate to have my backpack on but when I fell my head bounced on the floor, at least I didn't bleed. However, the next 2 weeks were terrible with pain, anxiety, nightmares and got worse and worse. I couldn't eat, sleep, go out. I developed a fear of traveling. There's just so many details. But fast forward till now about 5 months later, just on Thursday I was diagnosed with generalized anxiety disorder and will start therapy on Monday. I tried a medication Lexapro 20mg on Thursday and it made me very sick, worse than ever. It's the first I've tried medication and it didn't help me at all. For the past 3 days I've experienced a lot of anxiety than in the past 3 weeks and can't eat well since medication ruined my stomach. I've lost a lot of weight, I'm 24 and weight 93 pounds when I was 103 and the most I've reached is 110. I'm trying natural remedies and other techniques that have been helping me somewhat. I have anxiety in almost everything I do and it drains me and makes me feel depressed for I haven't felt myself, not normal since the accident.
Thank you so much Ms. Peterson for your response! I appreciate your comment and words of encouragement. When I first wrote my little story , I thought it would never be read by anyone or at least never be responded to. Your the real deal !!! Thank you and I will continue to educate myself including your recommendations of things to read. Be healthy!!!!!! Lou
Hello there. I actually never thought I'd write something like this but for some reason it feels like I should or need to. In 2002 while riding my bicycle to the gym on a beautiful sunny day I was hit from behind by a Ford Explorer. Besides many broken bones I had a fractured scull with 3 brain bleeds. The worst was in the frontal lobe. I spent months trying to get back to myself and fought the fact that life changed probably forever
. I lost all sense of taste and smell due to the frontal lobe injury. I worked with many doctors with medication due to outbursts of anger, personality changes, impulsive behavior and depression. Anxiety hadn't kicked in at this point. I tried many different medications until I got to Lamictal. That seems to do what I need without side effects. All went well for years but in the last few years anxiety has built Closed in places, crowds, social events, fear of getting lost while driving although I drove a truck for a living !! All of this just doesn't make sense. The "what if's" are crippling sometimes. The butterflies build in my stomach and it becomes difficult to deal with some situations. My doctor prescribed Klonopin so for years I don't go anywhere without it " just in case ". Medical marijuana is now an option in NJ and I know Klonopin is addictive so it may be the way to go. My wife always tries to support me and feels that Lamictal is needed but really doesn't understand my anxiety feelings so any medication for that she feels is unnecessary. In fact I have to hide it when I take it. This snow balls into more anxiety. So here I am 16 years later, retired and living a dream. Sometimes a good dream and sometimes in a dream like state. All is good, I stay healthy, work out 5 days a week , eat and sleep well. If I could only kick this anxiety!!!!!!!!!!!!!! Thanks for your website and giving a shoulder to cry on. Enough of the " Poor Me " stuff. Be healthy.
Wow two years later , and posts are still being addressed. Thats pretty darn awesome. .. My story is similar to most on here. I went into a diabetic coma almost 20years ago now. I had the whole out of body thing happen, and even visited other dimensions i guess. I was raised a christian, but didnt have a religious expirence, no angels no god no guide .. NOTHING. I was under for 2 weeks, then upon walking up i have had severe anxiety ever since. It is so bad where i just liver alone with my cat. See very little of my family, and have the smallest social interconnection if only absolutely necessary. This is like living my own personal hell, and thats where you go when you die i believe. So what ever your belief is is your next life..
Had a head injury back in 2016. I fell backwards from a chair and hit my head on a rock. Was dizzy for days. Had a ct scan and xrays done. Nothing major was found,but my family doctor said I had a slight concussion and mild whiplash. Since my fall my anxiety kept getting worse by the month until I started to have anxiety attacks. So I was wondering if its possible that my fall caused my anxiety to get worse.
Head injury for my son since 1989, cam anyone give a med.that works, he's been on all. Thanks
I was struck, and nearly killed by an automobile when I was 2 years old. As a younger child I was outgoing and extroverted. AS I freshman in high school, I developed severe anxiety. Twenty years later, here I am on this website still looking for answers. Why are they so hard to find? Why do I feel like people like me are swept under the rug and taken with a grain of salt? I've had enough and just want to feel normal, not sedated, and not crazy! Please help
Having a very difficult time,20 years ago brain injury from car accident,,, 17 year's finally started getting memory back due to a lot of bad thing's that happened.Everything they try a med other than zanax,,, I'm complety not myself and can't function. Year's didn't even feel pain levels. I'm desperate because their trying to give meds other than zanax.. Side effects are complety out if control and suicidal tendencies come taken them.zanax has been the only one that make's thought process100%.Basically down to just sleeping at night,seems the only thing that stops the brain so get sleep.20 year's latter I've finally reached the point more like I was before head trama,, and head trama has occurred more than once!
I have tbi which led shortly after injury 2 months to severe anxiety attacks when I overextended myself.....put on 1mg of lorazapam 3 times a day....but the more I read about lorazapam it looks like like alot of problems down the road.....been on it for 6wks.......should I try to gradually get off it now,,,?????? im 72 yr old ....thank you......
Isn't it ironic that you have an advertisement for Latuda, a bipolar medicine and you mention you had bipolar disorder. Why does our culture promote medicine likes its candy or perfume. I was diagnosed with Bipolar Disorder and put on HORRIBLE medicines Lithium, then Symbyax (which was $300 and I had to pay $100). Made me a zombie. Horrible. I was tired and I couldn't think. My herbal practitioners said I had Eating Disorder NOS which looks IDENTICAL to Bipolar Disorder. I used to eat bags of cookies and chips and candy and veggie burgers and veggie hotdogs. My put me on a diet of fish, eggs, nuts, fruits and vegetables. Thank the LORD for alternative medicine. I am so sick of pill salesmen LMAO.
I went to an herbal practitioner and chiropractor and they helped me immensely. I am on herbs for Anxiety- Valerian. She also prescribed certain vitamins and minerals.
I think my brain injury came from 30 years of beer drinking. The anxiety became chronic. I have been going to CBT therapy and have reduced beer drinking significantly. Now I am trying to focus on just today and forget the past and quit worrying about the unknown future. Exercise has helped.
Tanya, thanks so much for your reply. So far, we know, through countless research, there is no separation between the mind and body (mind-body connection); and that emotional illness can affect the body in tremendous ways(influencing physical illness, pain, etc), and physical illness can alter neuro-chemical changes, influencing psychiatric symptoms (depression, anxiety PTSD, etc). It seems like a plausible theory that chronic psychiatric conditions could affect structural changes leading to additional conditions that can possibly become an "organic" disorder. There is fairly recent research out there about how chronic, long-term, use of the anti-anxiety medication - Xanax, can possibly cause structural changes/damage to parts of the brain that controls memory, high level cognition and behavior; increasing susceptibility to Alzheimer's Disease (for those with a family hx or propensity to already develop the disease). This research is new, and not meant to cause any alarm. Many of the excellent articles on Healthy Place, reinforces the ability to reverse damage, and lower likelihood of developing disease. I went off on a little tangent. But my point was to show the interconnectednes of the mind and body. And ultimately, the idea whether chronic psychiatric conditions or symptoms (anxiety, depression, etc) could cause structural changes in the brain to the level of developing a TBI/organic condition. I have chronic depression and anxiety, so I am very interested in this theory. Thanks for discussing this.
This is a great article - the connection between TBI and anxiety. Specifically focusing on how TBI can cause an "anxious brain". I am curious about whether there is research about whether a chronic anxiety disorder can influence structural changes in the brain that can manifest a TBI? I read the article quickly and maybe this point was addressed and I missed it. Can you provide any information about the idea of Chronic Anxiety first, and the possibility of causing a TBI? Thanks much.
Hi i have pretty much all the things on the list ...my concentration is really bad and my memory....and im really anxious....but i have learned to never say much at all ....I was told that when i was a toddler my mum and dad were arguing and i was crying and dad hit me and i went in to the wall....do you think that could be the cause of a brain injury....(dad wasnt violent often)....
Hi, I am so happy to have stumbled upon an article like this. About two years ago I developed bacterial meningitis. It wasn't a TBI, but it was an acquired brain injury and all of what you described is what I experienced. I, too, have bipolar 1. Upon going into my coma I was in a full swing manic episode. After I woke up from my coma I was still manic. Slowly, yet surely, my cognition declined. My concentration and memory and processing were all severely distorted. This was especially frustrating for me because I have always been creative and always been a writer; those passions of mine became almost completely absent in my life. I also became somewhat emotionally blunted; did you experience anything like that? The anxiety only ever really came to me at night when I tried to fall asleep, even though I never really had a hard time falling asleep. The whole awareness of having brain-injured-like symptoms is extremely scary and anxiety provoking once you've come to realize the reality of your situation. I have been going to cognitive therapy for almost a year and it has been very beneficial for me. Thank you for sharing this.
Leave a reply