After Emotional Abuse: Do the Side-Effects Ever Disappear?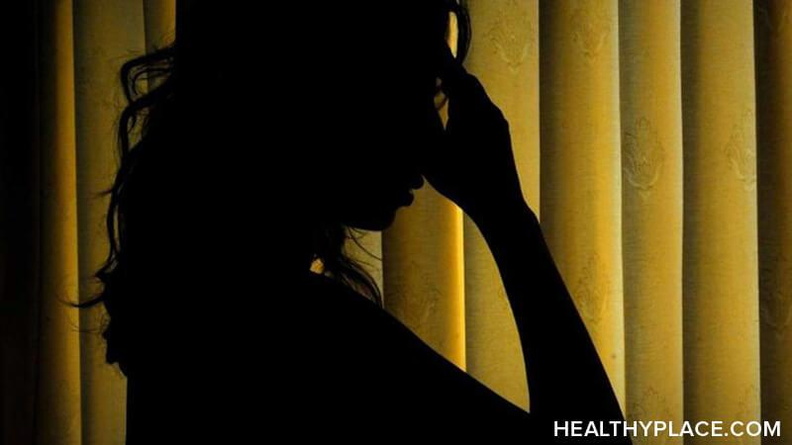 After the emotional abuse, or rather, after I left my abusive husband, I hoped the effects of abuse would disappear. Magically. Without any work from me.
Those hopeful feelings minimized the difficulty of coping with life and relationships after emotional abuse. The intelligent part of me knew that after the emotional abuse it would take time to recover from the emotional trauma and regain my mental health. Alas, the intelligent part of me was correct.
Mental Changes After Emotional Abuse
During domestic violence and abuse, victims, by and large, become people they no longer like. When someone you think you love spews hatred like buckshot, it is natural to retaliate against the abuse. Unfortunately, self-defense can get nasty.
Defending yourself in unhealthy ways can become a habit. Not only can that habit spill over to innocent people (like your children), but those unhealthy habitual thoughts integrate themselves into your brain - they become your new thoughts. In that way, you become someone you do not like.
At one point during my emotionally abusive marriage I wrote:
The abuse is bad, but the things I've allowed to change in my mind and heart are horrid.
That thought started my recovery from domestic violence. I had not left the marriage yet, but with that statement, I took one giant, healthy mental step forward. The understanding I gained was that I, not my abuser, have the power to change and create how I think, feel and act. I'd given my power to change to him. I needed to take it back.
I allowed my abuser's negative thoughts to infiltrate my brain during the emotional abuse. Now it was up to me to deny their ability to dominate me. I had to change my thoughts so I could be who I wanted to be.
My Recovery at 2 Years, 8 Months After Emotional Abuse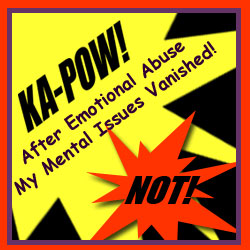 Patricia Evans, the author of several books about verbal abuse, offers a *list of symptoms abuse victims may suffer. Here's a look at that list along with my experience in recovering from them.
A verbal abuse victim often . . .
distrusts their spontaneity and suffers a loss of enthusiasm
My enthusiasm for my future returned around three months after emotional abuse was in the rear-view mirror. My spontaneity took a little longer because I believed he had spies watching me. I kept it low-key so the spies would have nothing to tell him.
lives in a perpetually in a ready, on-guard state
If you suffer PTSD, this symptom will take time to conquer. For me, eventually, after realizing the spies were phantoms implanted in my head, I learned how to relax. I began to trust the peace I created in my home after leaving emotional abuse.
wonders about how they are coming across
Soon after the emotional abuse ended, I discovered that he was the only person who misunderstood what I said or misinterpreted my behaviors. Every new person I met understood me perfectly. Now I'm writing a blog that hopefully, you understand, too.
thinks and feels that something is wrong with her
Within the first year, I realized that I am not as damaged as I thought. Yes, I have issues to work through, but everyone does (except for my ex who still loves himself just as he is). I am at peace with myself and my point in recovery from emotional abuse.
soul-searches and reviews incidents in hope of determining "what went wrong"
I don't do this anymore. I am able to go through entire days without thinking about my ex or how things could have been. I could go longer without thinking of him, but we have children together and there is contact.
hears only her internalized critical voice
The hardest after emotional abuse, for me, is separating my internal nag from his criticisms of me. I sometimes ask myself, "Kellie, is this what he told you?" If it is, I banish the thought without question. Hell, sometimes I banish my internal nag too. Feels good!
suffers from anxiety or fear of being crazy
I am sane. I do not doubt my sanity any longer - not for one second. The anxiety associated with the fear that I might be crazy is gone. After emotional abuse ends, meaning I have a home that doesn't include him, the distance lets me see very clearly who is crazy. Not me.
wishes she was not the way she is - "too sensitive", etc.
I am perfectly me. Sometimes a person's statement or word choice will sting because they are similar to my abuser's words. Sometimes I overreact. But the people I choose to have in my life are safe; I can tell them exactly what I'm feeling and they respond to me with love. The more I let myself trust them, the less often I feel those stings.
is hesitant to accept her perceptions
Now my perceptions are the most important ones to me. I realize that the way I perceive things may not be complete, so I ask people what they meant when they said or did something. I do not try to read their minds. I listen to their explanations. I can tell whether they're lying or not in time by watching what they do.
tends to live in the future - "everything will be great when/after", etc.
I do look forward to future events (like graduation and moving to Austin), but I do my best to make now great, too. Life flows, and it feels good to be in the flow instead of predicting what will happen when or after emotional abuse occurs.
has a distrust of future relationships
I once thought I was unlovable and couldn't be a great friend because he didn't love me and he didn't want my friendship. After all of that emotional abuse, it is taking some time to trust my perceptions of other people. I'm relearning how to listen to my gut feeling about someone; not perfect yet, but looking forward to testing it.
Is Complete Recovery Possible After Emotional Abuse?
I believe we can conquer all of these horrible side-effects after emotional abuse is out of our lives. Some effects will take more time than others. Trusting myself seems to be at the core of it all.
I'm not done healing, but I will completely heal. I will completely trust myself. It will be sooner rather than later. It can happen for you, too.
See "Do the effects of abuse change you permanently?"
---
*Evans, P. (1996). The verbally abusive relationship: how to recognize it and how to respond (Expanded 2nd ed.). Holbrook, Mass.: Adams Media Corporation.
You can find Kellie Jo Holly on her website, Google+, Facebook and Twitter.
*Both women and men could be abusers or victims, so do not take my pronoun choices as an implication that one gender abuses and the other is victimized.
APA Reference
Jo, K. (2012, September 14). After Emotional Abuse: Do the Side-Effects Ever Disappear?, HealthyPlace. Retrieved on 2023, December 11 from https://www.healthyplace.com/blogs/verbalabuseinrelationships/2012/09/emotional-effects-abuse
Author: Kellie Jo Holly
How do you recover from emotional and verbal abuse while still in the marriage? My husband was very controlling and abusive for the majority of our 11 year marriage, but after I finally stood up and told him I didn't love him anymore and wanted to leave, he did a 180. He's working hard at changing (acknowledging his behavior, not blaming, seeing a therapist, etc), and I believe he can, but I just can't trust him anymore and I'm not sure I can love him again. I've agreed to stay and work through our problems for 6 months, but my heart isn't in it and I just want to get away from him. He feels such guilt at how he treated me and now he showers with me compliments and praise and affection, but I'm just not interested in it anymore. I still hear his voice in my head and I feel traumatized by some of our particularly bad past fights. How can I not only forgive him but see him differently? I guess it just takes time, but I've already given so much for so long, and my self-esteem and self-worth is so low that I don't feel like I can give anymore. We have three young children and I want them to grow up in a happy stable home; maybe we can get there again, but how do I get over this wall of resentment, anger, and bitterness towards him?
I am a 50 year old woman who let someone abuse me physically for the first 15 years or so of my marriage and the rest verbal and its going on 30 years. I have 4 kids 2 of which do not really talk to me because of it and the other 2 put up with it cause he holds all the cards. I have no money no job and need so much to get out. But I feel I have no where to go at this age. I really don't want his money I need a peace of mind. But where do I start. What do I do before I go crazy!!!!! Cant go to counseling no money cant go to rehab for the abuse of alcohol no money. Any words of advice would help.
Thank you so much for this. It helped me get through one more day.
Hi
Just came across this and it's amazing! I've had a very lucky escape as I was in an on/off relationship for 5 years with what I believe to be an emotional abuser. I wanted to kill myself for the majority of that time and could not seem to shake him no matter how nasty he was. But I never married or had children with him, like I said lucky escape! Although at the age of 39 I can't help but feel bitter that I didn't just meet someone nice and normal to settle down with and have kids etc. He had 3 already and told me that I wasn't fit for the purpose, that's why I have no kids (I had been working abroad for 6 years before I met him, too busy for relationships and not even thinking about kids!)
So I have been through cognitive behaviour therapy, moved house, got a little dog and am so much happier in myself, but I wondered how other 'survivors' felt that this experience had impacted some of their other friendships? I feel that my friends have completely lost respect for me now as I let him drag me so far down, and one of my oldest friends has commented several times now that I 'go on about him'.
So am I a boring cow who brought it all on herself and my 'friend' is just being honest? Or should I write her off as not a good pal?
This relationship has already cost me one friendship, my former flatmate who outright told me she has no respect for me anymore. I'm happy to ditch this one to be honest but I'm not confident that my upset is justified........
Any advice or similar problems? I'd love to hear from you.
It took me 25+ years to recognize that I was raised by a Narcissist alone as my father who was an amazing man, passed when I was 9. It wasn't until after her death that I recognized the true impact that had on me and apparently whom I married.
It wasn't until, I became involved with another man, that I realized that I was miserable with my husband, and still 5 months of being separated that I had been involved in an emotionally abusive relationship since the beginning. Growing up in a narcissistic environment, my husband's treatment of me, mirrored my mom and others to be honest. I spent my life amongst people who felt justified in yelling at me for just being who I am. In my 20's I was once yelled at for not wanting to try French toast, just after I had finished eating my own breakfast; Lectured for hanging non-matching clothes on a hanger; leaving a single cup in the sink, after cleaning the entire house; using two knives to make pb&j or not cleaning the one properly and mixing the pb into the jam...So when my husband continually told me that it was "the way I spoke" to him that caused him to be nasty to me, and that I didn't know the difference between a tone of voice verse anger, which was then full-on rage, I accepted it was me. By the time, I realized I was miserable, I had become afraid to even ask him to make ice-cubes, instead of leaving the trays in the sink, as in my rush to get ready for work, which involved making breakfast( pancakes, coffee ( w/o a machine ), eggs, bacon ) for 4 people and get myself ready, as he was the stay-at-home parent, If the tray was empty, I simply did not have time to fill them, as the water pressure was too slow. Oh and when I explained, when his answer to my request was "why didn't you", I hadn't the time, he would scoff. Yes, there was also 17+ years of his going into full rage, which including saying some of the most denigrating things I've ever heard, accompanied by his slamming out of the apt, for hours and blaming me, saying he just wanted me to stop disagreeing. The one time I did acquiesce, and it was because, I did agree with what he was asking, and we at that point were not fighting, he yelled at me for the 'way' I agreed, that I hadn't meant it. That was the beginning of the end or our marriage, because additionally, I had been going through a depressive episode, and when I asked if he'd taken notice, he said yes, but he didn't know if it was being caused by a,b or c, not that he cared to ask me in the previous two weeks.
It was 6 months after we were separated, and I saw how he treated me and the kids from a different view point, that I realized how abusive he'd been..and then a few more weeks before I truly acknowledged it. I sit here and wonder when I'll stop feeling sad. The other relationship is in a strange place, which isn't helping, albeit I do understand why the recommendation is to not get involved with another person for a bit..
It's a constant struggle for me to acknowledge that I was in an abusive marriage, that I'm not making this up in my head..
Hopefully someone else will read this and be able to learn about themselves from my experience.
Thx for this article. I read all the posts from others and send healing thoughts to everyone. I especially liked something you wrote in response to someone's post. Remember healing is two steps forward and one step back. I really needed to read that today thank you. I left my emotionally abuse "Christian" husband 18 years ago. I came from a religious family, my father was a minister even. My husband used his twisted version of the Bible to control me, shame me, and make me feel like a terrible person. He found a way to use the "obey your husband" part of the Bible against me for anything and everything. I was reprimanded for such little things like placing a small fork in the Big Fork section of the utensil area in the drawer on accident, or washing white socks with white dress shirts. Slowly my rights were taken away. He kept all the money even though I work too. I was given gas money. In the end I was no longer allowed to go grocery shopping and he was even laying my clothes out for me. If I didn't wear the clothes he laid out he would scream and yell versus at me and tell me I needed to pray about my behavior and we weren't leaving the house until I changed. It's ridiculous because even now I feel like I have to defend or explain myself to those reading this. Like they might assume I was trying to leave the house dressed slutty or something. I just didn't always want to wear high heels, hose, a skirt or dress. Sometimes I wanted to wear a nice pair of blue jeans and blouse. Because he was a Christian he never cussed at me. He just called me stupid, idiot, head case, and said "why can't you ever do anything right? why do you have to ruin everything? You better learn to be a better wife? You are going to Hell for thinking that and need to ask God for forgiveness! " (in reference to me saying I think there is nothing wrong with mixed race marraiges) There are so many more in reference to my appearace and other supposed flaws I had. I was 18 and wanted so badly to be a good wife. I did everything he wanted but it was never enough and never the "right" way. I left after 5 and a half years shortly after I heard my 4 yr old son tell my mom "Mommy has to do everything Daddy says." My son had previously yelled at me the same way his father did and I realized that I didn't want my son to think it was okay to treat women this way. Looking back, I know that his behavior was not Christian like and I truly believe he is a narcisist. But because of him church frightens me. I still have a relationship with God and I am comfortable with it. Unfortunately his same behavior continued with his next wife who stayed with him longer than me. She reached out to me on facebook after they divorced years ago and she messages me for support. She still has nightmares and wakes up with heart racing. I tell her it will get better with time. And we share stories. I wish I could tell her it will go away, but I don't think it ever will. After she left him, he emptied out her bank account and left her with nothing. Now he is the minister of their church and is remarried. I hope and pray that he has changed and this one won't be another victim. I left 18 years ago and while I may still be messed up emotionally, my son is not. He is a kind strong young man who is respectful of women and thinks of them as equals. I myself have been remarried for 13 years ago to a man who has no religious affiliations but is more Christian like than my husband who claimed to be one.
Thank you for this article. 24 years of marriage. The verbal and emotional abuse started 7 years before he left me. It was so subtle. I kept on making excuses for his behavior towards me... stress at work. I kept on trying to be the better wife - but it was never good enough. I was considering suicide in 2011 because I thought 'If my own husband is treating me this way then what am I worth?'. I considered my boys and decided I would stay for them. I had prayed for years to feel happiness and joy, 3 months after he left I started feeling happiness and joy. I prayed again to God saying that 'my husband leaving me was not my intent but if that is what it took to feel happiness and joy then I will trust' God. I am currently battling another bout of depression - I look strong to those around me but when I'm alone I can hardly move.
Through the abuse I felt like I was crazy. Even now I cannot always believe I allowed it to happen. I have no evidence other than my memories. I cannot forgive him yet because he still subtly messes with me since we have 2 boys together. I have to eventually forgive myself to for letting it happen.
I came across a quote this Easter service that I am trying to apply to get out of this rut and move forward and live the full life I should: "You don't think your way into a new kind of living. You live your way into a new kind of thinking." - Henri Nouwen
Reading every post felt so hurtful..Been dealing with emotional abuse, physical abuse...I For 5years.. find myself going crazy to stay.I'm always called names,been punched in my mouth..ect..He agrees to talk..When I express how I feel he will listen then say things like that was a long message,or change subject..I feel like I'm walking on eggshells.. I'm going crazy..I have no one talk to...I build everything inside..I have young daughter who sees the abuse.. Its scares me to know that she will see this as normal...Times I give up defending my self....I just want get away..I want to not follow the same time of men.. Its seems to be that way...I feel belittled every day and crippled..Nothing I do rite for him..he says..I always have to second guess if he will like anything..or agree...I want change any advice..Thanks again..
Trust in jesus he heal's anything and everything no matter what you've been through how severe it was. Follow him give your life to him and him only and every hurt are pain a person put on your heart mind and soul will go away if you let jesus heal you he'll take control of your life. I see alot of hurting people on here your not alone i was the victim of this also almost got myself murdered for it i meet satan himself we should never give a person our heart's are mind are soul instead jesus say's love him with all your heart all your mind and all your soul maybe that our problem where not doing enough of that. May god bless each and everyone of you everything will get better in time.
I left and divorced my wife last summer after 46 years of marriage. I now live alone but don't like it much. My former spouse are on friendly terms, but it is over. I worked long, hard hours in my professional life and retired ten years ago. The verbal abuse got worse and worse. I discovered the book Patricia Evans wrote, and as I read it, I felt as though it had been written about the two of us. What a revelation. I had all the symptoms, and the most pronounced was the constant wariness that the verbal accusations would explode again out of nowhere and for non reason, followed, of course, by a period of "nice." I never once got an apology, but I was always told after confronting her about the outburst that I had brought it on myself.
Her father, I learned later in my marriage, was a verbal abuser of the first order. I never saw it myself, but our contact was infrequent because we lived in states about 1500 miles apart. Their family picture should have been in Ms. Evans' book.
I get the blues a lot, but I work on my gratitude list and stay busy with a wonderful volunteer project with old friends. We really enjoy ourselves.
I dread being alone in my golden years, but I have little confidence I will avoid it.
Nevertheless, I am very grateful for all I have, and I particularly appreciate Ms. Evans' great work.
The best part of the post for me, was that at the end of it you noted that abusers can be male or female. As I was reading everyone's comment, I noticed that they were all women unless I missed someone. I am eternally grateful for your mention of the gender not really being specific. Why? Because I am currently married to someone is verbally abusive and physically abusive. We are now separated. And even though the marriage is only two years in the making the effects of verbal, emotional, and physical abuse have devastated me. I am now in reconstructive counseling with two pastors just to rebuild my mental self-image of who I am. I have to force myself to stop listening to her poison filled words just to make it through the day. I have began drinking to help cure the depression for a little while. My normally spontaneous self is gone. My health is only just now beginning to resemble my former self. I grades suffered as a result of the constant barrage of hate filled words worsening my self worth. I don't trust anyone anymore, I doubt my ability to achieve, I second guess decision I make, I obsess over her words just as the author spoke, because all I remember is my wife's criticisms of me. When she would attack me she would tell me that I made her act the way she did. When she would physically attack me, if I so much as touched her hand to get it off my face of head she would tell me that she hit me because I put my hands on her. Words like "you're a dumb dumb," or "stupid," or "mentally slow," "doe-doe," "not man enough," "sorry," or "weak," have resonated not just in my thoughts but my very being. These things I heard the entire time. So, the effects even after so short a period have left me broken, depressed, and distraught. And all that to come to the point where I'm to blame for all her behavior which was her constant cry for her anger issues, has added bitterness as well. So thank you for you final comment on the page b/c males suffer from abuse also.
Hello there,
I understand how many of you describe your feelings because, I have been in an abusive relationship for 13 years now. I read Patricia Evans the verbally abusive relationship, after he managed to keep my family away, and manipulate my friends against me during the holidays. Although the book helped me be in touch with reality, it was not without tears of heartache to acknowledge it. My husband would use constant manipulation, control, crazy making techniques like: demining attitudes and words, pasive agresive, blaming, threatening, blackmailing, mind games ( he would enlists his family to do this as well), lying, and denying, etc, as a result I was depressed, suffered panic attacks, anxiety, doubt myself, and had very low self esteem. I started by learning to identify and not accept his abuse, and respond to it. I started regaining even a small part of my self stem, and a sense of reality, however his abuse escaIated to where He kidnapped my children and left me with a note that he was about to serve me with divorce papers and I had to accept his financial and custody demands if I wanted to see the children again. A month, and 35 pounds lost later, and since I had no choice I requested a restraining order and I was granted the kids, the house and the car. What caused this big crazy outburst? I went to get my drivers licence, which he did not wanted me to do. He did not want me to learn how to drive for 10 years, and he said that I would be so incapable to drive, and tried to instill fear on me .
He asked me to let him come back, and I did after constant pleads, and apologetic letters, and crocodile tears. I lifted his restraining order, on the request to attend the 50 week domestic violence class, which he did, but it only served him to tell me that I was the abusive one, and for him to find new abusive pals. ( some of the guys that attended the class). He does not use direct demining words now, although he still blames,threatens, manipulates, and control.
After he took my children I followed the advise of the book, and I fortified my support group. I got rid of the " friends" relationships that he manipulated, and I strengthen those which included healthy people that is kind , and with whom I have things in common like ways to see life, hobbies,etc. Positive and supporting people from church, or my kids schools, that would know better and not get manipulated by him. I also kept this friendships to myself, without involving him as much as possible. I started to take care of myself by exercising, meeting with friends, meditating, getting involved in my kids school and extracurricular activities, volunteering at their school and meeting wonderful friends , constantly educating myself about his issues ( personality disorders like narcisism, and BPD) , my issues, ( which are not what he blames me of, but it is codependency). All of this helped me to not believe his twisted reality by realizing that I am indeed sane , and a common sense persone. I learned to acknowledge my feelings, and know they are there for a reason. He does not even try to tell me that I am crazzy, because I have express him by word and deed that it is not true, and most importantly, I don't believe it, ( the name calling abusive technique does not work anymore).
I learned to not let him get me upset, and not react to him in anger, or fear ( not matter how justified it is), but with firm, concise communication, and boundaries, and " compassion". When I act with firmness and compassion, it benefits me, because I wont have anything to be sorry about afterwards, in my dealings with him. And it will keep the drama to a minimum.
I would also educate myself on ways to provide quality of life to my children, like their interests, and gifts, extracurricular activities, school, their social life, and how to make good relationships with healthy people and keep those relationships.
After 2 years of allowing him to be back we were evicted from our home and, my children and I were left homeless living in my car, I received help from my support group at church
and school, I went to a shelter for a month, and with the help of God, I found a small apartment where i still leave with my children, more than 1 and a half year after the eviction.
We had to leave the shelter because he found us and showed up there. For a whole year he did not know where we live, but he could visit the children at public places mostly during the weekend or the week, pretty much when he wanted too, or he would pick fights, and skip the visits. He gives me some financial support or not or use it as leverage. Whatever he finds that I need or want he would use it as leverage. His communication is highly transactional. For example my personal property that he got to keep. I don't even worry about it anymore.
I have been attending a class on co-dependency, and working and focusing on my own recovery and understanding his patterns of behaviors , and mine.
We are separated, ever since my children and I ended up homeless. He has attempted many times to break this boundary, and he still continues to, but it is still in place. My children and I have our own place. And he visits them whenever he wants too. 8 months ago I started to allow him to see the children where we live.
I have made a lot of research on his condition, and I am trying to be compassionate, and keep my boundaries at the same time. But this proves very challenging, as he still does hurtful things that I sometimes think I am better equipped to deal with, than I really am.
Keeping the distance, and educating myself about the dynamics and patterns involved, help me identify the issues as they happen, and keep a perspective of reality, as well as bouncing back from sadness and not allowing it to become a depression, or a bad panic attack, however I have to use meditation, and exercise, and social connection, to avoid anxiety. I have learned that I have to acknowledge my feelings, find the reason for them, feel them and then let go, and move on to an uplifting activity. This is a healthy way to deal with feelings that arise, and not hiding them, because they just get bottled up, and then come out unexpectedly.
Using my codepency tools help me to give structure to my life, and having compassion toward myself, and others, as I get involved in my daily life routine, and social and personal interests that I have developed, and to what I look to, with enthusiasm, and new hope, as well as my children actitivities and ways to supporting them . I keep a balance in my friendship relationships with kindness, and assertiveness.
In time I hope to keep my recovery path and being courageous enough, to assume a more definite and confident outlook, and action.
I grew up in a family that looked fine on the outside. The reality was denied. I was the youngest and the only one at home by the time I was 9. My mother would regularly get upset about something, threaten to kill herself, get in the car and drive off. I never knew whether she would be back. I tried, once, to tell my father how frightened this made me. His response was to ask, "What about me? I never know if she's going to be alive when I return." I was the one stuck in the middle, trying to fix things between them, trying to be perfect but failing.
I married at 19, had 4 children by age 29. My husband was emotionally distant, controlling, contemptuous. It was 30 years of sheer loneliness and of feeling unlovable.
I finally got strong enough to get a divorce. Now, 3 years later, I usually feel that I am an ok person--kind, empathetic, generous, a good mother. I've made a new, good life for myself.
There are still times when I feel unlovable. My mother recently killed herself--whether deliberately in a lucid moment or accidentally in the confusion of dementia no one will ever know.
Does the pain and the feeling of being unlovable ever go away?
I was in a verbally and emotionally abusive marriage for 27 long years. I have been separated for 7 years. Unfortunately, I stayed in the marriage for the sake of my children. One of my daughters followed in my footsteps and married a younger version of her father--abusive. The other daughter followed in her father's footsteps and is abusive. No one wins in the cycle of abuse. I have had seven years of freedom, but am still affected by the horror of those years. Hoping one day God will use all the pain for good.
I am 57 years old and my abusive husband of over 20yrs has been dead now for 20yrs and i still dont know who i am it has debilitated me i am on disability and have a bad care of everything dont believe that u ever get completly past it it has taken the best yrs of my life and thats something u nevr get back
I got married at the age of 18, before meeting him I was confident independent, vibrant, full of joy and life. I knew what I wanted in life and didn't hesitate going after my dreams. It started off just like a fairytale he swooped me off my feet. Roses, dates the feeling of being a queen. We were inseparable. The abuse was very slow a nudge here and there, then the emotional abuse begin. He was controlling manipulative and physical abusive I finally left after 9 years. We have 3 beautiful daughters which is why I worked up the courage to finally leave. Its been 2 years since I left and every time I feel like Im completely healed....a wound re-opens. I got involved with another relationship after that failed and the third relationship that failed again. I took the third relationship the hardest because I was finally able to let my guard down and now we dated for a year in a half and he disappeared on me without any closure or goodbye or explanation I cant help to think of course I was the cause for him leaving because IM too emotionally damaged. Now I'm depressed and have to start the healing process all over again. I'm just at the point in life where I don't see any reason to trust love again. How can someone who loves you treat you like crap for that many years after supporting them and being by their side.
I have never cried while reading any other articles on line ,but I cried reading every one of your writings.i don't know why.i am dating a narcissist sadist for a few months now. we don't live togrther so im free to leave but cant.i don't know why. maybe you can tell me.he has abused me every way.i need to understand why Im staying with him before I can leave so I don't go back to him over and over.
I just read this, broke down crying because every word was like reading the story of my life ....knowing these feeling are legitimate, that I can overcome this, that there is hope. I am beginning my journey, back to myself. I have been gone for too long....
wonderful article, thank you. My hx. is child abuse, 23 yr. abusive marriage,10 yr.second marriage,totally abusive, 7 yr.relationship,abusive now ended. I cannot seem to change ingrained automatic patterns of behavior/response. What has changed is my (slowly) growing awareness of my male partner's tactics and techniques as they assume their chosen position of dominance and control
I think the one that sticks out for me: not trusting future relationships, for fear that I will allow even nastier people in my heart who will also ill-treat my children. I also fear that there will be a honeymoon period after which I will fall for her self-serving "love" again. These people are such good con artists that even if you know they're doing you wrong, you so desperately want to believe that they are not as bad as they behave. And many times you pull out all the stops to make them happier only to be told time and again that you are not romantic enough, i.e. you don't know what romance is since they are the sole authors of truth in the universe. Then sooner or later you stop believing in romance and your belief is strengthened that "lovers" only want to know you because of their own selfish reasons and not because their need to be your soul-mate.
I was married for 16 years , on our honeymoon my husband slapped me across the face because I wasn't looking at him while he was talking to me, I was only 18 he was 23 yrs old. After that it was emotional abuse from not only him but his mother too. After 10 yrs of the emotional, mental and physical abuse, more mental and emotional although I did get thrown across the room, shook the life out of me and hit a few more times. It got to the point were I started having panic attacks and deep depression, after 6 more years of this he left me and our 2 young boys for another woman. I'm now Addicted to Xanax and still need so much healing, even after 10 yrs after divorce. When he talks to me he's still abusive. His mother was just as abusive so I had it coming at me everywhere , I knew if I stuck up for myself he'd leave me so I kept quiet, the last time he hit me I got in his face and told him if he does it again I would call the cops. I still have nightmares weekly of his abuse, I can't afford counseling , I feel frozen with anxiety and fear most of the time with low self esteem. I can't go on this way much longer. I'm still depressed and tried meds they all have very bad side effects. I'm tired of pretending my life is fine when I'm so lonely and confused .
I was severely mentally, emotionally physically and sexually abused. I feel like you are writing about me in many areas. I am on the road to recovery through therapy but it's a long hard road. I'm so glad you got out and are on your own journey to recovery!
I am so grateful to have found this post via Twitter. I've already shared it there and with a blog friend too.
My joke is instead of "you had me at hello", "you had me at 'conquer'"! :) I'm looking forward to learning and growing. I wish you all the best!
Blessings, Love & Peace,
RH
This was very helpful. Thank you. I'm glad I wasn't the only one who experienced this.
I was severely emotionally abused to the point I was suicidal. Today, almost ten years after he was arrested, I am in love with me, my life and everyone in it.
Yes, you can heal. In fact, I believe my life is better, brighter, more brilliant than even before I met him.
It is a wonderful journey to heal. Because in healing, we let go of the voices that would have us believe abuse is all we deserve.
I followed you here, btw, from Jodi Aman's blog. Glad I did!
I don't know if the emotional effects ever go completely away. I had a little rough child hood. No abuse really, just neglect I think. Maybe a bit of verbal abuse but it has changed me. I am in my 50's and still look at things lots differently than the regular person. I am very sensitive to others and their feelings because of what I've been through. Maybe it made me a more thoughtful kind person than if I hadn't endured what I did. I do know that I can get my feeling hurt easily and it is very hard for me to confront the person that has been offensive. I enjoyed your article! Thanks!
I love that you listed the symptoms of abuse to conquer. I am in the process of divorce after a 31 year marriage. Things started out great at 21 & very slowly deteriorated. The issue became that I was raising 4 kids & so focused on their well being that I forgot who I was. When my youngest graduated college I no longer saw my reflection when I looked in the mirror, the woman I once was, had disappeared. I was peering at an empty shell with no self esteem & little hope. When I neared my 50th birthday I made a decision to reclaim my self. It has taken me 3 years & countless nights of sleeping in my car & several admissions to psychiatric hospitals but now I am ready to discover life & spread my wings. I was so close to giving up but somehow I held onto my strength & the hope of what was in my future if I could get away.
Leave a reply