About Tanya J. Peterson, Author of the Anxiety Schmanxiety Blog
I Understand Anxiety. I Live With It
As an emotional human being (aren't we all?), I'm excited to be writing the Anxiety Schmanxiety blog. Typical of me, I'm also fretful about it. Will what I write be good enough? Will it be helpful? Will readers want to leave comments and interact? What if everyone judges me harshly? Of course I'm imaging an array of negative consequences including certain demise for me and, quite possibly, for you. But don't worry! I've been dealing with this for a long time so I'm used to it. It's under control – for the most part (I mean, the anxiety is still there, but I've learned ways to keep it from ruling me).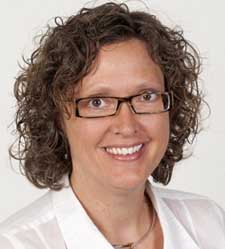 So if I'm anxious, why am I excited about writing the Anxiety Schmanxiety blog? Because reaching out to inform and empower is what I've devoted my life to. I have a Master of Science degree in counseling and am a Nationally Certified Counselor. I'm not actively working as a counselor right now, though. I'm really bothered by the stigma surrounding mental illness, so I write and speak to help increase understanding of mental illness. I write novels, like Leave of Absence, because fiction is a powerful vehicle for illustrating fact. Plus, people connect with characters in novels and often transfer their empathy to real-life people.
Overcoming Anxiety to Live the Life You Want
My desire to help others understand themselves and each other and to overcome things that are getting in the way of living lives they envision has a personal component, too. After a car accident in which I sustained a head injury, two subsequent concussions, and a lot of extra life stressors, I ended up in a behavioral health hospital. I was in and out five times over the course of a couple years. Ultimately, I was diagnosed with bipolar 1 disorder and anxiety-related things, specifically generalized anxiety and social anxiety. For a while I blamed the head injury, but that was just denial. Looking back to pre-accident times, I know without a doubt that I had bipolar disorder and anxiety. It's just that the injury and the extra stress made it impossible to manage by myself anymore.
That's why I'm glad to be here. This is what I hope to do for you in this blog: to provide useful information, anecdotes, and the like so you can connect and know you're neither alone nor misunderstood. You'll also find useful tools and tricks for taming anxiety in a variety of situations.
Welcome to the Anxiety-Schmanxiety Blog
You can also connect with Tanya J. Peterson on her website, Google+, Facebook, Twitter, Linkedin and Pinterest.
APA Reference
Peterson, T. (2013, October 21). About Tanya J. Peterson, Author of the Anxiety Schmanxiety Blog, HealthyPlace. Retrieved on 2023, December 4 from https://www.healthyplace.com/blogs/anxiety-schmanxiety/2013/10/about-tanya-j-peterson
Author: Tanya J. Peterson, MS, NCC, DAIS
Hi my name is josh, im 19 and have suffered from anxiety and I highly overthink simplest of things. Ive been single for 2-3 years without a single relationship. With this i feel asif im not intact with my myself talking to females in general to create something with it even family members from time to time depending on how im feeling at that moment. I feel asif i dont know what to say initially sometimes and whether they are going to look at me with a 'what are you talking about?' Type face and then not knowing how to react from that point so i usually just surpass the situation. This makes me feel asif ive got something wrong with me and then i think that im not good enough for that person or situation. Ive dealt with most situations in this same philosophy. Why do i do this? How can i break this awful cycle and be a normal happy sociable teenager. Thank you
Hi Tanya I need your help. I know I love my girlfriend I really do but for some reason I overthink and then I start thinking and worry that I'll stop loving her. I talk talked to my close friends and after that I feel back to normal and happy like realized. But after when I go to sleep I'm overthinking and stressed when I wake up. I for sure know I love my girlfriend but me overthinking and having these thoughts make me unhappy and the fact that I know I really do love her and my mind is telling me that I don't is just crazy. It's like when I talk to my close friends I wake up and realize that's all in my head but then when I overthink I don't realize and it plays over and over again in my head that I fear I don't love my girlfriend when In fact I do. Its like when I overthink it makes everything so much worse. Please reply back to me I'm stuck and I don't want these false thoughts in my head that aren't true to ruin my mood and relationship that I plan on keeping.
I've been searching all throughout google desperately trying to make sense of whats been going on and J simply can't. I've always had a strong anxiety but now its making me socially anxious. I overthink overthinking now and It happens with my own family members and loved ones now. Theres no thoughts going through my mind now but this new social anxiety and my mind is focused on it 24/7. The more I try the more hopeless it seems, and Im at the point now where I'm isolating myself from the world because I don't want anyone to see me like this. Does it make any sense that someone can think about one thing 24/7 at all seconds of the day and if so am i stuck like this forever ?
i am currently suffering from anxiety and in medication but this overthinking is ruining my life right now. i am telling my self over and over again that we all have to die sometime sooner or latter ..i just want to know if when anxiety is over then will this kind of thought also be gone or what...please do reply
Hey there, my name is Rob. I've experienced alot of anxiety and depression for the last 4 years. I'm almost 27 and this past summer I decided to go off my medications. Just last week I experienced a full blown panic attack and my symptoms after are depersonalization and derealization. It's very difficult to cope with, just saw my doctor a couple days ago and now I'm back on my medications. But now lately I can't stop thinking about the world and how scary it is and the universe, just really bad intrusive thoughts about death and its just terrifying. I have a family and I want to be fully centered with my mind, just wondering if you have ever heard of this before, thank you.
The feeling of anxiety is all to common in my life, since I am only 16 years old the fact that my mom which is the only parent I've had for most of my life is moving away from me. I feel so abandoned and I really don't know what to do, all of this and suffering from severe depression and Insomnia doesn't help. I have no ways to calm myself down. I'm basically lost in the dark abyss that is life.
Hi Tanya,
I am a graduate student in the Master of School Counseling program at Texas A&M University, Laredo, Texas. I am looking for evidenced based research or any kind of studies that have been conducted with children & adolescents suffering from anxiety and the interventions, specifically how blowing bubbles helps them cope with anxiety.
Any reference that you can provide will be greatly appreciated. Hope to hear from you.
Best regards,
Lourdes Ornelas
Fantastic article - thank you. It seems anxiety is just so common place now and learning how to manage it is essential.
I keep getting
Bad feelings
What if I lose my father today tom
I cried so much today
I am gettin very scared
I dont have anyone
Other than him
I dont know what will happen to me
I cant live without my dad
Thank you, your story helped me feel more hopeful! Dee
Leave a reply