Bipolar Disorder and Ghosting: It's a Big Problem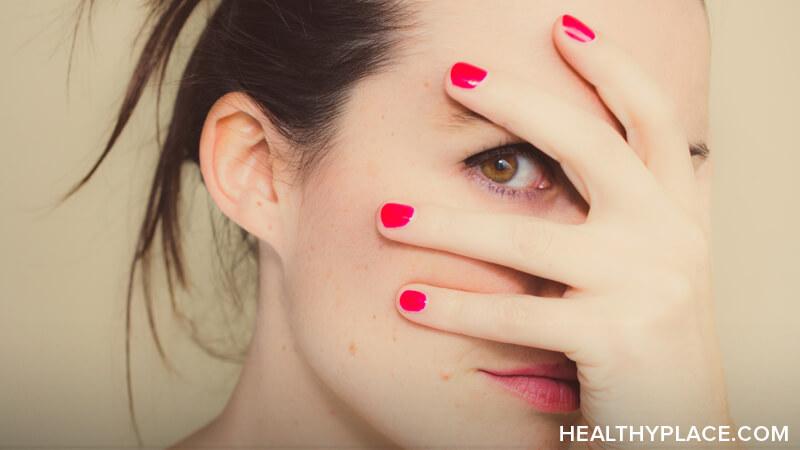 Bipolar disorder and ghosting is a big problem. I didn't realize the extent of this problem until I saw the number of comments on my recent YouTube video, "Ghosting and Bipolar Disorder: Why We Do It".
What is Ghosting? The Role It Plays in Bipolar
Ghosting is a contemporary term used for when a person completely cuts off all communication with a friend or romantic partner by not responding to texts, ignoring calls and acting as if the person no longer exists. It is done without a reason or an explanation from the person doing it. One day they are a part of your life, and the next day they disappear from it without warning. It negatively impacts friendships and romantic relationships. Ghosting is done by many of us living with bipolar disorder, especially during bipolar depressive episodes.
"I'm guilty of this when I'm hypomanic and in a negative mood and I'm super sensitive and I get easily hurt or angry at people and instead of confronting them, I just ghost them when they try to contact me." ~Xoxofmw, YouTube commenter
Why Do People with Bipolar Disorder Engage in Ghosting?
Those of us living with bipolar disorder definitely have a problem with ghosting people. It doesn't matter whether it's someone we're dating or friends with. Unfortunately, sometimes we're even ghosting our family members.
I have bipolar II and yes, I've ghosted people. Why? It feels more comfortable for me to cut off all communication with another person when I am struggling with highs and lows. Secondly, when I am dating someone, the fear of being rejected due to my diagnosis of bipolar disorder is always present. That makes me push another person away when they get too close. Thirdly, the stigma of mental illness causes severe anxiety in those of us living with bipolar disorder. Although a person we are romantically involved with may not be showing signs of rejecting us due to bipolar, we feel as though it is inevitable that at some point it will happen.
"I just do this on a low episode. I see it as protecting friends from me dragging them down to my level. Plus, in all honesty, I can't deal with feeling suffocated whilst in the low and just want to be left on my own. It's easier that way. ~ Claire, YouTube commenter
Self-stigmatizing is another significant reason for ghosting as well. Those of us with bipolar disorder subconsciously believe that we are unlovable and undeserving of friendships and relationships, which causes us to act on ghosting. The stress and pressure to explain the reasons for pushing away creates anxiety; which is where ghosting comes into play.
"I do this a lot. I stop answering phone calls and texts, and avoiding any form of communication with friends and family. In my mind, I don't stop loving them or care for them. I just feel overwhelmed and I feel the need to create a distance between me and them so I can calm down. Now, unfortunately, this can take from a couple days to a couple weeks." ~ Katia, YouTube commenter
The Affect Ghosting Has on Others
Over the years, I have realized that regardless of what is going on in my life, ghosting is hurtful to another person. I have been on both sides of ghosting, and it is very harmful and causes extreme insecurities.
"I just lost a friend who deals with bipolar. She just cut me off. I tried and tried. Dealt with the ups and downs and dealing with my own depression and insecurity, it was very difficult. ~ Embree, YouTube commenter
Bipolar disorder is not an excuse for hurting another person. Although we deal with anxiety and depression and it leads to many of us isolating ourselves, we are still responsible for the way our behavior negatively affects friends, family, and romantic partners. There are people who care about us, and they deserve a proper response even though it is difficult for those of us living with bipolar disorder to do so at times. This is something I am working on as well because I severely struggle with opening up which leads me to ghosting other individuals.
My ex, who's getting well with depression and very positive about her progress, left me since I have bipolar 2 and I isolate myself every once in a while. She doesn't like it since it triggers her. So she broke up with me and told me I can't give her what she needs. ~ Chaz, YouTube commenter
Self-awareness is essential when it comes to behaviors like ghosting. Many people with bipolar disorder do not even realize that this is a problem. Building strong relationships without openness and communication is impossible. Acknowledging the problem is the first step to self-awareness and learning how to properly communicate with others to prevent anyone getting hurt or feeling ignored by someone they care about.
"When I feel like isolating, I "check on" the people around me, my friends in recovery. This way I am not alone, but I am not talking about ME, I am checking on THEM. Seems to help! ~ BipolarLightningBug, YouTube commenter
What about you? How has being ghosted by someone with bipolar disorder affected you? And if living with bipolar disorder and ghosting others has been part of your life, why do you do it? Also, helpful suggestions on how to end this type of behavior are welcomed.
APA Reference
Blum, H. (2019, January 28). Bipolar Disorder and Ghosting: It's a Big Problem, HealthyPlace. Retrieved on 2023, October 3 from https://www.healthyplace.com/living-with-bipolar-blog/2019/1/bipolar-disorder-and-ghosting-its-a-big-problem
Author: Hannah Blum
Hi everyone,
I just read all the comments on this page, and for the first time in 2 weeks I feel less alone. At the same time, my heart bleeds for every one of you who is experiencing exactly the same thing as me.
My boyfriend and me are together for 4 years. I fell for him because he was the kindest guy I met in years. But already in the beginning of our relationship, some things were not quite right. After a month of dating he dissapeared for the first time. Nothing happened, no fight or anything between us. He just ghosted me from one day to the other. A few weeks later, he called, and said that he had a panic attack, related to the trauma from his ex girlfriend. I believed him. But from then on, he dissapeared every few weeks/months. For days, weeks, or one time even 3 months. Also, some times he suddenly could become very angry, out of nowhere. When I asked:"this isn't from trauma from your ex girlfriend, is it? Please be honest with me, what is wrong exactly?". He answered:"I don't know. Sometimes I feel overwhelmed"
I'm a highly sensitive person myself, I know what it feels like to be overwhelmed. But I never ghost people.
So I knew that he wasn't telling the truth.
And then the years passed. The silent treatments kept happening every few months.
And then this summer was better. He seemed more consistent, no more silent treatments or angryness anymore. But then, suddenly, 2 weeks ago, he cancelled last minute for a date with a very cold, distant whatsapp message. 3 days before he was still loving and kind, so I was shocked. But I stayed calm and loving and I replyed that I was dissapointed that he cancelled only our date. But not al the hangouts with his friends that same week. (He spends a loooot of time with his friends, but I've never made that a problem) I also replied that his mood seemed totally off all of a sudden, and that I was worried. I asked if we could talk about it and I even put a heart in the reply, to show him that I was not angry. But one second later, he blocked me on whatsapp and phone (not on social media). He has never blocked me in 4 years, so I am shocked.
At first I thought he had a very low mood again. But then I saw on IG that he was spending time with his friends, and was laughing (he is 46 years old). And I heard his yogateacher who said:"He acts as if everything is fine, he comes to yoga class every day", and seeing/hearing that was even more traumatizing. I'm completely shocked and heartbroken and I can't believe this is happening. I'm blocked/ghosted for more than 2 weeks now. I've been nothing but the kindest girlfriend in those 4 years, he said himself a couple of times that "I'm the kindest person he knows". So ... why is he doing this? During those 4 years there were a lot of times that I thought:"Maybe he is bipolar?", but one time I asked him this and he became so angry that I didn't mention it ever again. But now, with reading all those comments, I think he is bipolar indeed. 😔
I run the other direction when bipolar issues start flying. I was born with a severe autoimmune chronic lung disease. It takes very little to send me to the hospital. I feel sorry for bipolar people. If they refuse to get help and therapy and are in the middle of a 4-alarm storm, I run the opposite direction and call the police to get them out of my home and away from me. I wish it wouldn't be this way, but I have been threatened by one specific bipolar out of control person. I am 68. I am tired. I now own a firearm.
I have been seeing a person with bipolar for the past 6 months. Things had been going great we where very open about our own struggles had great communication and conversation. The last time we hung out we had an amazing night and morning everything was great then i went on a holiday when I got back and got a message that took me by surprise. They didnt want to be in a partnership anymore only friends for a few listed reasons (One being under immense pressure from work which i understand stress can lead to a withdraw). Then cut off communication other then the occasional email back and forth. We havent seen eachother for over a month and never had a conversation other then through text since. They are someone i deeply care about and we are meeting soon for lunch and a concert we had bought tickets for. Wondering what is the best strategy for me to help support them and make them feel comfortable in whatever capacity our friendship takes from here. Also being aware it is tough on my own mental health processing the emotions that go along with someone withdrawing like this.
I was ghosted by me neighbor who has bipolar disorder it hurt a lot
She was a user and entitled anytime she needed something she would ask for my help I would oblige, then one day when I couldn't take her call she got mad and decided to "ghost" me even though I tried calling her back to see if everything was ok. Sorry I can't be at her every beck and call waiting on her needs hand and foot I was in class when she called twice in a row. When she would get what she wanted she would toss me to the side I forgave her many times and told myself it's ok, well it's NOT ok not acceptable. When I texted her the next day to ask her if everything was ok since I missed her call she said "she's busy" excuse me she's a stay at home mom I work all week and have an entire home to manage as well as personal appointments to keep every day after work… who called who to bother them? She called me it wasn't the other way around so when you say your "busy" don't blow up my phone the day before because I am 10 times more busy than you are juggling my career, house work and personal responsibilities while you are a stay at home mom who looks at her window and spies on our neighbors all day long. Anyway now she does not speak to me she ignores me and if she sees me she pretends as if I am dead and put a sticker on her car that says "not today satan" lady are you talking to me? She has issues she's a user throws people to the side when she gets what she needs out of them and if you can't take her call one time she will discard you as if you never existed in her phone book or life. She will go to hell for her ghosting and say hi to satan every day in her afterlife for the hurt she has caused becuse I was nothing but nice and helpful to her and all I got in return was a slap to the face, very hurtful and rude. I never ever once asked her to help me I am very self sufficient she always needed my help and now I am ghosted. That's why I decided to no longer help people who are users.
My mom has a mental illness she's not making an appointment to see a therapist and I would like her to make an appointment to see one she has a doctor and she's not telling her doctor she has a mental illness and I would like her to stop talking to me and no longer come in my room. Calls all her sisters on her phone and tells them there's bugs in parasites in the house and there is not and she comes in my room and tells me that nonsense and there is no bugs and parasites in my room and I'm getting sick of her stupid bug and parasite nonsense.
I realize how I have been ghosting so much person ! How hurtful it surely have been for them, and I feel for me a kind of auto-sabotage.
When I think about it, maybe it felt like a need for space, and that's what I expressed, but I don't think that's the point. Maybe because I prefer living with people around, I came to attribute it to a lack of communication due to depressive state. A lack of communication and of self esteem, that makes you feel you don't belong here, with these (amazing) people. And as you don't feel at your place anywhere better being alone, plus it avoid these people you esteem so much seing you in such a shameful state, or being a weight for them. And because at this moment you don't know how to communicate, and just trying to think about how you could reply, and if you have to justify, if you should lie or explain a so complicated, obscure and intimate at once part of yourself, and all of this makes you so anxious but you can't choose a solution, you just try to avoid it. And that can often appear a disinterest in others or lack of empathy, while it's avoidance.
That's personally how I live ghosting from my side, and these are neither excuses nor reasons, just an attempt to make it understandable.
My advices if someone like me is ghosting you ? Not sure it's the good think to do with every person with bipolar, I can just try to analyze what have made that some of my friends achieved to keep a relation with me over time and help me live a social life while having my disorder.
And first of all is look after you, don't neglect your needs (emotional, affective..) in order to help a bipolar person, it won't do good to any of you. You can try to work over things together and ameliorate, but don't expect it to happen, at least don't count on it. This can be a hard to find balance in a relation where commitment is needed..
But if the relationship, whereas sometime chaotic, is good for you, taking into account the disorder can help you two a lot. What I observed : Showing that what you seek when your friend doesn't respond during a long time is not a justification, just that you care/miss about her/him. What I observed eased this is like sending a message about a specific interest you share, that has nothing to do with your preoccupation about him/her or his state. This opens to him an easy way to answer and break the ghosting.
You can let her/him know how his distance hurt your feelings, but maybe more at a moment the other person is comfortable communicating and has some self-esteem. Make it clear it's because you like your relationship that it hurt, not because he's a mess, and that instead of closing on himself he can count on you when in a down period. The proposal here is very helpful, but you also have to establish your personal boundaries if you come to a situation where you are effectively supporting him/her, because the risk is he/she will always be at unease abusing your help and feel a burden, or effectively abuse it without being able to open the communication on it to solve this. So setting clearly your boundaries in support is a win win.
I'm sorry if the text look too much like I'm giving you the solutions listen to me, whereas writing in this form is easier for me than expressing at the first person what I lived and what I concluded worked the best for me. But don't be mistaken, it's nothing more than the second option.
I am so glad I came across this article, and reading the comments, realize I am not alone. I have been with my boyfriend, on and off, for almost 7 years. During the first 3-4 years, his ghosting me was much more frequent. The last 3 years have been much better in terms of his ghosting me. We became a lot closer during the pandemic and started talking about our future…there is a ring that he is making payments on. Things between us were better than ever. I do not know if he was ever officially diagnosed with BPD, but he has often mentioned feeling depressed and has alluded to BPD in the past. He recently started a new job/business. The past few months he has been more inconsistent with being in contact with me. At this point, I have not heard from him in 6 weeks. He has not responded to any text messages. I am not sure if he is coming back this time, even though before he went MIA, he told he loved me more than ever. I cry all the time and my heart aches. I love him, but this is torture.
I know this article is a little older but I just found it. My boyfriend of 3 years (off and on) ghosted me for 12 days until I just heard from him. He broke up with me last spring (2021) due to being confused on what he wanted. 3 months later after some therapy (which he was opposed to) he reached out and said he wanted to try again and was working on himself. We did couples counseling to work on our communication style differences but that stopped and his individual therapy stopped in Dec. He's never been on medication or officially diagnosed but 2 weeks ago he broke down saying he hated living in Colorado, he needed to move back to be closer to his kids and he isn't sure what he wants anymore. He said he needed to process and then NOTHING for 2 weeks. I didn't reach out as I didn't want to push him further away, but was checking with his friend to make sure he was ok. Long story short, he sent me a cryptic email with thoughts all over the place this weekend and then we met in person to talk. He said he doesn't have the mental ability to give to a relationship (me) and loved me but was sorry. He said he is going to get help. I'm so broken and sad because I want to be there to help him, seeing my best friend struggle is so hard. :( I know I have to let him heal and move on with my life--it's just really hard after having gone through a divorce and then finally found someone I wanted to spend my life with.
I can forgive you for being sick, but I can't forgive you ignoring it and ruining lives to make yourself a little easier. You haven't been remotely fair, you've been cruel in ways ill never understand, and wouldn't want to. I'm done hurting, you have to live with it now, I've suffered enough for 1 lifetime, it's my turn to be free.
Awareness and communication go a very long way! You're doing great, keep going.
My ex-fiance and I were together 7. years. We lived together from the beginning, pretty much, as I was living with mutual friends and everyone hung out a lot and I was trying to escape my crazy, abusive family after moving out of there and moved in with him. He was my rock, he fully took on financially supporting me, etc. He's always disappeared a lot and ghosted everyone, including family. I would pretend to leave him and move my stuff and then I couldn't get in touch with him to go back. When I'd go back, it took about a week to calm him down as he was really agitated and a complete mess. Once he said "why didn't you come sooner?" Three years ago, when we were between apartments, my worst nightmare happened. I was at my parents as we were in a fight and he completely disappeared. During the three years, he did go to therapy once and then ghosted her too. He moved to another state also. I feel so helpless. I've never been more sad about anything or felt more like nobody understands. My therapist says nobody CAN tell me if he's coming back or not as no one else was there. I feel so alone and scared. That feels kind of nice to get it out though I have major trauma response from this (and from before this) and I ask that people be sensitive.
I have been seeing my bf for 5 years. I worked for him. I noticed a few strange things, like he kept me at a distance, he took very long to trust me. Our love grew over time. The first time he blocked me was when I resigned because of all the bullying from the people at work, after they found out I was seeing him. It was for 36 days. He had a kidney transplant 10 years ago & he told me he was very irritable then. He had another one now, which was so extremely stressful for everyone. He is on 18 tablets. He has been speaking so fast and so much, he is extremely moody, went out an purchased 3 businesses (4 weeks after the transplant) he doesn't sleep - in Hypomania. This is the first time I realize what is going on with him. He always said he cannot have a relationship- I thought he kept me at arms length because of his kidney problems, but I think he is Bpd. Just guessing. I have been under tremendous stress, lost my nephew last year over a long awful suffering, which destroyed my family, 2 job losses, my dog, Bella is dying & I know i have to take her. I am stressing financially. He has blocked me, now during his manic phase. Told me a female colleague is driving him around the country. And said "I should bugger off" When I phone he screams he will block me, we can only whatsapp. I am so down, I don't know how to pick myself up. He' s been under such stress, for years, worrying about surviving. So i understand & these pills he has to take, to stop his kidney from rejecting- i wish i knew long ago that he might be bipolar, I would have been better prepared. I supported him, went through bullying, him not telling his children and ex about me. His ex donated the kidney. I thought we were about to have a future, now, after the long struggle. Instead everything is falling & I have no one to speak to - don't feel like it even helps. I have to find work - just all too much. I want him to be ok and find happiness, I wish I could just speak to him. I also freaked out, thinking he is messing around with this other woman, that made him angry, that is why he blocked me. I read through these comments and I see I am not alone, maybe they just cannot deal with emotions.
I have what I thought was a close, best friend. She deals with bipolar and I have had struggles with depression. Weve been friends for twenty years. In january, she stated she wanted space from me because she was overwhelmed with life and many responsibilities. I dont know if this was the real reason or not. Its been two and a half months since we talked. I am trying to respect her need for space but she will absolutely not communicate with me in any way. We live in two different states but have put the effort and love into the relationship to keep it going. She has a daughter who is four years old and I feel very close to her, like she is a grandaughter. My friend does not facilitate in any way to keep my connection going with her daughter. It feels very selfish from my end. I feel like all she cares about is her own needs and that she wont be there for me if I go through a hard time. She has not consideration for how her actions are affecting me. I have no idea if she has completely walked away from me as a friend or not. It seems very insensitive to me, to cut me out of her life.
My partner has been diagnosed as bipolar three times and refuses to accept the diagnosis. I have been here for him through every episode, but had to create some distance by moving to my own place for safety and security. However, I have told him over and over that I want our relationship to work and I am here for him. He regularly blocks me and does not accept my calls or texts for days and weeks. It is so hurtful! I start to feel very insecure and depressed myself. I worry that he has moved on, etc. I don't know what else to do to support him because this can happen when things are going great between us.
Leave a reply