Impulsivity: Eating Disorders Comorbid Disorders
Stealing Behavior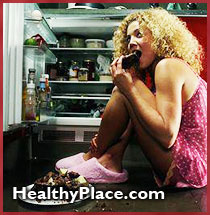 Closely linked to OCD is an aspect of impulsivity seen in eating disordered patients. In anorexia nervosa symptoms, stealing behavior was first connected with the sometimes strange habit of hoarding foods or objects (Norton, 1985). The association of stealing and anorectic behavior even in non-Western countries has stimulated various interpretations, ranging from biological to psychodynamic views (Lee, 1994). In early reports on bulimia, a connection was made between compulsive eating and stealing (Ziolko, 1988). Some reports have made mention of stealing behavior as an aspect of "impulsivity" in eating disordered patients (McElroy, Hudson, Pope, & Keck, 1991; Wellbourne, 1988). However, Vandereychen & Houdenhove (1996) proposed that stealing is more likely when the eating disorder includes "Bulimia-like" behavior (binge eating, vomiting and laxative abuse).
The majority of bulimic shoplifters reported stealing something which was involved with their eating disorder (e.g., food money, laxatives, diuretics, or diet pills) and they indicated that embarrassment and shame over buying these items was the main reason to shoplift (Vandereychen, et al, 1996).
From the opposite viewpoint, in recent years studies on kleptomania paid attention to its frequent connection with eating disorders (McElroy, 1991). Stealing has been related to the new phenomenon of "compulsive buying," a lifetime diagnosis of an eating disorder was found in 17% to 20.8% of these subjects (Christenson, Faber, de Zwaan, Raymond, & Mitchell, 1994; Schlosser, Black, Repertinger, & Freet, 1994).
Deborah J. Kuehnel, LCSW, © 1998
Substance Abuse
Impulsivity is a key feature of both bulimia and substance abuse. The self-medication hypothesis suggests that eating disordered individuals begin abusing chemical substances in an effort to treat their eating problems, as a means of coping with the worry caused by these problems. Additionally, an association between eating disorders and familial drug abuse, usually alcoholism, suggests the possibility of biological similarities or links between substance abuse and eating disorders (Holderness, Brooks-Gunn, & Warren, 1994).
Deborah J. Kuehnel, LCSW, © 1998
next: The Food Guide Pyramid
~ eating disorders library
~ all articles on eating disorders
APA Reference
Staff, H. (2008, December 15). Impulsivity: Eating Disorders Comorbid Disorders, HealthyPlace. Retrieved on 2023, December 11 from https://www.healthyplace.com/eating-disorders/articles/impulsivity-eating-disorders-comorbid-disorders
Last Updated: January 14, 2014