4 Ideas for Mastering Mood Problems
HealthyPlace Mental Health Newsletter
Here's what's happening on the HealthyPlace site this week: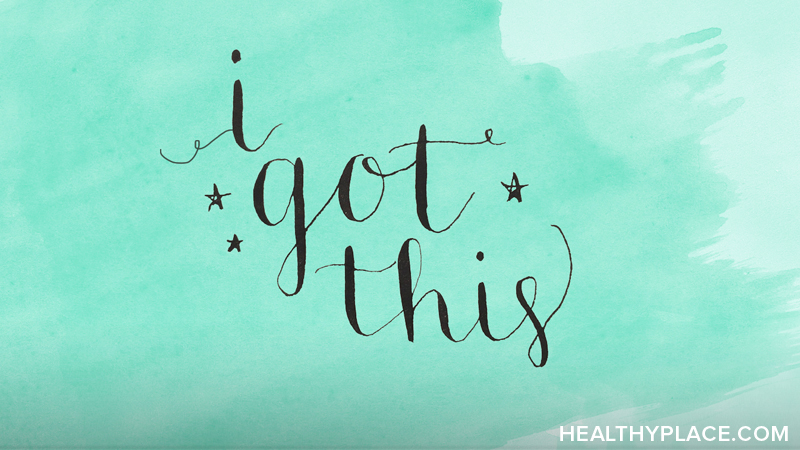 4 Ideas for Mastering Mood Problems
Mood problems are common in numerous mental disorders. Moods can be low, high, anxious, irritable—sometimes one at a time, and sometimes all at once (How Not to Take Bipolar Hypomania Irritability Out on Others). Making mood problems all the more frustrating is that they can be prolonged or strike without warning, seemingly out of the blue.
No matter what mood you're wrestling with or when it strikes, you don't have to let your mood rule you. Try these four ideas for mastering your mood.
Give yourself permission. Instead of berating yourself for feeling the way you do, accept your feelings. When you don't fight with them, you're free to shift your focus.
Create enjoyment. Negative moods consume our thoughts and energy and increase stress. To counter this, do something you enjoy.
Shape your perspective. Remind yourself that your moods are part of what you're dealing with. They're not who you are. Remember, too, that they're temporary.
Live with a purpose. What do you value? What are your goals? Shaping your actions with these in mind, and always having them in the forefront of your mind, will help you live well with moods in the background.

Use these four ideas consistently for long-term mood management, and do them in the moment when a negative mood strikes. You just might find yourself mastering moods.
Related Articles Dealing with Mood
Your Thoughts
Today's Question: How do you handle mood problems (feeling depressed, high or manic, anxious, irritable) when they come up? We invite you to participate by commenting and sharing your feelings, experiences and knowledge on the HealthyPlace Facebook page and on the HealthyPlace Google+ page.
---
---
Share our Stories
At the top and bottom of all our stories, you'll find social share buttons for Facebook, Google+, Twitter, Pinterest and other social sites. If you find a particular story, video, psychological test or other HealthyPlace feature helpful, there's a good chance others in need will too. Please share.
We also get many inquiries about our linking policy. If you have a website or blog, you can link to any page on the HealthyPlace website without asking us beforehand.
Most Popular HealthyPlace Articles Shared by Facebook Fans
Here are the top 3 mental health articles HealthyPlace Facebook fans are recommending you read:
If you're not already, I hope you'll join us/like us on Facebook too. There are a lot of wonderful, supportive people there.
------------------------------------------------------------------
From the HealthyPlace Mental Health Blogs
On all our blogs, your comments and observations are welcomed.
On all our blogs, your comments and observations are welcomed.
Feel free to share your thoughts and comments at the bottom of any blog post. And visit the mental health blogs homepage for the latest posts.
------------------------------------------------------------------
Stand Up for Mental Health
Thousands Have Joined the Stand Up for Mental Health Campaign
But we still need you. Let others know there's no shame in having depression, anxiety, bipolar disorder, trichotillomania, OCD, ADHD, schizophrenia or any other mental illness.
Join the Stand Up for Mental Health campaign. Put a button on your website or blog (buttons for family members, parents, mental health professionals and organizations too). We also have covers for Facebook, Twitter and Google+.
------------------------------------------------------------------
Latest Mental Health News
These stories and more are featured on our mental health news page:
Study Estimates ADHD Symptom Persistence Into Adulthood
Stress Erases Benefits Of Eating 'Good' Fats, Study Says
Scientists Discover Response To Anxiety Linked To Movement Control Areas In Brain
Link Discovered Between Touch Of Individuals With Autism And Their Social Difficulties
Study Shows Internet Addiction May Indicate Other Mental Health Problems
More Positive Words In Discharge Summaries Associated With Reduced Suicide Risk
Fantasy Play Helps Creative Thinking In Children
Pitt Research Links Sleep Habits To Adolescent Drug And Alcohol Use

That's it for now. If you know of anyone who can benefit from this newsletter or the HealthyPlace.com site, I hope you'll pass this onto them. You can also share the newsletter on any social network (like facebook, stumbleupon, or digg) you belong to by clicking the links below. For updates throughout the week:
APA Reference
Peterson, T. (2016, September 28). 4 Ideas for Mastering Mood Problems, HealthyPlace. Retrieved on 2023, December 9 from https://www.healthyplace.com/other-info/mental-health-newsletter/4-ideas-for-mastering-mood-problems
Last Updated: May 8, 2017