Mental Illness Can Mask Who We Are
HealthyPlace Mental Health Newsletter
Here's what's happening on the HealthyPlace site this week:
Mental Illness Can Mask Who We Are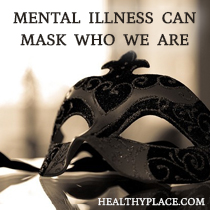 Mental illness is often a mask that separates the wearer from the outside world. The mask can take over, becoming more visible than the person underneath and causing people, outsiders as well as the person living with a mental health challenge, to see the illness rather than the person.
When we remove the masks of mental illness, we find people underneath: people who have names; people who have characteristics beyond their mental illness because they aren't defined by that illness. How do we remove these masks that are often tight and suffocating? An important first step is introspection. When we take a long, hard look at who we are—not what condition we're dealing with but who we are as people—we can identify and embrace our many strengths. When we can come to accept our whole selves, we can remove the mask that makes us feel hidden, even rejected.
Related Articles Dealing with Metal Illness Masking the True Person
Your Thoughts
Today's Question: Do you find that others see your mental illness before they see you as a whole person? We invite you to participate by commenting and sharing your feelings, experiences and knowledge on the HealthyPlace Facebook page and on the HealthyPlace Google+ page.
---
---
Share our Stories
At the top and bottom of all our stories, you'll find social share buttons for Facebook, Google+, Twitter, Pinterest and other social sites. If you find a particular story, video, psychological test or other HealthyPlace feature helpful, there's a good chance others in need will too. Please share.
We also get many inquiries about our linking policy. If you have a website or blog, you can link to any page on the HealthyPlace website without asking us beforehand.
Most Popular HealthyPlace Articles Shared by Facebook Fans
Here are the top 3 mental health articles HealthyPlace Facebook fans are recommending you read:
If you're not already, I hope you'll join us/like us on Facebook too. There are a lot of wonderful, supportive people there.
------------------------------------------------------------------
From the HealthyPlace Mental Health Blogs
On all our blogs, your comments and observations are welcomed.
On all our blogs, your comments and observations are welcomed.
Feel free to share your thoughts and comments at the bottom of any blog post. And visit the mental health blogs homepage for the latest posts.
------------------------------------------------------------------
Stand Up for Mental Health
Thousands Have Joined the Stand Up for Mental Health Campaign
But we still need you. Let others know there's no shame in having depression, anxiety, bipolar disorder, trichotillomania, OCD, ADHD, schizophrenia or any other mental illness.
Join the Stand Up for Mental Health campaign. Put a button on your website or blog (buttons for family members, parents, mental health professionals and organizations too). We also have covers for Facebook, Twitter and Google+.
------------------------------------------------------------------
Latest Mental Health News
These stories and more are featured on our mental health news page:
Researchers Discover Surprising Link Between Chronic Stress And Preterm Birth
Anti-Stress Hormone May Provide Indication Of Breast Cancer Risk
High Blood Levels Of Growth Factor Correlate With Smaller Brain Areas In Patients With Schizophrenia
ADHD Medications Linked To Cardiac Problems In Children With Hereditary Heart Disease
Clinical Trial: Melatonin Offers Hope For ADHD Bedtime Shut-Eye
Genetic Markers Linking Risk For Type 2 Diabetes And Alzheimer's Identified
Bilinguals Of 2 Spoken Languages Have More Gray Matter Than Monolinguals

That's it for now. If you know of anyone who can benefit from this newsletter or the HealthyPlace.com site, I hope you'll pass this onto them. You can also share the newsletter on any social network (like facebook, stumbleupon, or digg) you belong to by clicking the links below. For updates throughout the week:
APA Reference
Peterson, T. (2015, July 20). Mental Illness Can Mask Who We Are, HealthyPlace. Retrieved on 2023, December 8 from https://www.healthyplace.com/other-info/mental-health-newsletter/mental-illness-can-mask-who-we-are
Last Updated: September 15, 2016