Making Relationships Work: Personally and Professionally
Relationships specialist, Larry James started selling when he was 10 year old. He's been a student of business networking ever since. He has build his speaking and publishing businesses on the concept of creating close personal and professional relationships through networking and has been called, "America's Networking Guru!"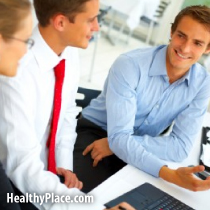 Larry's popular seminar, "Making Relationships Work; Personally and Professionally" is especially for businesses and networking professionals. It is adapted from Larry's first book, "The FirstBook of LifeSkills" and two of his relationship books, "How to Really Love the One You're With" and "Love Notes For Lovers."
Exploring the differences between men and women will always be a challenge. Larry is on staff with Dr. John Gray, Ph.D., author of "Men Are From Mars, Women Are From Venus." His experience with Dr. Gray, in the workplace, in his personal life and with the people who attend his "Relationship Enrichment Love Shops" have given him valuable insights about how to make relationships work!
This seminar focuses on the keys to effective relationships in your personal life and with business associates. It begins with understanding the five most important pieces of the personal relationship puzzle. To know them is to develop and maintain healthy relationships. You will explore the relationship you have with yourself, with your lifetime love partner and the people you make connections with in your business.
A commitment to a lifetime study of relationships is a requirement. Why? Because relationships are all there is! This seminar (or keynote) is designed to help people fit the pieces of the relationship puzzle together in a healthy way and will highlight creative ways to do that through personal insights and effective business networking!
People who cultivate effective relationships are not afraid to do things differently! They do things that other people are not willing to do! They have integrity, commitment and exercise their power of choice! In addition to creating healthy love relationships, Larry will present "The 10 Commitments of Networking;" commitments necessary to cultivate successful business relationships!
Networking is. . . using your creative talents to help others achieve their goals as you cultivate a network of people strategically positioned to support you in your goals. . . expecting nothing in return! ~ Larry James
---
---
The Premise. . . Personal and professional relationships are something that must be worked on all the time, not only when they are broken and need to be fixed!
The 10 Commitments of Networking. . .
Blueprint Your Life Tips on discovering your purpose and setting attainable goals!
Accept Responsibility ~ Tips on being accountable to yourself for the choices you make and the actions you take!
Be Coachable ~ Tips on learning to be open to new ideas!
Show Up ~ Tips on how to choose where, why and when to show up! Plus what to do when you get there!
Be Yourself ~ Tips on how to demonstrate your own authenticity!
Pay Attention ~ Tips on how to look for opportunity and to sharpen your listening skills!
Contribute ~ Tips on how to accept contribution and how to give it!
Ask For What You Want ~ Tips on where and how to get assistance for your current highest priority!
Say "Thank You!" ~ Creative ways to express appreciation!
Stay Connected ~ The ins and outs of being in touch with the people who count!
Results You Can Expect. . .
More effective communication with your significant other and business associates!
A better understanding of how to be in a relationship that works!
Make more sales. . . AND only when "you" are willing to do whatever it takes to make it happen!
How to develop a network of support that truly supports you in what you are up to in life!
Courage to venture beyond 'what was' to 'what's next' where exciting personal and business breakthroughs await you!
Effective networking tools that attract and keep good business contacts! The Promise. . . When you consistently work on the relationship you have with yourself, you bridge the gap between the relationship you have with your significant other, your personal and professional relationships!
This inspirational session will challenge you to be the best you can be, do the best you can do and to be specific with your intentions as you move forward with vigor. This high-content seminar has hundreds of "hot ideas" that will enrich your life and assist you on your path to success. Success doesn't happen by accident, it's predictable! You either handle life or life will handle you! Larry gets real about what works and what doesn't work! His no-nonsense approach will inspire the attendees to fully participate in life!
"Larry James speaks from the heart. His words carefully craft a message of hope that inspires couples to work together in a spirit of love and understanding. The powerful effect of his work in the area of relationships can change your life!"
Jack Canfield, Bestselling Co-Aauthor
Chicken Soup for the Soul series
This workshop is presented nationally. It can be presented as a keynote or seminar at conventions, association meetings, networking groups, network marketing groups or business meetings.
More and more corporations are presenting Larry's work to their associates as a way of helping them to better handle the stress of relationships at home and in the workplace.
APA Reference
Staff, H. (2008, November 6). Making Relationships Work: Personally and Professionally, HealthyPlace. Retrieved on 2023, October 3 from https://www.healthyplace.com/relationships/celebrate-love/making-relationships-work-personally-and-professionally
Last Updated: June 9, 2015