Anxiety and Overthinking Everything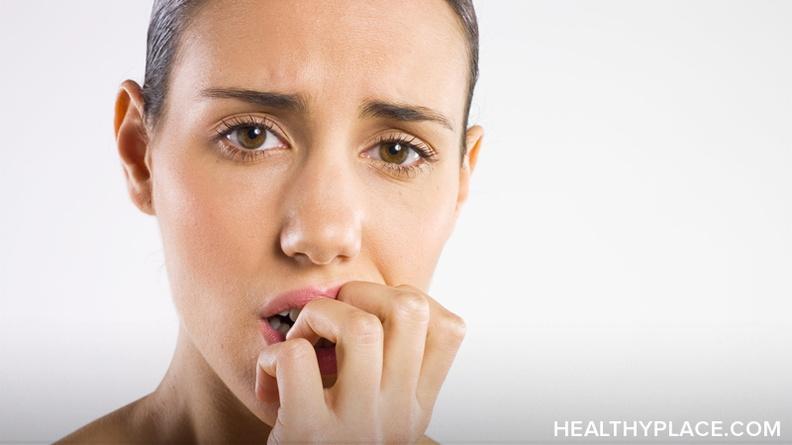 Anxiety and overthinking tend to be evil partners. One of the horrible hallmarks of any type of anxiety disorder is the tendency to overthink everything. The anxious brain is hypervigilant, always on the lookout for anything it perceives to be dangerous or worrisome. I've been accused of making problems where there aren't any. To me, though, there are, indeed, problems. Why? Because anxiety causes me to overthink everything. Anxiety makes us overthink everything in many different ways, and the result of this overthinking isn't helpful at all. Fortunately, anxiety and overthinking everything doesn't have to be a permanent part of our existence.
Ways Anxiety Causes Overthinking
An effect of any type of anxiety is overthinking everything. There are common themes to the way anxiety causes overthinking. Perhaps this generic list will remind you of specific racing thoughts you experience and help you realize that you're not alone in overthinking everything because of anxiety.
Obsessing over what we should say/should have said/did say/didn't say (common in social anxiety)
Worrying incessantly about who we are and how we are measuring up to the world (common in social and performance anxiety)
Creating fearful what-if scenarios about things that could go wrong for ourselves, loved ones, and the world (common in generalized anxiety disorder)
Wild, imagined results of our own wild, imagined faults and incompetencies (all anxiety disorders)
Fear of having a panic attack in public and possibly thinking that you can't leave home because of it (panic disorder with or without agoraphobia)
Worrying about a multitude of obsessive thoughts, sometimes scary ones and thinking about them constantly (obsessive-compulsive disorder)
Thinking -- overthinking -- a tumbling chain of worries, vague thoughts, and specific thoughts (all anxiety disorders)
Result of Anxiety and Overthinking
With anxiety, not only are these thoughts (and more) running through our brains, but they are always running through our brains, non-stop, endlessly. Like a gerbil hooked up to an endless drip of an energy drink, they run and run and wheel around in one place, going absolutely nowhere. Day and night, the wheel squeaks.
Anxiety and overthinking everything makes us both tired and wired. One result of the thinking too much that comes with anxiety is that we are often left feeling physically and emotionally unwell. Having these same anxious messages run through our head everywhere we go takes its toll.
Further, another dangerous result of anxiety and overthinking everything is that we start to believe what we think. After all, if we think it, it's real, and if we think it constantly, it's very real. Right? No. This is a trick anxiety plays. Anxiety causes overthinking, but with anxiety, these thoughts aren't always trustworthy.
You have the power and the ability to interfere in anxiety's overthinking everything. It's a process that involves many steps, but a step you can take right now to slow down that gerbil is to have something with you or around you to divert your attention. Rather than arguing with your thoughts or obsessing over them, gently shift your attention onto something else, something neutral. By thinking about something insignificant, you weaken anxiety's ability to cause you to overthink everything.
I explain this further in the below video. I invite you to tune in.
Let's connect. I blog here. Find me on Facebook, Twitter, LinkedIn, and Pinterest. My mental health novels, including one about severe anxiety, are here.
APA Reference
Peterson, T. (2015, December 31). Anxiety and Overthinking Everything, HealthyPlace. Retrieved on 2021, May 12 from https://www.healthyplace.com/blogs/anxiety-schmanxiety/2015/12/anxiety-and-over-thinking-everything
Author: Tanya J. Peterson, MS, NCC, DAIS
hi
a couple years back i started to have severe reaction about everything i touched, it was bad : like if i went to bathroom too pee then i would take a shower and change all my clothes , i wouldn't touch a lot of thing , i didn't go out of the house because i thought i would get dirty and... but it didn't contain overthinking.
i was't really a clean person before that so my mom thought it would pass.
i talked to a counselor and my Obsession did kinda get better a lot.
but now i have a Obsession with overthinking ; if i touch something and I accidentally touch myself i just don't think it's dirty i think of ALL the people who have touched it , all the ways it could have gotten dirty i imagine it all , i even think about all those people(usually my family)- who may or may not have touched it- 's different (may be even unclean) habits ,( i say unclean cause they are, in my mind .like touching the door knob ; every one who came to our home touched it.)
so now i hate touching people.
that's not the end of it. I've always been a people pleaser and an insecure , so when I am like in a part i try to make jokes , make people laugh , avoid insulting them and try not to have conflicts and when i come home want it or not i analyze everything , even though i enjoy having company , i've been dreading it for some time now.
this is about every person i meet (except my mama , papa and sister ,most of the time)
so now i just don't hate touching people, i hate even saying hi to them .
I'm not only a washer ,I'm a checker as well almost as obsessively as i am in over analyzing.
i didn't talk to any one about most of it , they only think i m obsessed in cleaning and a little crazy .
i dont know what to do.
Hi my name is Britney. And I have been diagnosed with GAD a couple years ago but I've had depression on and off for years. Back in may during my final week I had been crying allot from a family issue and hardly any sleep. The next morning at 3 I had issues with my eyes that seemed foggy. I thought something was wrong and ended up seeing endless doctors because I thought something was wrong. I also developed pressure and headaches that made me question if something bad was wrong. They ALL ended up telling me that I was fine. Well I eventually accepted that and the only problem is I began questioning my thoughts and self inducing my anxiety which started triggering my depression . During this time I have been asking everyone for reassurance and googling things but I always feel better but I end up going back to the negatives and thinking that will I ever be ok again I have a psychiatrist and therapist and I even question them at times with the methods they inquire. I just don't know what to do I need help.
My mind sometimes seams to hate itself. I have the hardest time not feeling fear constantly. Constantly I have thoughts of bad things happening. Thank you for letting me know that I have the power and the ability to interfere in anxiety's overthink habits. Sometime I feel like I loose control. I think I need to look into psychological testing. There is a possibility that I need allot of help.
Hi. This is my first time ever posting on a blog but I realize that I need to reach out. My anxiety has been with me since I was a little girl. It would come in the form of vomiting my nerves out. As I got older it went away. Then in my 20s I had social anxiety and couldn't leave the house. I took medication and soon felt better. Then after I had my first child is skyrocketed. I became a constant worrier and I would panic over everything when it came to her. I just took that as first time mom jitters. However within the last 3 years it has gone to another level. I have this constant fear that something bad is going to happen. My mind jumps to worse case scenario in an instant. I can't move past it. I actually build on to the fear by thinking of other things. For example, my husband received a letter from our bank that they saw some fraud activity. So right away I'm like someone hacked into our phones. Then I was like they have all my information and pictures. I drove myself to the point of erasing my phone and starting fresh. But the overthinking was still there. I would look up articles on how to avoid identity theft. My mind becomes consumed by fear. I was prescribed medication but I took it for a couple of days and felt I couldn't handle the side effects. I started therapy which has not helped much. I even looked into an intensive outpatient clinic to see if I could get better help. I want to feel normal again and not think of the worst possible outcome. I want for things to roll off my shoulders.
I feel so much pressure from everyone and i oberthink about anything..and sometimes i want to talk and i can't.. i talk just in my head and i feel how i am screaming in my head and i can't handle it anymore..i do not think someone can help me with this because i know i am creating all the stuff and i know how to help other but i can't help myself from all this..and the main problem it is i do not have something to do.. or someone to talk constantly because those are the only think that keeps me ok with all of these..:(
Look I have been overthinking since like I was 11. What I thought was that I had health issues but I was my thinking and now I'm 13 (I'm going through puberty) and I think I have a deficiency of a vitamin or have OCD. I keep overthinking that I'm gay but in reality I'm not and I don't want to be. I like and love girls but the thought just suddenly comes in and it scares me. So I keep thinking it, even when I'm with my friends I think that i am but I KNOW IM NOT. I can't even live peacefully with my brain with thoughts just coming in and in. But please I need help to stop thinking of this.
Thank you for helping me understand more about anxiety. I embarked on this journey after finding myself deep in depression and literally hating life but realizing that I needed to find a way out for the sake of my wife and kids. I have major anxiety, I have been diagnosed with ADHD, and these issues have led me to deep depression.
I struggle is on finding the balance between my ADHD and my anxiety. A lot of the methods recommended suggest the refocusing of the mind and thoughts. I wonder if this will make my ADHD worse. I get distracted easily as it is. Any feedback will be greatly appreciated.
Thank You for writing this article, it has really helped me today.
I have always been an over thinker but I have never associated it with me having anxiety until reading this article.
I had a surprise party for my birthday last weekend, but I walked out as soon as I walked in to the room.
I have said so many times I would not want a party at all, never mind a surprise one due to how stressed I get with social situations and how much I over think everything. I was so upset that none of my family respected my wishes when they know I hate surprises and have social anxiety. I know they was trying to do something nice and meaningful to me...but it had the total opposite, I have never felt so awkward and then the host also did too with my reaction.
I've been replaying the walking out through my head constantly and feel like I can't face anyone again who was there and keep thinking what they are going to say to me.
I have felt nothing but guilt towards the hosts as I know they'd put so much effort into it and I look so ungrateful.
It's exactly like the gerbil reference, the thoughts are running around on that wheel and I feel like it's never going to come to a stop.
I have started to feel better as the days have gone on as I try to distract myself from thinking about it.
My 8 year old step daughter is experiencing some extreme anxiety. She had poison ivy over a year ago and now she will have a panic attack if Shea near grass. That's just one of the things, but she somehow seems to panic over a multitude of things. We've tried therapy. We've tried talking to her at home. We've tried deep breathing and wearing a rubber band to "snap your way of thinking". We've been dealing with this for about a year and a half now. There have been no changes at home or school that might explain any of this. We're at a loss for how to help her. Any suggestions are greatly appreciated.
Hello, I'm 26 and have suffered with nervousness/ anxiety from as far back as I remember, making me dislike the entirety of my school years. I know it's 10 years since I left but I feel as anxious now as I did then, despite the fact I'm no longer in a toxic environment. I've tried exercise, diet change, been to a counsellor but nothing has changed. I've struggled to hold down a job and being socialable, even going out, I just feel worried about most aspects of life. I've tried certain medication, like diazepam and propranolol but neither seemed that effective. Sorry for going on, I hate whining lol, I just don't know what else to do and I don't want my relationship to end so I want to feel better but I feel like I'm constantly drowning in negativity.
I've been struggling with what I think is anxiety since I was probably around 19... I'm 23 now. Heck it might be longer but the last couple of years it's been the worst & I can't even ignore it anymore. I can't get even my license bc of the fear & over thinking anxiety gives me. It affects my love life I can be fine for months but the out of nowhere I completely overthink about my relationship "omg he hates me" "he's gonna leave me" "he's being weird, this is it he's gonna end it" constantly goes through my head 24/7 ! & it causes problems bc I start acting weird & no matter what I do I can't stop... my anxiety has ended 2 of my relationships & im working on a 3rd. Anxiety effects my job I'm constantly worried I won't hav enough time or I'm not doing something right I'm a cna btw. I have low self esteem I've had my whole life.... I haven't had the best life I've seen & went through things I never should have, horrible things. I know that's completely destroyed the way I feel about myself. I have an appointment in a few days to see a doctor.... I want medication... but then I think what if it doesn't help what if I'm just like this & nothing I do can stop it... what if there's just something wrong with me. I know the medication will take a little to work & even then it might not be the right anxiety medication for me. I just don't know what to do anymore
I have been suffering from anxiety for 15 years I am now 30 and have a really hard time living a normal life I always think somthing is wrong with me and it makes me super anxious it can be a simple weird feeling in my throat that will trigger my anxiety causing me to hyper ventalate I don't like to be fat from a hospital . Does anyone else have this.
Social anxiety is becoming a big problem these days, nice post thanks for sharing.
Hi :) I had posted a comment before but I'm not sure where it is so I'm sorry if there are two ??. I'm 17 and I've always been a worrier. It's not new to me to overthink everything (I overthink every interaction with people to the point that I convince myself that they hate me). I really suffer from stress in school and I was talking to a teacher about it but now I regret it cause I've convinced myself she finds me annoying and hates me even though she says I can talk to her any time. Im so nervous because I'm worried I wasted her time. My parents don't really think what I feel is anything unusual or important like they say every teenager is stressed and I think they got a bit upset finding out I talked to a teacher because they felt like I was being dramatic . I just feel like everyone hates me and I have really low self esteem and confidence. I just don't know what to do I feel so stressed all the time and most of the time there is no solid reason. I'm just always so anxious and I have a constant knot in my stomach. I just don't know what to do :( do you think I might have anxiety? Do you think it's important or am I overeacting?
Hello my name is lub toqeer
From last month i am vary stressed,confussed and worried i had panic attack that time i was supposed that i m just going loss my life my heart was just racing fast and bp was high have trouble in breathing after that i am just over thinking about death about that condition .i have pain in full body some time chest and throat .its is just unexplainable how i feel its just horrible i cant explain it in words.my stomic is not good every time from last 30 days .i m taking indrioll 40mg but it doesnt effect my condition still my thoughts is same.
Hey, I'm joanna and I'm 26 years old. I'm a mother and a biology major who is doing 16 hours this semester. I recently had to quit my job as an ER scribe because I had a really bad panic attack on shift. Because I had the first panic attack I've started having more. On the way to school last week I had a really bad one and had to go to the hospital. In the past I have had to go to the hospital for panic attacks but it has been a year and I thought I finally had my life back. When my allergies act up I often struggle with increased anxiety and it's hard for me to drive because I'm more prone to panic attacks when I drive. Now I'm terrified to drive to school. This happened last time and I would have to leave class because of panic attacks. I've also noticed the same pattern with my fiancé where I'd be constantly worried he would cheat on me because of my past experiences in other relationships. I want to feel normal again and regain control of my mind. I want to feel free to go anywhere without having to worry about having a panic attack. I know they don't kill you but they feel so awful that it's terrifying. Do you have any thoughts on how I can override my brain's panic response? I feel like a car with a broken alarm.
Hello, I'm 18 years old and I have this one friend. We've known each other for about
4 years now but not until 5 months ago we had not very much to do with one another.
For me he is just a friend but the problem is he is kind of sending my mixed signals.
I must admit I am a natural flirt, I mean I just like to tease the people around me and flirt with them, like literally everybody, that's just how I am.
At first when he started teasing me back I didn't mind. Then as the time flew by people started asking me what our relation between us is.
Slowly I started to overthink everything he did, like paying me dinner, carrying my purse when we were out, giving me small massages and everything. So I thought he may like me more than just a friend. I wouldn't say that I had caught feelings for him, but I realised that he was on my mind constantly.
So I kind of thought maybe we would develop a relationship someday, like in a romantic way.
But then I found out that the kissed a friend of mine and they made out and it just really confuses me. Like he is totally confusing. I don't get what he wants.
I know that I am overthinking and that I honestly should not care about that but I just can't stop. That's why I am writing.
Maybe you could give me some advice?
I would appreciate it very much.
Kindest regards,
Lisa
Hi. My ex-bf is suffering from anxiety, panic attacks & stress due to being jobless, love ones who are sick & billings that pilling up. He is always tired & sleepy. We are into long distance relationship. He started avoiding me (no text/calls) 2 months ago. He will only respond to my messages after 16 hrs. Then he told me that he doesn't know if he loves me. Every time I asked him if he still wants me in his life he just answer me with "I don't know". Every thing with him is an argument. He have had history of depression and anxiety. He told me that he is constantly overwhelmed and feeling too much pressure from me. I was hurt so I decided to let him go. But then I tried to work things out with him several times but he keeps telling me that I left him. According to him he misses me but he doesn't know if he loves me. We are no longer talking. He's not taking any medications and/or seeking the help of a Therapist. I don't even know if everything he say are whats really on his mind & heart.I am worried. Thank you
I am 40 year old ,mother of 2 kids and working as full time employees of good IT company. I have thyroid since last 2 years and had brain tumor surgery in Nov2017. Surgery is successful. After surgery I am having vitamin D , B12 and Iron deference taking medicine.I resumed work last month after 3 months medical leave. Now a days I am thinking so much about work. I am keep trying to avoid work thoughts but it's becoming impossible. I feel work pressure and peer pressure is high. All are men's in my team I feel they are better than me. I am doing my work successfully no complaints from anybody. Recently my manager assign me more work and I feel overwhelming. My manager is not understanding work load. He is thinking it's simple and I am making complicated. I am constantly thinking how to get this done without any problems. Some people in my team enjoy their life at work come late and go early and he assigned their work to me. I have requested him I am not fully recovered give me another 3/4 months I can not take more responsibilities right now I can handle only my work which I was supporting before surgery. He didn't support. He asked me to prioritize work and push back if I have other work commitments on that day. When I push back some work for next day then he is asking me to get that done on requested time. Yesterday I was so sad and cried almost 8 hours. I woke up morning with same work thoughts. One mind says resign then other mind says it's very good company 15 mins commute let's accept it , it is what it is. if I find another job then commute time will be more than hour. Also I have to put extra effort to understand new work and i don't know how team members and manager. Here I am working more than 2 years I know system very well , good team. My husband is also working in IT he is good but really I want someone to understand me. Ladies can understand ladies problem. Men's point of view is different than women.As per him it will be lot of work even you go anywhere. My parents can't understand this because they never worked.Sometimes I talk with friends but not always they pick up my phone. I don't like to be stay at home mom.If I leave this job and I didn't get another job soon then.
I am constantly thinking about work. I have 2 kids one is in middle school and is in elementary school. Now a days I am not thinking about my kids, family. After coming from office ,something I cook and give them food, take them to actives that's it. Don't feel like talking. My thyroid level became high in last 2 weeks because of stress. I am feeling so much tired. Now a days I don't enjoy anything like watching TV , Facebook, listing music. I like to talk with friends, go out but I don't have many friends.Weekend we both are busy with kids activities, groceries and cooking ,nothing special on weekends no party, no get together.
I don't know is this Anxiety , depression?
Can I see the psychiatrist. Shall I leave this job and relax for few months. Don't know what to do.
I am not good at English writing. I feel uncomfortable while writing I can talk but can't write. English is not my native language.
Please let me Tanya what shall I Do.
Thanks
Hello,
this is hard for me to explain, but I'm worried about my best friend (14). We used to talk, laugh and do everything together, but recently she's been very quiet and distant. However, this only happens when we're in a certain friendship group because when we hang out with other people in school she suddenly becomes her bubbly self again. When she's distant, she seems to try to avoid any conversation and is always on her phone (she never used to do this) . So, I asked her what was wrong because I couldn't handle not knowing any line her. She says she just overthinks everything, such as other people's reactions, and she worries too much. However, she won't tell me exactly what's going on with her. She mentioned that she looks at web pages to educate herself on what's bothering her, but it makes her even more upset. She also told me that some days she'll be alright, but on others she won't. I've tried being a supportive friend by giving her advice, but I don't really know what I should be doing. She said she's really stressed about everything and she definitely didn't look very happy when we were talking. I'm worried about her because I don't want her feeling bad and overthinking anything, I want her to go back to her normal happy self. Any advice?
Thank you,
Alyssa.
hi Tanya.
I'm 19 and a student.
Currently i have this one friend. To me, he's a very good company. both of us met about 2 months ago. but actually we were in the same kindergarten years ago. we seemed to be very closed to each other. we had dinner together everyday, tried every new foods in our college, walked to class together (even though we're not in the same class and program
) and do almost everything together. Im very grateful to have a friend like him.
however, lately i realised that he's distancing himself from me. we do have dinner together, participate volunteering works together. but we dont talk much like we used to. i dont like that.
so, what happened was, last night, i asked him what's wrong?
He said that i am too clingy that everywhere i go, i always wanted him to be with me and he couldnt bear with it anymore.
i admit that i am a person like that. some people like it and some dont. dont they? so, i apologised and told him that i'll fix that. it was that actually i dont quite understand him, since we've just knew each other.
i think i've got influenced by the movies i watched where two best friends usually do things together, go everywhere together, go on a travel together, understand each other etc.
so, i expected him to do the mentioned things above. my bad.
and the conversation continued..
i told him that there's one thing that i couldnt control when i'm with him or with my other closed friends. that's Overthinking.
i used to think lots of unnecessary thoughts. like you said above, about things that i shouldve said, done and what not. but sometimes some thoughts like how my friends feel about me do came across my mind. However, i knew that these thoughts are just nothing. they're just there. so, i ignored them. i made myself busy.
but the longer i tried to ignore them, the more that i got hurt. what do i do? i really hope that you can help me, tanya.
Leave a reply