Finding Comfort in Depression Is Difficult, Not Impossible
Finding comfort in depression is diffictul, but not impossible. Coping with depression is already challenging and it can seem impossible to find comfort in the depths of depression. Whether I'm seeking comfort from others or I am attempting to comfort myself, I often find myself coming up empty handed (Depression Support: Why You Need It, Where to Find It). But the challenge of finding comfort in depression is worthwhile and beneficial to coping with the illness.
Finding Comfort in Depression Relieves Symptoms
Comfort is useful in coping with depression because it is a form of relief from the symptoms of depression. Feeling comforted means that you feel less of a negative feeling. Perhaps you've had a stressful project at work that requires long, inconsistent hours and your attempts at coping with your depression have fallen flat. Experiencing a sense of comfort would relieve you of some of the stress you've been carrying with you, thus enabling you to relax and better cope with your depression.
My experience with depression often leaves me feeling uneasy, restless, and deeply sad. When I take a moment to comfort myself or to be comforted by a friend, I feel less sad and I am able to breathe a little easier. My wild mind settles down for a moment so that I can rest for a few minutes and experience some relief from the challenges of coping with depression.
Ways to Find Comfort in Depression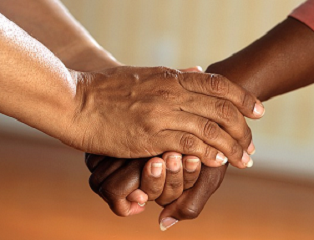 You can comfort yourself or you can receive comfort from others to cope with depression. With plenty of failed attempts at self-comfort that merely resulted in an angrier, more aggressive version of myself, I've found that the most success comes from practicing self-care mechanisms that are deliberately calm and slow (Ways to Self-Soothe During an Emotional Crisis). Some of my favorite sources of comfort are warm showers, drinking a cup of tea, candles, and meditation to change my depressed brain.
There are times that the task of comforting myself feels too challenging and I need a person to help me make that loud, restless part of my mind quiet and still. In this situation, I reach out to close friends or my partner for snuggles, conversation, or a good distraction. Sometimes I reach out with the knowledge that comfort will come with the act of reaching out and sometimes I explicitly ask for help in achieving a state of comfort. It depends on what my needs are.
Know Your Needs to Find Comfort in Depression
On the bright side, coping with depression typically makes it pretty clear what you need to address in order to feel comfort. For example, if you are experiencing rapid thoughts and you feel restless because those thoughts are bouncing around in your skull, you might reach out to someone with whom you can discuss those thoughts.
No matter what you're feeling and thinking, there is almost always a way to find comfort in depression. It takes equal parts practice and patience, some creativity, and a deliberate effort to be kind to yourself.

Find Tiffanie on Twitter, Facebook, Google+, and on her personal blog.
APA Reference
Verbeke, T. (2017, February 8). Finding Comfort in Depression Is Difficult, Not Impossible, HealthyPlace. Retrieved on 2023, December 5 from https://www.healthyplace.com/blogs/copingwithdepression/2017/02/feeling-comfort-is-difficult-while-coping-with-depression
Author: Tiffanie Verbeke
Just want to say your article is as astounding.
The clearness in your put up is just great and that i could think you are an expert in this subject.
Well along with your permission let me to seize your
feed to stay up to date with imminent post. Thanks a million and please keep up the enjoyable work.
These are actually fantastic ideas in on the topic of blogging.
You have touched some good points here. Any way keep up
wrinting.
Depression as common emotional disturbance exhibits hard and unbearable mental suffer with numerous somatic consequences. Therefore, its overcome is immanent and emergent deed by psychiatric and non-psychiatric health care system. Furthermore, some psychosocial interventions, as your recommendations are of great help, in order to decrease its dangerous repercussions to global wellbeing. Indeed, healthy lifestyling is the denomination of these commonsense daily mental and approaching that permit emotional relax without any medicament. Each activity that gives rise emotional release is of great benefits for people with depression. Even regular and up to date psychiatric treatment of depressive disorder the active and creative way to face with uncomfortable symptoms and signs of this type of emotional falling is meaning way of successful managing and definitive recovering from this treatable mental disorder. In a word, each person should find out oneself comfort zone of personal and social life and to carry on plentiful social life. This recommendation is crucial undertaking step, because people with depression are inhibited both mentally and physically, which ones nurture deprived mental and physical activities. Proactive way of dealing with depressive emotional impressions is the best manner to overcome and to cope with serious and irreversible consequences of this unkind emotional demoralization.
you are correct finding comfort in depression is not impossible. i too agree with you am a photographer. am very busy with my works in whole day. work overload and problems in work makes my mind so depressed. but i tried to change my thinking and i overcome my depression.
Hi Aleena,
From what I know, photographers work wild schedules and I can imagine it's tricky to make sure you have enough time to take care of yourself and relax. Fortunately, there are a lot of small ways to squeeze in self-care, such as five-minute meditations or short yoga practices. Please be kind to yourself and I wish you healthy, productive days.
Tiffanie
Author, Coping with Depression Blog
Leave a reply