Simple Ways to Bring Light into the Darkness of Depression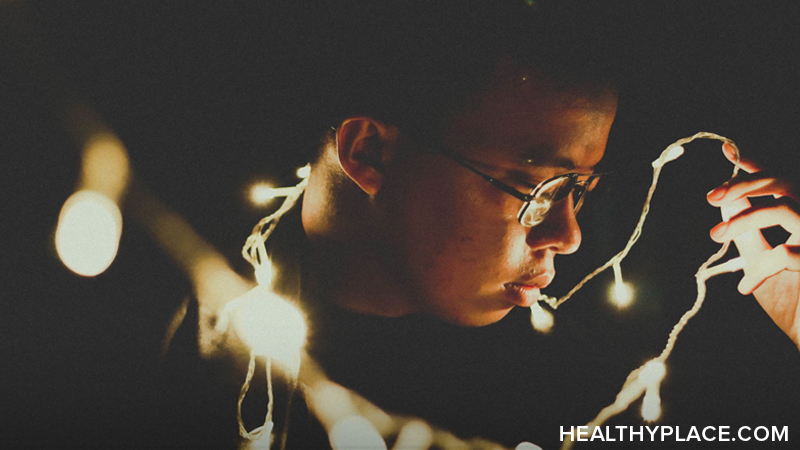 Those of us diagnosed with depression will experience the darkness that comes with it, yet there are things we can do to shine a light into even the darkest of days. When it feels as if all our joy has been stripped away, we discover that we might have to work harder to create happiness and light in our lives. Let's talk about some simple ways to do that.
Bringing Light into the Darkness of Depression
Create joyful spaces to erase the darkness of depression. Design and decorate a room or even a corner that makes you happy. Let it be a space that's all yours and displays your personality. Have a table set with your favorite books or movies. Do you collect anything? Display your collection on a shelf in your space. Do you enjoy spending time outdoors? Plant a garden. Do you paint? Set up an area to work on your art and then display it. Figure out what makes you joyful and then create a space for it. Spend time there every day; carve out extra time to spend in your joyful space on those particularly dark days of depression.
Celebrate holidays. I've started decorating and celebrating for holidays other than Halloween and Christmas. So far this year I've celebrated New Year's Day, Valentine's Day, and St. Patrick's Day. For me, this has meant putting up some simple decorations and preparing a special meal for my family. I haven't had a big party or done anything elaborate, but if that's something you would enjoy, then go for it. I've discovered that celebrating a holiday each month breaks up the monotony of life that tends to worsen my depression. I feel joyful when I see fun decorations around my house. This is an easy way in which I've been able to shine some light into my life.
Special rituals can lessen the darkness of depression. We all need some grounding techniques in our lives. Comforting mental health routines are part of what I do each day to bring light into the darkness of my depression. Every morning, I have a cup of coffee while I check social media. This is my time. I read before bed at night; it settles my mind and helps me prepare for sleep. I have monthly breakfasts or brunches with other women. I go on dates with my husband. I take walks. Special rituals like these are things we look forward to doing, and they are an important part of shining light into depression's darkness. If you don't already have special rituals, I encourage you to create some today. If you have some, I encourage you to engage in at least one of them this week.
Depression leads us into dark places, but we are not left there without hope. With the above options for bringing light into our world of depression, we can still create joy and discover happiness within ourselves.
APA Reference
Smith, J. (2019, March 20). Simple Ways to Bring Light into the Darkness of Depression, HealthyPlace. Retrieved on 2019, October 20 from https://www.healthyplace.com/blogs/copingwithdepression/2019/3/simple-ways-to-bring-light-into-the-darkness-of-depression
Author: Jennifer Smith