When Depression Gets Existential, Live One Day at a Time
---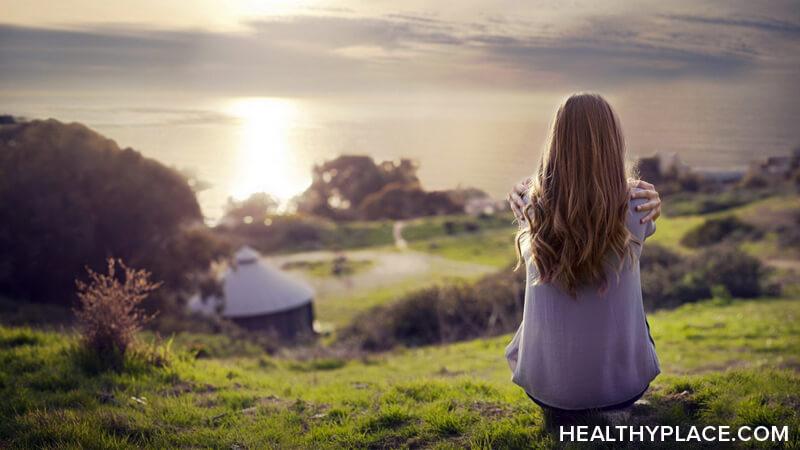 Do you have existential depression? Answer these questions: Do you feel like you are living on autopilot with no higher purpose? Do you feel like a hamster on a wheel, stuck with the same dull routine day after day? Do you feel that you are not doing your part to leave the world a better place than you found it—and maybe you never can? If these kinds of existential thoughts make your depression harder to deal with, then in my experience, you might have a case of existential depression. 
What Is Existential Depression?
According to Eggshell Therapy and Coaching:1 
"Existential depression is a crisis that arises when one confronts issues such as the meaning of life, isolation, death, and their place in the world. Existential depression is if you see and feel what others don't. Existential depression is when you are bothered about the gap between what could be and what is—both in yourself, others, and the wider world."
From what I know, it commonly affects idealistic individuals with ethics, high moral standards, and a burning desire for freedom and authenticity. Folks with these qualities strive to live on their own terms, no matter what the cost. Therefore, it's no surprise that all of the existentially depressed people I know are creatives, rebels, trailblazers, or metaphorical black sheep. 
Coping with Existential Depression
As you can imagine, existential depression is incredibly difficult to deal with. Personally, I've noticed that if left unchecked, it can become all-consuming. I've seen it lead to reckless behavior, addiction, self-harm, suicide attempts, and death by suicide. The only way I know how to manage it is to first acknowledge and accept it without assuming that something is mentally broken or deficient. It is perfectly normal to experience existential depression when you are an intense, emotionally intelligent, ethical human being.

Once you have accepted the way you are feeling without self-blaming, the second step is to take small actions toward living on your terms one day at a time. On a macro level, you cannot change and control the world or other people. Therefore, you can do the next best thing: change and control your own actions. 
Have you ever experienced existential depression? What measures did you take to manage it? Please share your thoughts in the comment section below. 
Source
Lo, I., "Existential Depression: When You Are an Intense and Sensitive Person." Eggshell Therapy and Coaching, Accessed February 11, 2021.
APA Reference
Shaikh, M. (2021, February 11). When Depression Gets Existential, Live One Day at a Time, HealthyPlace. Retrieved on 2023, December 8 from https://www.healthyplace.com/blogs/copingwithdepression/2021/2/when-depression-gets-existential-live-one-day-at-a-time
Author: Mahevash Shaikh
I do not know quite how to say this. I am unipolar, ocd and I worry alot. Im 60 and ive been abused by others all my life. I do not think it is because i am dumb. I molested at 15, everyone ran out of the room. it seems that after that i would get down but eventually rise above it. this time i had an operation(rectal prolapse) and he made some really bad mistakes. I lost my motivation, energy and self-esteem. I felt so lost and alone. I guess that I have always felt that i truely did not matter. If I could help somebody have a better day or go on a long hike, these things helped. Having a job helped too. But they all went away when I got sick. No doctors could help. But after 12 years I think i am getting better and I want to do some things to be proud of. But with noconfidence, Im lost.
I am so sorry to hear of your struggles, Keely. You matter and I am glad you are getting better. You already have the motivation to get things done, the only thing you need is confidence. Of course, that is easier said than done, so maybe just go ahead and try to achieve your goals anyway? That often works for me when I have little faith in myself/my abilities. When that doesn't work, I try and fake it till I make it. Good luck, I'm sure you can do it. Hugs.
Leave a reply