Functioning When Experiencing Mental Health Relapse
That might seem like an oxymoron, and maybe it is, on some level. I'm going to use the example of depression because it is something everyone experiences. Whether you have a mental illness or not, depression is part of the human condition.
The Experience of Depression

I would bet money, maybe my prized collection of books and records, that you have experienced the effects of depression. And it is not fun; it is not easy. It hurts. I would rather break my ankle---and I'm talking from experience here--than be hit with months of major depression. Again.
My Experience With Depression
Is lengthy. It is book worthy. It sucks. It lived in the back of mind, hiding in the closet, waiting to steal me away. Depression visits me in the winter months and takes away my appetite and love for life and for friends and family. Depression is a monster that I treat with medication and a heck of a lot of patience.
But, when I am down and out, I still need to work. I still need to pay the bills and try to smile once and while, even if that smile is a bit tainted.
Let me summarize this: Depression is something I experience but it is also something I have learned to live with and, surprisingly, function with.
Symptoms of Depression
I probably do not need to describe these. Bullets will suffice. The most common depression symptoms are:
>Anxiety
>Increased or decreased appetite;
>Substantial weight gain or loss
>Sleeping too much or too little
>Confusion
>Lethargy
>Isolating yourself
That's off the top of my head here. No need to mention more: you probably know the feeling and the feeling leaves something to be desired.
Functioning When Depressed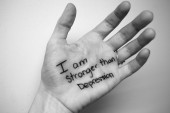 Right. Here we are at the title of the post! How the hell can we function when we feel depressed? When it's hard to get out of bed. To lift one leg over the bed, to shower, to eat, to breathe!
It's not simple nor is it complicated: Just try. Focus on what you can do. If all you can on a particular day is get up from bed, push yourself to do it. If you get yourself up, look out the window, consider going for a walk. Or just sit on your balcony if you have one.
Open the fridge. Eat something if you can.
As hard as it is: ask for support from those within your family and friends. Tell them you're not feeling so hot. You need help. Remember: We all fall from time to time and one day, they too will approach you for help, that is friendship and that is love. That is important.
And finally, share your thoughts: How do you push yourself to function when depressed or feeling a bit
off?
APA Reference
Jeanne, N. (2012, April 19). Functioning When Experiencing Mental Health Relapse, HealthyPlace. Retrieved on 2023, December 7 from https://www.healthyplace.com/blogs/recoveringfrommentalillness/2012/04/functioning-when-experience-mental-health-relapse
Author: Natalie Jeanne Champagne
Depression as psychopathological syndrome encompasses a wild and complex emotional experiences that diminish seriously global life performances of depressive person. In a word, this mean to destroy whole biological, psychosocial and socio-economic wellfare of respective patient. Furthermore, depressive symtoms deteriorates family and professional wellbeing, that should be the focus of psychiatric treatment of depression.
Everyday seems like a struggle but I just keep on fighting because I know that if I stop fighting I will die. I just keep telling myself to breath and keep moving. I only have to make it one moment at a time and magically I do make it.
Hi, Nelda:
The struggle with mental ill can and be life and death. You are doing exactly what we need to when it gets rough: taking care of yourself as much as possible and working to stay well.
Thank you for sharing,
Natalie
Leave a reply