Taking Psychiatric Medication Forever--Forever?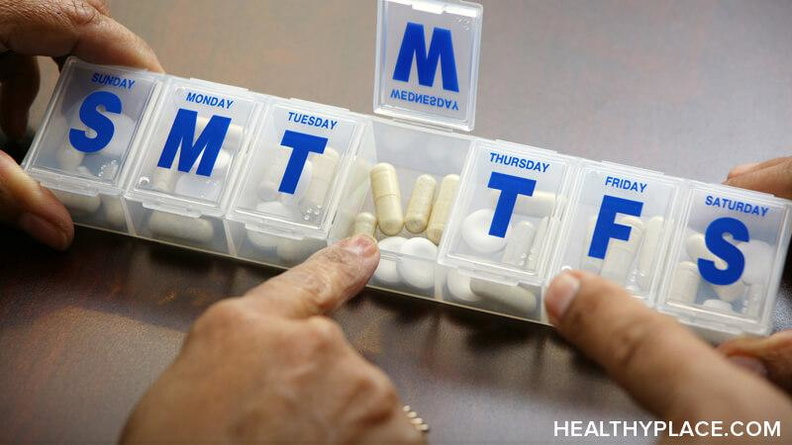 Picture "forever" in bold font--picture it bold and neon-- flashing like those cheap diner signs offering grilled cheese for $2.50 as you drive past on your way to somewhere else. Somewhere important.
Wait---apply the word forever to your life, to your mental illness, if it is chronic in nature. Think: I will probably have to take psychiatric medication forever. Forever. Forever? For the rest of my life? That's a tough pill to swallow and a pretty awful pun--sorry about that.
But the subject is scary. And it doesn't have to be, though I cannot lie to you, it will probably linger in your psyche to a lesser degree for maybe, well, forever.
Do I Really Need to Take Psychiatric Medication?
I'm not sure--do you need to take it? I do. I was told this when I was twelve years old, when I was given bottles of pills for bipolar disorder. I was angry. Very angry. I am still a little angry.
I have tried, albeit not in full, to lower the dose of the medication I take. The result? Well, it wasn't great. So I take them, perhaps with a bit of spite, but pretty damn happy they work--most of the time--keep the mania and melancholy away.
Reality Check...
Most people with a chronic mental illness, stress the word chronic, will need to take medication. For the rest of their lives. For the rest of your life. People compare it to having diabetes.
The Benefits of Taking Psychiatric Medication Outweigh the Risk
Accepting you have a mental illness is an integral part of recovery. It defines much of the journey we each take to wellness. Accepting that we need to make medication, perhaps for the rest of our lives, is hard. Really hard. But, but, it is certainly better than being unwell. It is better than becoming ill. It is better than staying ill.
Recovering from mental illness involves a lot of self-care: taking medication is a large part of this. Yes, it can take years to find the right combination and yes that time in our lives can be negative and turbulent. And not just for those of us diagnosed, but for those who are an important part of our journey to wellness.
The conclusion? There is no conclusion. Sometimes, we need to find our own way and sometimes this involves struggling with the notion, the reality, that we probably need to take medication and, yes, probably for our entire lives.
I would rather be stable-- as stable as I can be--than grasping at straws.
Your thoughts?
APA Reference
Jeanne, N. (2012, May 7). Taking Psychiatric Medication Forever--Forever?, HealthyPlace. Retrieved on 2023, December 2 from https://www.healthyplace.com/blogs/recoveringfrommentalillness/2012/05/taking-psychiatric-medication-forever-forever
Author: Natalie Jeanne Champagne
I don't think the use of these antipsychotics is a bad thing at all and yes this medication can have adverse effects so do allot of prescription drugs. I have found that in looking at schizophrenia and antipsychotics we have the opportunity to use interventions like medication in a more effective way when antipsychotics are used in conjunction with psychosocial therapy strategies. Adverse effects on teenagers like diabetes and weight gain are irrelevant when looking at the overall effectiveness of the drug. I also propose that the medication could be used less if a psychosocial therapy is used.
As seen in Tarrier and Bobes (2000) article interventions to help schizophrenia patients to cope with life are needed in different ways, whether it is antipsychotic medication to alleviate symptoms, or psychosocial interventions for example cognitive behavioural therapy (CBT) for psychoeducation. Psychosocial therapies play a major role in managing a patient's subjective experiences and helping patients understand their condition and as a result accept their treatment regimens and consequently they get the best responses from their treatment (Tarrier & Bobes 2000). Tarrier and Bobes (2000) reason that psychosocial therapies are paramount to intervention success; this is because it can control behaviour in patients making it easier for them to be cared for and can also relieve stress. These behaviour programs affect lifestyle and are midstream interventions.
The use of medication to treat psychosis is based on what is called the dopamine hypothesis that proposes that psychotic symptoms of schizophrenia are associated with excessive amounts of dopamine neurotransmitter in the brain, but this does not apply to all cases (Moncrieff et al. 2009). Antipsychotics given to schizophrenia patients alleviate symptoms of schizophrenia by inhibiting dopamine release (Moncrieff et al. 2009). This method is proximal and downstream as it is directly influential on lifestyle and behaviour.
I believe that although these medications have adverse effects but if they are coupled with positive engagement of psychosocial therapies we might be able to reduce the use of these anti psychotics and therefore there will be less use for all patients including teenagers.
References
Moncrieff, J 2009, 'A Critique of the Dopamine Hypothesis of Schizophrenia and Psychosis', Harvard Review of Psychiatry, vol. 17, no. 3, retrieved 6 May 2012, Academic Search Complete.
Tarrier, n and Bobes, J 2000, 'The importance of psychosocial interventions and the patient involvement in the treatment of schizophrenia', International Journal of Psychiatry in Clinical Practice, vol. 4, no. 1, retrieved 6 may 2012, Academic search Complete.
Hi, Eli
Thank you for this informational and personal reply. I am certain readers can benefit from it immensely.
Many thanks,
Natalie
I will have to take an anti-depressant for the rest of my life. I tried to go without one year. It was a really bad year and I do not ever want to experience that hell again.
Hi, Janet:
It's so important to know we need to take it, even if we have to experiment and go through some hell to find out!
Thank you for your comment and for reading,
Natalie
Hi Natalie :) I was relieved when I was first diagnosed and told there were medications to get the bipolar under control. I agree with you; I am definitely better on the meds than off of them. I've been fortunate in that I have had only a few medication changes; I think that helps me keep compliant since the results and hope have been seen sooner than when having to often change meds. Thanks for the post.
Leave a reply