Mental Health and Learning to Listen
Before we were diagnosed with a mental illness we probably spent a lot of time listening. Rather, a good amount of time trying not to listen. As you embark, shall I say, on your journey to mental health recovery, listening to feedback from other people becomes important.
Listening to Feedback Before Diagnosis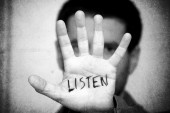 Before we became well we had people telling us that something was wrong, we needed help... "Just listen to what I'm saying for a minute, OK?"
In my life, a minute was too long. Five seconds was too long. If I was depressed I knew I was sick and thought I would never get better; if I was manic I was certain there was nothing wrong with me. The world was out to get me.
In other words, I couldn't care less what other people thought either way.
Before you are diagnosed, when your world has crumbled, you probably don't care what anyone has to say. They don't understand your pain; they do not understand you.
But sometimes...sometimes they do. And we need to listen.
Learning to Listen After the Diagnosis
So, now you have been diagnosed. Life might make a little more sense or a lot less sense. Your psychiatrist is telling you things. What medication you need to take; the importance of self-care. It's often hard to listen during this time. It is exhausting. But it's important to try.
The people who love you are telling you they love you. Hopefully, you can hear it this time. Often, in the midst of sickness we can only hear ourselves, the rattling of our brain.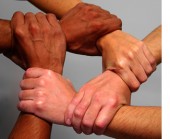 Learning to listen is not always easy--nobody likes to be told they need help or something has gone awry--but accepting feedback is part of recovering from mental illness.
Letting people in, well, that's half the battle!
APA Reference
Jeanne, N. (2012, July 2). Mental Health and Learning to Listen, HealthyPlace. Retrieved on 2023, December 1 from https://www.healthyplace.com/blogs/recoveringfrommentalillness/2012/07/mental-health-and-learning-to-listen
Author: Natalie Jeanne Champagne
I went through years of not listening, to my body or anyone else. I had a few major breakdowns and it wasn't a clue. I knew someting was wrong but I didn't want to admit it. Even when I was self harming I still wouldn't admit something was wrong. Finally after one of my latest breakdowns I went to the doctor, I was 33 years old and that was six years ago. I'm still struggling but I am finally listening.
Michele
Leave a reply