Why Are Romantic Relationships with Mental Illness Hard?
I thought of three reasons why it's hard to have a romantic relationship when you have a mental illness. Three? Perhaps 100 reasons is more realistic. 100 reasons sound about right, but then this post would feel like reading a bad romance novel. That said, I want to focus on the biggest reasons why romantic relationships with mental illness are so difficult and how they connect to the smaller reasons--like a web of very bad dates.

Challenges of Romantic Relationships with Mental Illness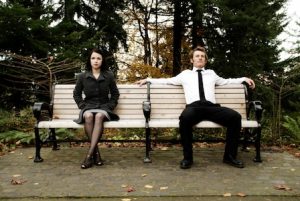 Oh, dear! I must stop myself before I launch into a horrid story of my less than stellar choices in partners. I think they would say the same about me. When I am depressed I am not fun. I do not laugh. Everyone, including the pets and dust on the table, pisses me off (Coping with Extreme Anger as a Symptom of Depression). It takes a, well, very unique person to hang on for the ride.
Enough about me, let's focus on three reasons why it's hard to be in a romantic relationship.
1. Confidence. Lack of confidence (unless you are in a manic state in which you are probably certain everyone loves you.) For those of us who are not in a meaningful relationship, we may feel like we don't deserve love. We might feel certain that once a person really gets to know us they will leave. As a result, we fear abandonment and this may lead to isolation. The entire thing becomes messy and, quite frankly, terribly sad.
2. Fear of Disclosing Our Illness. Sometimes, we feel having a mental illness is something we should hide (What is Stigma?). Of course we do not tell everyone. You don't shake a person's hand and state, for example: "Hi! I'm Natalie and I have Bipolar Disorder, ADHD, a history of substance abuse problems, disordered eating and some other things, want to go to the movies?" You get the ridiculous drift.
When we first meet someone special, as time progresses, we begin to feel the need to tell them. Because we really do. But this isn't easy; it's like putting our heart on the line, hoping it won't get smashed. The fear connected to sharing that part of us and the impact it has on our lives is hard (What to Tell a Date About Your Mental Illness). We might rather watch reality TV alone to avoid it (AKA me).
3. Fear of the Future. Everyone grapples with the future: we wonder what it will look like, if we'll be happy, have 2.5 kids, a dog and a white picket fence. Maybe a mortgage paid off. It's different when you live with a mental illness. The future can be scary. We often cannot predict how we will be feeling--our level of stability and functioning. Adding in another person, someone we can see a future with, can be scary! It brings us back to fear of disclosing our illness.
Relationships with a Mental Illness Are Possible
We all have skeletons in the closet. Or, you know, five bottles of pills under the sink. Everyone goes through pain in their lives, all of our experiences are unique, but pain and struggle is a shared experience. Call me altruistic (unfortunately, I'm not) but I really believe this.
If we can step outside of our lives, our illness, we begin to see that the world isn't cruel just to us. We all fall from time to time and so when we fear romantic relationships try to remember that you are not damaged, you are just human and deserving of love.
APA Reference
Champagne, N. (2013, February 28). Why Are Romantic Relationships with Mental Illness Hard?, HealthyPlace. Retrieved on 2019, September 21 from https://www.healthyplace.com/blogs/recoveringfrommentalillness/2013/02/romantic-relationships-and-mental-illness-three-reasons-why-its-hard
Author: Natalie Jeanne Champagne
Hi, JC!
Thank you for the positive feedback!
Sincerely,
Natalie
Leave a reply