Fighting Flashbacks: Coping Skills for the Symptoms of PTSD
Posttraumatic stress disorder, or PTSD, is an anxiety disorder that develops as a result of a traumatic event. According to Dr. Aphrodite Matsakis, PTSD occurs in 2% of those exposed to an accident, 25 -33% of those exposed to a community disaster, 25% of those who experience traumatic death of a friend or loved one, 30% of Vietnam veterans, 65% of those assaulted, 84% of battered women, and 35-92% of rape victims. Flashbacks are a common symptom of PTSD. Here's to use coping skills to fight the flashback symptom of PTSD.
Flashbacks: A PTSD Symptom You Can Fight with Coping Skills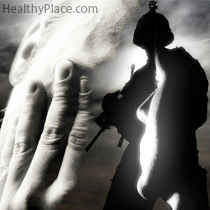 Flashbacks are memories so intrusive that the person thinks, acts, feels, and believes they are back during the traumatic event. But it is possible to fight these PTSD flashbacks with positive coping skills. We don't have to be prisoners to our past.
In this video, I discuss three coping skills that I use to deal with the PTSD symptom of flashbacks.
http://youtu.be/Tr8Xf-V0V8U
You can also find Becky Oberg on Google+, Facebook and Twitter and Linkedin.
APA Reference
Oberg, B. (2015, March 11). Fighting Flashbacks: Coping Skills for the Symptoms of PTSD, HealthyPlace. Retrieved on 2023, March 31 from https://www.healthyplace.com/blogs/recoveringfrommentalillness/2015/03/how-to-fight-flashbacks-positive-coping-skills-for-the-symptoms-of-posttraumatic-stress-disorder
Author: Becky Oberg
If I visualise the original event I try and look upon it as if a passive observer in a calm way the same as I do if rendering First Aid in a Crisis Situation.
Thank you for this and sharing it.
Leave a reply