The Irresponsible Closure of Mental Health Treatment Facilities
The closure of mental health treatment facilities is often a disaster for the patients being treated there (Inpatient Mental Health Treatment Facilities: Who Needs One?). When an abusive mental health treatment facility in Indianapolis closed, the patients flooded the city's low-income housing. The success stories still have apartments. The rest of the patients are either in jail, another institution, or dead. The closure of mental health treatment facilities must be done in a very careful fashion.
Abusive Mental Health Treatment Facility vs. No Facility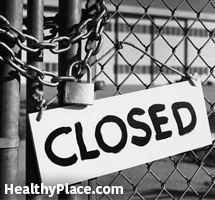 Is mistreatment better than no treatment at all? In this video, I argue that the closure of treatment facilities often costs lives. People lose their residence, their treatment teams, their treatment plans and routine. Sometimes this is enough of a disruption to lead to suicide (Understanding and Helping the Suicidal Person). The closure of treatment facilities is a negative event that must be done with as much attention possible paid to the needs of the people affected.
Irresponsible Closures of Treatment Facilities Video
https://youtu.be/5wpVwj4RXtc
You can also find Becky Oberg on Google+, Facebook and Twitter and Linkedin.
APA Reference
Oberg, B. (2015, November 28). The Irresponsible Closure of Mental Health Treatment Facilities, HealthyPlace. Retrieved on 2023, October 4 from https://www.healthyplace.com/blogs/recoveringfrommentalillness/2015/11/the-closure-of-treatment-facilities
Author: Becky Oberg