My Life After an Eating Disorder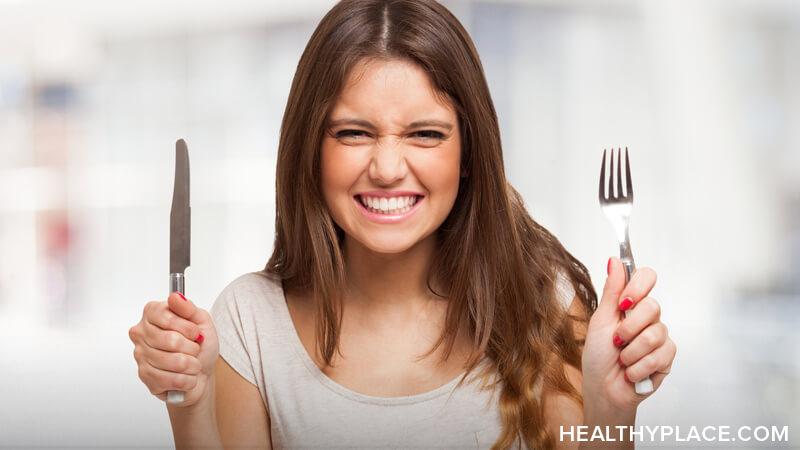 Life after an eating disorder, and treatment for both bulimia and schizoaffective disorder, is much better. I often write about my experience with schizoaffective disorder at HealthyPlace, but it was really my struggle with bulimia that led me to seek help in the first place. I struggled with my eating disorder for many years, and eating disorder recovery was rough until I was also treated for schizoaffective disorder. In my case, the two were definitely related. When my mood and psychotic symptoms were reduced with medication, I finally felt strong enough to really get a handle on my eating disorder. I spent several weeks at an eating disorder treatment center in my early 20s. I truly believe it saved my life, and during my life after an eating disorder, I haven't looked back once.
Life After an Eating Disorder Treatment Program
After several weeks at the treatment center, I was scared to leave. I had been living in a safe bubble and discharge meant facing the real world. I soon learned life goes on after an eating disorder. I survived being discharged, and years later I am still grateful for the treatment I received.
When I was struggling with my eating disorder, I thought I'd rather die than be fat, but here I am today, overweight and happier than I've ever been. An eating disorder isn't really about the weight, but I still find it very disturbing that I had those thoughts in the past. Dealing with weight gain during life after an eating disorder is something you can deal with in time and with treatment.
I've accomplished so much since I was at the treatment center. The control and perfectionism that ruled my eating disorder loosened its tight grip, and now my creativity can truly shine. I graduated with a degree in commercial art in 2014. I participated in many art shows before my first commercial art class, but the curriculum really forced me to try new things. It was hard to not always have control over what I was designing, and things were definitely not perfect as I would have liked, but in the end, I was very proud of all the skills I had acquired. This is one example of how I thrived during like after my eating disorder, but even today there's still a lot of work to do.
Anxiety in Life After Eating Disorder Recovery
Bouts of needing to be in control and perfectionism still break through in my life. This sometimes adds to my anxiety.
My therapist at the eating disorder clinic used the word "catastrophize." I was really good at that. I would jump to conclusions, usually negative conclusions, in just about any situation, which would cause my anxiety to skyrocket. I'm still working on this, but I am much better at keeping my cool until I actually know what I'm dealing with.
Do You Ever Really Recover from an Eating Disorder?
Although my eating disorder symptoms have been absent for years, the work continues – as it always should. We should always work to improve our lives, and I feel the personality traits and mental health issues that fueled my eating disorder will need to be addressed throughout my life. We are all a work in progress.
APA Reference
Rahm, M. (2017, December 27). My Life After an Eating Disorder, HealthyPlace. Retrieved on 2023, December 4 from https://www.healthyplace.com/blogs/recoveringfrommentalillness/2017/12/my-life-after-an-eating-disorder
Author: Megan Rahm