Mental Illness Stigma Affects Me, But I'm Fighting Back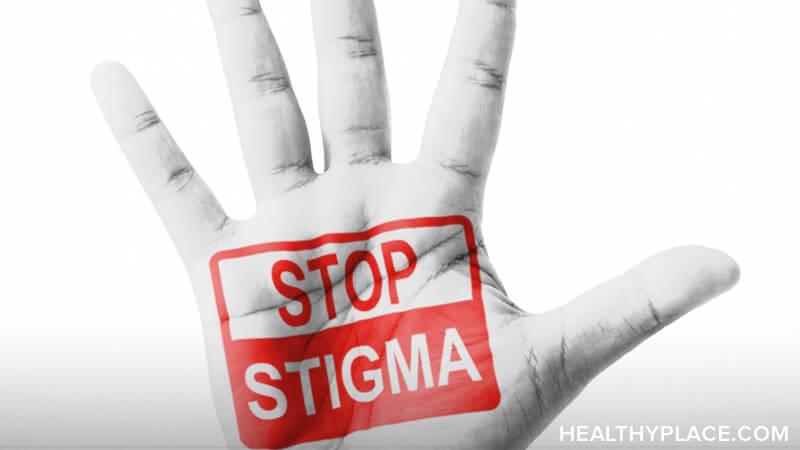 Mental illness stigma is everywhere, and it can be very hard to deal with when you're living with a mental illness. I see it constantly in my life – from my friends on Facebook throwing around terms like "psycho", to the reactions I get when I explain my work as a peer supporter, to the horrible depictions of characters with mental illness on TV and in movies. Mental Illness stigma can become even more serious and result in discrimination. It's a huge problem and I truly believe mental illness stigma is not going anywhere unless we speak out about it.
Mental Illness Stigma in Society and Possible Causes
Mental illness seems to be the last affliction socially acceptable to demean and make fun of. Everyone knows it's wrong to make fun of cancer and diabetes. People just don't do it. Several years ago there was a big push to do away with degrading terms referring to those with developmental disabilities, and I feel it's been quite successful. I believe we can do the same for those with mental health issues.
I think a lot of stigma stems from the fact that mental illness isn't always visible. There's no official lab test that verifies a mental health diagnosis so many people don't see it as real. Unfortunately, a lot of people still see it as a weakness or willpower issue instead of a serious medical condition.
Confronting and Speaking Out Against Mental Illness Stigma
I've confronted people about their stigmatizing words and jokes in the past and it usually doesn't go over very well. It's very discouraging and makes me feel like I need to hide my diagnosis. It's extremely important to address the serious issue of stigma, so I decided to read a little more about effective ways to speak out.
A great way to learn more about stigma is to check out the Surviving Mental Health Stigma blog here at HealthyPlace, where you'll find a large collection of articles covering many different topics relating to stigma. This is where I discovered Dos for Fighting Mental Health Stigma. This article gives fantastic advice on how to be credible, receptive, and polite when speaking out against mental illness stigma. I'm definitely going to put this information to practice.
Sharing My Story to Fight Mental Illness Stigma
One way I've tried to combat stigma is by sharing my story. I've worked in the past as an artist and I talk about my mental illness in my artist's statement. I would also share my story with visitors at exhibitions. At first, I was really surprised because most people can relate. If they don't personally struggle with mental health issues, they know someone who does. I feel just having these conversations one-on-one or in small groups really breaks down the walls and makes me more confident in sharing my experiences. This is a great way to spread more accurate information to fight mental health stigma.
There have been other times when my story hasn't been well received and I felt like people brushed me off or didn't take me seriously. Oftentimes people have preconceived ideas of what a person with a mental illness must be like and, unfortunately, it's usually negative. We need to prove them wrong. I will continue to tell my story because I think it's important to demonstrate that mental illness treatment works and it's possible to move forward with your life after receiving a mental health diagnosis.
APA Reference
Rahm, M. (2018, May 15). Mental Illness Stigma Affects Me, But I'm Fighting Back, HealthyPlace. Retrieved on 2023, October 4 from https://www.healthyplace.com/blogs/recoveringfrommentalillness/2018/5/mental-illness-stigma-experience
Author: Megan Rahm
I also experienced the same stigma. Are these people so healthy to think I am that insane? Stop judging us! You might be worse!
Leave a reply