My First Days After Inpatient Psychiatric Care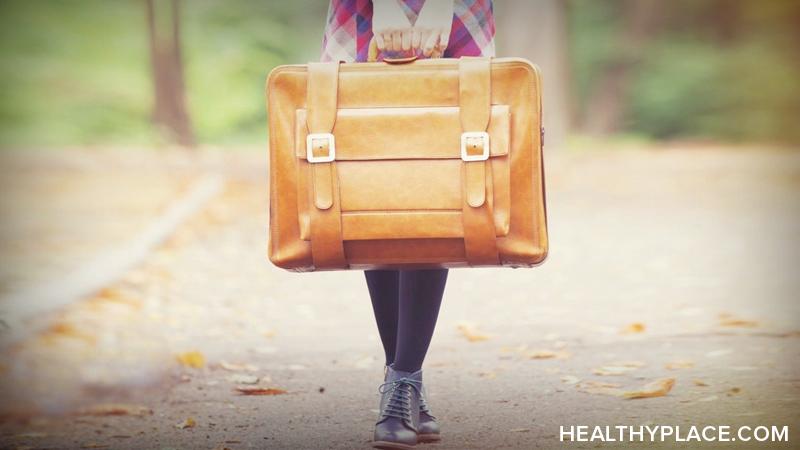 According to the National Action Alliance for Suicide Prevention, the suicide death rate in the first week after patients leave inpatient psychiatric care is 300 times higher than the general population.1 This doesn't mean that hospitalization isn't effective; it means that hospitalization is not meant to be the sole treatment for mental illness. I wish mental hospitals were like car washes, and we all magically emerge sparkling sane upon reentry to the world, but my hardest days have always been the first few days after discharge.
I Know What to Expect After Inpatient Psychiatric Care
I've been hospitalized for mental illness five times and, every single time, I've found leaving the structure and safety of the hospital both exciting and horrifying. It means no longer being awoken by suicide checks every 15 minutes, but it also means returning to the stresses that aided in my breakdown. Stepping right back into my life as it was before hospitalization has never worked well for me, so I did things differently this time.  
I denied both the offered partial hospitalization program (PHP) and the outpatient program (IOP) because they were only available remotely due to COVID-19, and neither were for posttraumatic stress disorder (PTSD). Instead, I had appointments scheduled with my therapist and psychiatrist for the following day and put a solid action plan in place with their help (see: "Types of Behavioral and Mental Health Services You May Need").
Next Steps After Inpatient Psychiatric Care
The next thing I knew, I was standing in front of the hospital entrance holding a large, clear plastic bag marked "Personal Belongings" and wearing the same clothes I wore when I was admitted a week ago. I looked down at my cell phone and trembled at the idea of turning it on, but before I could spin out of control, I saw my girlfriend walking toward me with open arms. 
She reminded me that I didn't have to tackle my life today and that I had a plan:
She took me to the pharmacy to pick up my new medications, bought me my favorite foods and drinks I hadn't had in a week, took me home to pick up some belongings, and drove me to my next stop.
The next stop was another friend's peaceful apartment, where I transitioned before going home as I had barely slept or eaten for a week and was adjusting to the new medications. 
I set up a daily routine to carry on the structure I learned in the hospital. 
I made a list of coping skills. I kept them by my side and checked them off as I did each one. The panic was unbearable at times, but my skills slowly helped me slow my breath enough so I could eat and sleep again. 
I stayed away from social media and the news. I watched only comedies. 
I went back home after I'd eaten and slept for three consecutive days. I had another action plan for my return home that's kept me in good stead as well. Don't get me wrong, it's been painful, but by planning ahead and using my coping skills, it hasn't been impossible. 
If you've been hospitalized, what tools did you find important the first few days after being discharged? Please let me know in the comments, and if you want to hear more about my transition after inpatient psychiatric care to returning home, please watch the video below. 
Source
National Action Alliance for Suicide Prevention, "Best Practices in Care Transitions for Individuals with Suicide Risk: Inpatient Care to Outpatient Care." Washington, DC: Education Development Center, Inc., 2019.
APA Reference
Rundell, C. (2020, October 29). My First Days After Inpatient Psychiatric Care, HealthyPlace. Retrieved on 2023, September 29 from https://www.healthyplace.com/blogs/recoveringfrommentalillness/2020/10/my-first-days-after-inpatient-psychiatric-care
Author: Court Rundell